Samsung's Galaxy Z Fold 5 Is Great, but Could Have Been So Much Better
It's fair to demand more from an $1,800 foldable phone.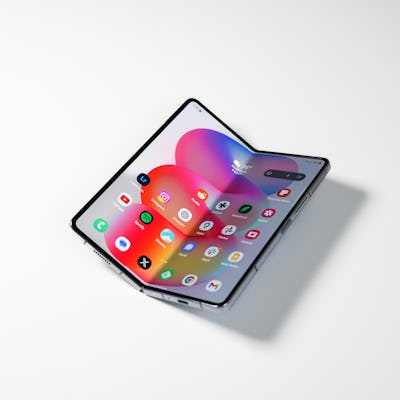 Photograph by Raymond Wong
In a perfect world, Samsung's new book-style foldable phone, the Galaxy Z Fold 5, would have The Very Best Everything. It should, since it costs $1,800.
The Z Fold 5 should have an all-new design with the best gap-free hinge and dust resistance; it should be the thinnest and lightest foldable; it should have the largest battery; it should have the sharpest and brightest displays; it should have the latest and greatest camera sensors.
But we don't live in a perfect world. So instead of the above ideal checklist of features, the Z Fold 5 is a mix of old and new. It's a well-rounded foldable that is more than capable enough, but it does feel like Samsung is phoning it in just as the competition is finally arriving.
Little Big Changes
In my Galaxy Z Flip 5 review, I concluded that even though the upgrades seemed minor on paper, the overall experience of using the flip-style foldable was greater than the sum of its parts. The same thing applies to the Z Fold 5.
The tech specs tell a very different story than actually using the Z Fold 5 for three weeks, which is what I have been doing. Just like the Z Flip 5, the Z Fold 5 is very much about quality-of-life upgrades.
Galaxy Z Fold 5 Tech Specs
Foldable display: 7.6-inch QXGA+ Dynamic AMOLED 2X (2,176 x 1,812) / 120Hz
Cover display: 6.2-inch HD+ Dynamic AMOLED 2X (2,316 x 904) / 120Hz
Chipset: Qualcomm Snapdragon 8 Gen 2
RAM: 12GB
Storage: 256GB / 512GB / 1TB
Battery: 4,400 mAh with 25W wired charging / fast wireless charging / Wireless PowerShare reverse wireless charging
Rear cameras: 50-megapixel main f/1.8 + 12-megapixel ultra-wide f/2.2 (123-degree FOV) + 10-megapixel 3x optical telephoto f/2.4
Inner under-display camera: 4-megapixel f/1.8
Cover/selfie camera: 10-megapixel f/2.2
Software: One UI 5.1.1 (Android 13)
IP rating: IPX8
Biometrics: Fingerprint sensor (power button)
Wireless: Wi-Fi 6E / Bluetooth 5.3
Colors: Icy Blue, Phantom Black, Cream / Samsung.com exclusives: Gray, Blue
The redesigned hinge is fantastic. Many people will overlook it, but as somebody who has tried a lot of book-style foldable phones, I can tell you that they're not all equal and the hinge on the Z Fold 5 is one of the best (if not the best). There's no longer a gap when the Z Fold 5 is closed, which is a big plus for keeping dust and dirt away from the inner display; it also makes the Z Fold 5 uniform and thinner. The best thing about the hinge is how smooth it is for folding and unfolding. Other foldables may be slimmer and lighter, but they creak or crack (hello Google Pixel Fold), or don't open as smoothly.
Another feature that's easy to miss: the foldable display is 45 percent brighter with a peak brightness of 1,750 nits versus 1,200 nits on the Z Fold 4. Do you really need the screen that bright? Not indoors, but absolutely outdoors. In a side-by-side comparison in the park, I could barely read a webpage on the Pixel Fold's inner screen which has a peak brightness of 1,450 nits, but text was more than legible on the Z Fold 5.
I know a lot of people are unhappy with the Z Fold 5's dimensions. It's too tall! It's too narrow! Every other book-style foldable is shorter and wider. I also thought this at first, but I don't share the same sentiment after using the Z Fold 5 for an extended period.
I much prefer the narrower 6.2-inch (2316 x 904) cover screen; it makes the Z Fold 5 easier to grip in one hand, especially since it's heavier than popular phones like the Galaxy S23 Ultra and iPhone 14 Pro Max, and it's nearly twice as thick. The more portrait-like aspect ratio of the 7.6-inch (2,176 x 1,812) inner screen is also easier to hold with one hand, too, and better fits certain text-heavy content apps like X/Twitter and Feedly. The height is more of a pocketability issue for me personally since I'm used to shorter phones, but seeing as how it's within the same class as other big phones, it's kind of a moot point for most people.
Personal preference aside, though, Samsung does seem to have its own reason for keeping the design and aspect ratio of the displays. Samsung's Hubert Lee, Executive Vice President and Head of MX (Mobile eXperience) Design Team said as much when I toured the company's R&D Design Center in Seoul, South Korea.
"Whatever we do, we need to stand out from the crowd. There are so many OEMs out there, we need to be recognized as oh, that's a Samsung Galaxy. This is easier said than done. We have to create our own identity."
Whether playing it safe again is good for sales is, of course, a different question.
As on the Z Flip 5, the Z Fold 5 uses Qualcomm's latest Snapdragon 8 Gen 2 chip. In my tests, the 8 Gen 2 chip is around 12 percent faster on single-core and 41 percent faster on multi-core tasks. Graphics from the 8 Gen 2's Adreno 740 GPU are around 40 percent faster. It's a nice bump in performance compared to the Z Fold 4, but nothing that will make Instagram or browsing faster. And if there are any advantages for 3D games like Genshin Impact I couldn't tell; games ran as well as they did on phones with last year's 8 Gen 1/8+ Gen 1 chip. Mostly, this chip upgrade is to ensure the Z Fold 5 is still powerful enough 2-3 years down the road and can handle the latest version of Android without choking up.
Minor Tweaks
The 8 Gen 2 chip, which also includes a newer image signal processor, is supposed to improve photo processing from the Z Fold 5's last-gen camera sensors. I didn't have a Z Fold 4 to make any side-by-side comparison shots, but the photos from the triple-lens camera system (50-megapixel main, 12-megapixel ultra-wide, and 10-megapixel telephoto) on the rear and the cover screen (10 megapixels) look good enough. The 4-megapixel under-display camera embedded in the foldable display, however, still takes bad photos, especially in low-light situations.
Photograph by Raymond Wong
Photograph by Raymond Wong
Photograph by Raymond Wong
Photograph by Raymond Wong
Photograph by Raymond Wong
Photograph by Raymond Wong
Photograph by Raymond Wong
Photograph by Raymond Wong
Photograph by Raymond Wong
Photograph by Raymond Wong
Photograph by Raymond Wong
Photograph by Raymond Wong
That being said, the Z Fold 5 is a $1,800 device. It's kind of inexcusable that it doesn't have cameras that are better than the Galaxy S23 Ultra. I know, newer and bigger sensors mean a bigger body to house them, which is the opposite of what Samsung's trying to do every year, but at the same time, this phone is $1,800!
On the Z Fold 3, Samsung added support for an S Pen. It was a big finally moment. But the S Pen was an accessory that didn't fit inside the Z Fold 3. Samsung repeated this on the Z Fold 4. The Z Fold 5 has a redesigned S Pen that's significantly thinner, but it still doesn't fit inside the device.
Won-Joon Choi, Samsung's Executive Vice President, Head of Mobile R&D, Mobile eXperience Business offered an explanation.
"Can we make this S Pen — 4.35mm S Pen — even thinner? If a pen gets thinner than a certain threshold, peoples' experience may not be good because you need to kind of feel as if you're writing with a pen. But if it's too thin, that feeling may not be ideal or desirable."
Choi said Samsung is exploring ways to make the S Pen thinner, but cautioned that if the experience is worse, then it could mean a thicker Z Fold, which I don't think anyone would want, either.
I'm fine with the current compromise, which has the S Pen sold as a separate $100 accessory. The S Pen is nice to have if you're big on note-taking or drawing, but I rarely use one on the S23 Ultra so I could live without it. The thinner design and included case do pair well, though.
Battery life could have used a bump up. The Z Fold 5 has the same 4,400 mAh battery as the Z Fold 4. It's large enough to get through most days, but more than a few times, it felt inadequate, especially when I took lots of 4K videos. I understand that a larger battery adds to the weight, which is another tradeoff to consider, but I'd still like to see more.
Also virtually unchanged is the software. The various "Flex" modes and multi-app support that were present on past Z Folds remain in place on the Z Fold 5. For example, the task bar is better than on the Pixel Fold; the Z Fold 5 supports DeX mode which turns it into a pseudo desktop OS experience when you connect a monitor and keyboard; even using the main rear camera for selfies is superior on the Z Fold 5 than the Pixel Fold. I don't want to believe that this is it and it's the best that Samsung can think of to make foldables attractive, but I am starting to get worried that there might not be any more non-gimmicky ideas left to throw in.
Time for a Reboot?
If you own a Z Fold 4, you can probably wait it out for the Z Fold 6, unless you absolutely want the gap-free design today. If you own a Z Fold 3 or older, the Z Fold 5 will feel like a substantial upgrade. If you've never had a book-style foldable, the Z Fold 5 is a better overall device than the Pixel Fold — for the same $1,800. The hardware is more polished, the repair support is better, and the software is miles ahead.
While I really like the Z Fold 5 and think it's got more than enough going for it than it gets credit for, I do think it's due for a refresh.
If not a total refresh then maybe add another model with a book-style design that sits alongside the Z Fold. Whether it's more affordable or more premium, give users options. The Pixel Fold is not a perfect foldable, but it is an alternative. And like it or not, the alternatives are coming now. Samsung has been sitting pretty since 2019. With the Pixel Fold and soon OnePlus entering the ring with its own foldable, Samsung really can't afford to rest on its laurels for another year.