Why Samsung Didn't Redesign the Z Fold 5 and Z Flip 5
We went to Samsung's R&D Design Center in Seoul to get some answers (and see a lot of rejected foldable prototypes).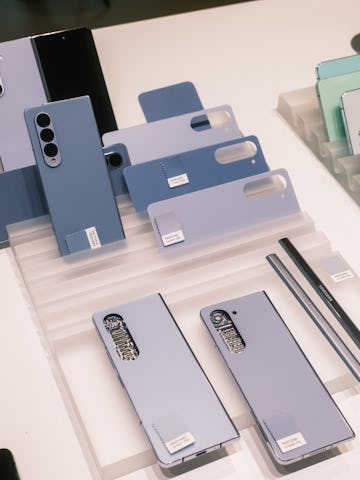 Photograph by Raymond Wong
The general buzz on Samsung's new Galaxy Z Fold 5 is that the design of the book-style foldable is too similar to the Z Fold 4.
Sure, the Z Fold 5 has a redesigned hinge that folds gap-free, a nifty case accessory that stows away a dramatically slimmer S Pen, and the latest Snapdragon chip, but it seems like everyone had hoped Samsung would make the tall and skinny Z Fold form factor shorter and wider — like the Oppo Find N/N2 or the Google Pixel Fold.
Samsung disagrees with the demands. For this year, at least.
Samsung could have made a Z Fold 5 or Z Flip 5 that looked completely different. But it didn't because reasons. You may think they're boring reasons — I'll get to them in a moment — but they're not invalid ones for a company as large as Samsung.
I know the Z Fold 5 and Z Flip 5 could have been very different devices because Samsung invited me last week to its research and development design center in Seoul, South Korea. There, I saw a handful of design prototypes Samsung had explored for the Z Fold 5, including four dummy models with boxier designs and cover screen aspect ratios different from the 23.1:9 6.2-inch display the company settled on.
Z Fold 5 aspect ratios Samsung considered: 19.5:9, 21:9, 22:9, and 23:9. If you're not familiar with aspect ratios, those dimensions go from widest to narrowest. I tweeted — nay, X'd — a short video of the different aspect ratios that Samsung prototyped, and people seemed really upset Samsung didn't go with the wider ones.
On the same table, Samsung also had on display a bunch of 3D-printed prototypes to demonstrate more passport-shaped Z Folds. Those came in 23.1:9, 22.5:9, 22:9, 21.5:9, and 21:9. Separately, one mockup even had a slot for an S Pen.
Also on the table: prototypes and 3D-printed mockups for various Z Flip 5 designs and finishes. Some had rounded edges and others had sharper corners. Other tables had numerous shades of colors that Samsung considered; there were a lot of Pantone colors.
I was not at all surprised to see the rejected designs. I love looking at this kind of stuff, but after hearing from the people behind the Z Fold 5 and Z Flip 5, I now also understand why Samsung played it safe this year, and may next year, too.
Samsung's Own Identity
Leading the tour of Samsung's R&D Design Center was Hubert Lee, Executive Vice President and Head of MX (Mobile eXperience) Design Team. The former Chief Design Officer at Mercedes-Benz China, Lee joined Samsung earlier this year and has been busy injecting Samsung's Galaxy products with a stronger identity. Lee listed three core points to Samsung's "essential" design philosophy: purpose, authenticity, and confidence.
It all starts with "purpose" Lee told Inverse. "Why are we designing this? It's an intent. The intention needs to be clear before we design anything. Who are we designing for? Who's our target audience? Authenticity is basically our own character, our own color, our aesthetics. We have to have this. For others, for people to follow us. You don't follow others who are wannabes who copy other peoples' work. We have to have our own thing. And this is what we strive to do. Right now, we're hard at work, trying to achieve this. We have it to a certain point, but we are going to elevate it, we're going to enhance it even more throughout the years to come. And with purpose and authenticity, we will execute with confidence."
A look at some finishes and colors that Samsung considered for the Galaxy Z Flip 5.

Photograph by Raymond Wong
I really like these more upscale colors.

Photograph by Raymond Wong
Samsung's CMF team (color, materials, finishes) goes through a ton of colors before deciding which shades to ship.

Photograph by Raymond Wong
Looking behind the scenes sure made me pine for some of these colors.

Photograph by Raymond Wong
Lee says the MX Design Team is focused on making its products instantly recognizable. This identity is already underway throughout Samsung's foldables and Tab S9 tablets — the carefully aligned camera cutouts and straight edges aren't just a coincidence, they're all intentional by design to form cohesion. Lee used words like "beautiful" and "cool" and "desirable" to describe Galaxy design and products. "That's it. In the future, we want people to say wow, that's cool!"
"Everything needs to start from the brand's originality when we start designing. Whatever we do, we need to stand out from the crowd. There are so many OEMs out there, we need to be recognized as oh, that's a Samsung Galaxy. This is easier said than done. We have to create this distinction through identity. We have to create our own identity. And we have to be relevant. Relevance is very important. It has to reflect what's happening today. It has to connect with a new generation. It has to reflect today's lifestyle. And because mobile devices are the most intimate devices of every individual, this has become very important."
"There are so many OEMs out there, we need to be recognized as oh, that's a Samsung Galaxy."
Lee's not wrong when he says that Galaxy devices need to stand out. Now that other companies are jumping on the foldables bandwagon, the worst thing Samsung can do is make a Z Fold or Z Flip that looks generic. Apple knows this about design, and that's why it put a notch on the iPhone X when Android phone makers leaned into hole-punch and pop-up selfie cameras. Nothing also gets this, which is why the startup goes to great lengths to design transparent phones and wireless earbuds.
It may not be a popular reason, but the taller and narrower Z Fold 5 and window-shaped cover screen on the Z Flip 5 can be easily picked out in a lineup. Even the colors and finishes are meant to feel Samsung-ish — the pastels expressing a softer and more approachable lifestyle aesthetic than one that screams early adopter technology geek.
The Future of the Crease and S Pen
A distinct identity is only one reason why the Z Fold 5 and Z Flip 5 are more evolutionary than revolutionary. Engineering new technologies for foldables at scale (emphasis on the word) isn't as easy as it looks. Unlike other companies making thinner, lighter, and overall more compact foldables, Samsung has to make its foldables in much larger volumes. There's less room for failure or else the company might suffer another Galaxy Note 7 or original Z Fold incident.
When pressed on why the Z Fold 5 doesn't have a less visible crease or why Samsung didn't put the S Pen into the device like on the Galaxy S23 Ultra, Won-Joon Choi, Samsung's Executive Vice President, Head of Mobile R&D, Mobile eXperience Business, gave Inverse more technical reasons during a media roundtable.
"Not a lot of people realize that designing a foldable phone, the challenges are very different from our conventional models," Choi said.
While less visible on the Z Fold 5 thanks to the new hinge and waterdrop-style flexible display folding mechanism, the crease is still somewhat prominent.
"We are aware of that and we are working on various angles for that. First and foremost, for the mechanism and the structure, there should be innovation to the crease and we should have a new material which has less deformation when it is folded. That's something that is really necessary. Regarding that, we are going to continue our research."
As for why Samsung didn't put an S Pen inside of the Z Fold 5, it apparently comes down to the size of the stylus itself, which directly impacts the thickness of the Z Fold when it's unfolded.
"If you look at [the Z Fold 4's S Pen thickness of] 7.4mm to [the Z Fold 5's S Pen thickness of] 4.35mm… we have made a significant reduction in terms of size. But for [the Z Fold 5] we still have a case."
Reason one: "Can we make this S Pen — 4.35mm S Pen — even thinner? We're looking into it, but not just from a technology perspective but also from a user experience perspective. If a pen gets thinner than a certain threshold, peoples' experience may not be good because you need to kind of feel as if you're writing with a pen. But if it's too thin, that feeling may not be ideal or desirable."
Reason two: "Some people are saying they want us to make our foldable even thinner. If you make it thinner, obviously, for us to embed our S Pen, you need to make [the pen] even thinner, or you need to make [the foldable] thicker so that the S Pen can be embedded."
"At the end of the day, which one will provide the best values or experience to our users, that's the kind of discussion, internally, we are having. We'll keep innovating in terms of technology, but based on all these technology innovations, what is the form factor, and what experiences are we going to deliver to our customers to meet various needs? What is the right balance that we'll continue to look at?"
A Range of Folds and Flips To Come?
Coming out of Unpacked, it's clear to me that Samsung is determined to make foldables the dominant phone factor, and it understands the challenges and long road ahead.
"We believe we will be able to make foldables mainstream," Choi said, while acknowledging that Samsung had expected the foldables market to be larger than it currently is. "We created this category so we feel more responsible."
Choi said Samsung welcomes competitors who are making foldables, whether it's in a book-style or flip-style form factor. Their existence validates the company's belief that foldables are the future.
But looking at Samsung's foldable portfolio — consisting of the Z Flip and Z Fold series — I can't help but wonder how the company plans to make foldables mainstream unless it offers a range of foldables at different prices, especially ones that are more affordable. If you look at Samsung's phone business, the company seemingly sells bar-style phones at every conceivable price point to meet consumers with any budget. Can we expect to see a range of foldables in different sizes with different aspect ratios that expand beyond the two models Samsung currently offers?
"We believe we will be able to make foldables mainstream."
"The ratio and size of the display when it's open, and the ratio and size when it's closed — they are not independent of each other," Choi said. "Obviously, you just double it when it's open. We have been carefully designing and deciding on [the Z Fold 5] aspect ratio based on the key winning formula of portability [of the device] and the usability of this larger screen when it's open — what should be the right size, the right ratio? And then, when it's closed, obviously, the experience with a cover display when it's closed — it's also important to usability.
"At the same time, the portability, when people are carrying this device and grip it, most of the time it's closed. So the portability is also a very, very important factor. We believe this kind of form factor, considering both portability and usability, is the right direction or right choice."
Choi, however, didn't rule out other dimensions for future foldables (for the Z Fold series or not). "Having said that, we're not saying this is it — exactly 67.1mm is the ideal kind of width. But based on those kinds of decisions, considering portability and usability, I think we're maintaining it but we'll continue to further fine-tune which will refine our form factor."
"Our goal is to make our kind of foldables mainstream so that more [bar-type] customers outside in the world can enjoy these great and unique devices," Choi said while reiterating the company's plans to "make our best efforts" in this new category.
Achieving that goal is sure to be difficult. There's no guarantee that foldables will ever overtake bar-style smartphones, but Samsung seems determined to try. At the very least, Choi is realistic with expectations. "We can't force [people] to use our foldables."
Photography by Raymond Wong