Hands-On With Samsung's Galaxy Tab S9 Tablets: Good, Better, and Best
The Galaxy Tab S9 Ultra is a massive 14.6 incher.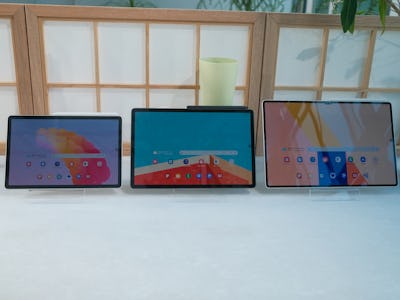 Photograph by Raymond Wong
If new Samsung Galaxy Z Flip 5 and Z Fold 5 foldable phones and Galaxy Watch 6 smartwatches aren't your thing, can I interest you in some new Samsung Android tablets? Yes? Because Samsung's got three flavors.
Available in good, better, and best models, the Galaxy Tab S9, Tab S9+, and Tab S9 Ultra deliver OLED screens and 120Hz refresh rates for budgets of all sizes, starting at $799.99.
I had some hands-on time with all three Tab S9 tablets and, well, they're tablets. If you've been pining for OLED and 120Hz in a smaller size, the 11-inch Tab S9 is a good option. The showstopper, however, is the Galaxy Tab S9 Ultra. This massive 14.6-inch beast is not only thin but feature-packed.
There's no doubt in my mind that the Tab S9 tablets can do regular tablet things well — web browsing, videos, games, etc. — but the hook this time around is to do them all better. Mostly, that means better multitasking when juggling multiple apps and using a keyboard or S Pen accessory.
Huge, Thin, and Powerful
The second I laid hands on the Galaxy Tab S9 Ultra, I was wowed by its gargantuan size. The 14.-6-inch tablet sucked me right in. I struggled to hold it with one hand; it's absolutely a device that requires two hands.
I only had a short amount of time with the tablets, but several things caught my attention. Obviously, the size, but also the thinness. At 5.5mm, the Tab S9 Ultra is wafer thin for a tablet, but not so cheaply made that it feels bendable. It's like Samsung ripped the screen off of a 14-inch laptop. In portrait mode, for reading, the Tab S9 Ultra is just ridiculous (in a good way).
Its giant screen also made it much easier to open two or three apps at once. I could see no latency bopping around Android 13, no doubt thanks to the powerful "Qualcomm Snapdragon 8 Gen 2 for Galaxy" chip. With the Book Cover Keyboard, DeX Mode, long a staple on Samsung tablets, works more like a PC than any iPad (even with Stage Manager). And, of course, you can throw an S Pen into the mix if you're into hand-writing notes or drawing; both worked fine in my brief tests.
Samsung's pretty proud of the 20 percent larger quad speakers tuned by the sound folks at AKG. I gave a few videos a listen at full blast and they definitely rattled the svelte tablet.
All three Tab S9 tablets have IP68 water and dust resistance. But I wasn't able to test that claim. Samsung, sadly, didn't have any water tanks to dunk the tablets in.
I'll reserve judgment when I get some time to review the S9 tablets, but they're promising. Such is the state of Android tablets. There's a reboot in the Android tablet world — hello OnePlus Pad and Pixel Tablet — but Samsung's still the undisputed king of Android tablets. The Galaxy Tab S9 tablets will likely keep Samsung on top from what I saw.