Hands-On With Samsung's Galaxy Watch 6 and Watch 6 Classic: A Welcome Return
I can confirm the return of the rotating bezel is very satisfying.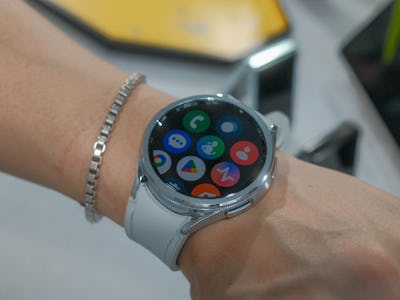 Photograph by Raymond Wong
Samsung fans were not happy when last year's Galaxy Watch 5 ditched the rotating bezel that had become iconic to the company's smartwatches.
At Unpacked 2023 in Seoul, South Korea, I got to briefly try out the new Galaxy Watch 6 Classic (and the regular Galaxy Watch 6) and can confirm the rotating bezel's return is both awesome and satisfying to twist.
Personally, I wasn't too upset last year, but I could sympathize with people who didn't like the removal of the rotating bezel. Using it again, it's just so much more convenient to twist the bezel to glide around the Wear OS 4 interface. It's also a welcome return for anyone who wears gloves on the job or lives in a climate that's cold.
Design- and experience-wise, the Galaxy Watch 6 Classic is pretty familiar. The round display is big and bright at 2000 nits. Though, to be fair, the hands-on room I was in was very well-lit. I also found the Watch 6 Classic really light and comfortable on my wrist. It's funny because years ago a big smartwatch would have been frowned upon. Now, we've accepted them.
The Galaxy Watch 6 looks and feels virtually the same as the Galaxy Watch 5. It's still got the touch-sensitive bezel that you can you spin, but none of the tactility of the physical rotating bezel on the Watch 6 Classic.
I wasn't able to try out any of the improved sleep-tracking features in both the Watch 6 and Watch 6 Classic. That'll have to wait for when I get some sleep time with the smartwatches.
The fact is, smartwatches (like many other devices) are now mature enough that any new models feel a little boring. That's not just for Samsung, but the Apple Watch, too. The Apple Watch Ultra is bigger, but the Apple Watch Series 8? Great, but iterative.
If the Galaxy Watch 6 and 6 Classic are anything like Samsung's previous smartwatches, they will lap the competition (yes, even the Pixel Watch) and remain the best option for Android users. I'll have a full review very soon. Stay tuned.