Google Pixel Tablet Review: The Best Tablet Idea In Years
Finally, an idea the iPad should copy.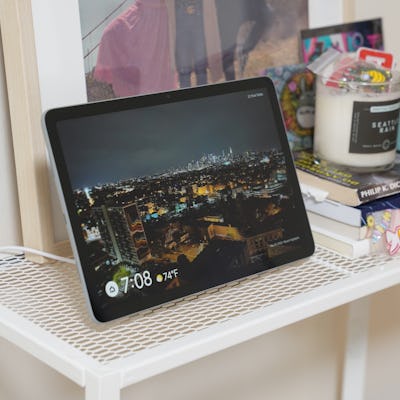 Photograph by Raymond Wong
Google's track record with tablets has been hit or miss over the years.
In 2012, Google went small and cheap with the Nexus 7 — and people loved it so much that a second-gen version was released the next year. The Nexus 9 came in 2014 and received lukewarm reviews. In 2015, Google tried the premium productivity route with the Pixel C in 2015 and Pixel Slate in 2018 — and the tablets flopped. After that, Google pretty much gave up on tablets, letting the iPad just steamroll its way to becoming The Default Tablet To Buy.
Buoyed by foldable phones like Samsung's Galaxy Z Folds and its own upcoming Pixel Fold, Google is giving Android tablets another whirl. For the Pixel Tablet and its non-folding slate form factor, Google is trying something different. Instead of going head-on with the iPad — a battle it would surely lose — the Pixel Tablet flexes its modular design. On its own, it's a tablet that does all of the things you'd expect from a tablet. But snap it to the included Charging Speaker Dock, and the Pixel Tablet turns into a smart home control center not dissimilar to the non-separating Nest Hub Max.
When Google announced the Pixel Tablet last fall showing off its hybrid design, I remarked at the obvious and clever idea. You're going to charge the Pixel Tablet anyway, so why not turn it into a Nest Hub Max when it's not being used? After a few weeks of using the Pixel Tablet, attaching and detaching it many times, I'm certain that it's Google's best tablet approach yet. It also helps that the Pixel Tablet starts at $499 — a price that includes the Charging Speaker Dock in the box.
It's An Android Tablet Without A Doubt
Except for a few really tiny and personal nitpicks, I really like the Pixel Tablet hardware. As far as big glass slates go, the Pixel Tablet is pretty nice. It's thin (8.1mm), light (1.08 pounds), and the "nano-ceramic coating" that covers the aluminum gives it a matte look and non-slip and anti-fingerprint texture, though some people will no doubt mistaken it for plastic. My review unit came in the "Hazel" light gray/green color with black bezels around the display; the Pixel Tablet also comes in "Porcelain" (white) and "Rose" (pink) with white bezels.
The position of the 8-megapixel front-facing camera on the long side tells you the "correct" orientation that Google designed for: landscape. Apple seems to be coming around to transitioning the iPad from being a portrait-held tablet to a landscape one, too. It's not a bad decision, tablets are just better for productivity and multitasking when they're used in landscape mode.
The rest of the Pixel Tablet is a solid checklist of features. The 11-inch (2,560 x 1,600) display is big, sharp, and bright; it's 60Hz and peaks at 500 nits of brightness, which is the same as the 10th-gen iPad. Unless you're spoiled by high refresh rates in devices like the iPad Pro, content looks great on the Pixel Tablet. Movies and games all pop. In a statement to Inverse, Google says "Pixel Tablet supports HDR content playback and we have worked with Netflix to ensure HDR version of their content is made available on Pixel Tablet."
The four built-in speakers sound good, but if you want more low-end for your audio, you'll need to dock it to the Charging Speaker Dock. There's another 8-megapixel camera on the rear; it's a tablet camera, nothing special. Inside of the power button is a fingerprint reader — thank god this is a proper fast and responsive sensor and not an optical sensor like the ones found in Pixels and other Android phones.
Inside, the Pixel Tablet is packing enough specs to mostly keep up with an iPad. The brain is the Google Tensor G2, the same chip inside of the Pixel 7, 7 Pro, and Pixel Fold. There's 8GB of LPDDR5 RAM and your choice of 128GB or 256GB UFS 3.1. A 27Whr battery is good for up to 12 hours of streaming video according to Google. And there's Wi-Fi 6 and Bluetooth 5.2 support. While the Pixel Tablet isn't designed for artists the way iPads are, the device does work with USI 2.0 pens and, of course, you can connect any Bluetooth keyboard.
I also want to shout out the official Pixel Tablet Case ($79). It's well-made with protective silicone and microfiber-lined insides, but the kickstand/handle is just *chef's kiss*. You can push the kickstand back to almost any angle, and though Google says the handle could be used to hang the Pixel Tablet from the back of an airplane seat, I just liked being able to grab it like a handle for transporting the device from room to room in my apartment. The Pixel Tablet Case also docks perfectly into the Charging Speaker Dock (more on that below).
I recently reviewed the OnePlus Pad and the Pixel Tablet's performance blows it away. On paper, that shouldn't be the case, the Tensor G2 lags behind the MediaTek Dimensity 9000 chip in the OnePlus Pad. But for some reason, Android 13 feels more responsive, and 3D games like Honkai: Star Rail and Asphalt 9 run without dropping as many frames. Playing graphics-reliant games is never going to be as good as on iPad, but I was shocked by how well the Pixel Tablet handled games on a bigger, higher-resolution screen.
When I said earlier that Google is rebooting its tablet efforts, I meant more than just releasing new hardware. Android 13 on the Pixel Tablet comes with a bunch of tablet-optimized features including a task bar with frequently used apps, an improved split-screen mode, and drag and drop between select apps. For better or worse, there's no windowed experience for opening more than two apps like there is on other Android tablets or Stage Manager on iPads. While those multitasking experiences are far from perfect, they exist as options. On the Pixel Tablet, it's two apps in split-screen, and that's it.
The key thing to understand about the Pixel Tablet is that tablet optimization is an ongoing work in progress. As I noted in my OnePlus Pad review, despite over a decade of Android tablets, the number of tablet-optimized apps is still relatively low compared to on iPad. Google listed 84 apps optimized for the Pixel Tablet for me to look at. Of those, 50 are from Google. It's kind of disappointing that Twitter still looks like this on an Android tablet:
Sure, turning the Pixel Tablet to portrait mode puts the app in full-screen, but it just blows up the timeline. There's still a lot of work for developers to do to update their Android apps to properly support tablets. It's nice to see Google has done its part updating many of its own apps with menus on the left side and two-pane views, but 34 third-party ones aren't enough. We need thousands more. I don't know what Google can do to get developers on board that it hasn't already tried in the past decade. Maybe it's time to write bigger checks. Or maybe the Pixel Tablet is the beginning of a new wave of Android tablets that will give developers the kick in the pants they need. Hard to say right now. Ask me again in a year or two.
Doubles As a Nest Hub
The brilliance of the Pixel Tablet, of course, is not that it's simply a tablet. Slapping together a bunch of hardware with a large screen isn't hard. Where the Pixel Tablet really shines and sets itself apart is with the Charging Speaker Dock.
Bring the Pixel Tablet up to the Charging Speaker Dock and magnets from both will connect them via the four "pogo" pins. And once you've got Hub Mode enabled and set up, the Pixel Tablet basically functions as a Nest Hub Max, while charging the device. It's a genius idea that I'm surprised took so long.
It operates almost exactly like a Nest Hub Max. You can set up a screensaver to show pictures from Google Photos, use voice commands with the Google Assistant, and control your smart home through a button-filled control panel. In addition to the Charging Speaker Dock adding more oomph and volume, I really liked being able to instantly move audio between it and the Pixel Tablet. For example, if you're playing music on the Pixel Tablet, docking it automatically moves the music to the better speakers without any interruption (and vice versa). The same thing works with video, too.
You're probably thinking: that's it? The Pixel Tablet just… docks? That's right, kiddo. I could see why this might seem underwhelming if you have little or no interest in a smart speaker or controlling a smart home. But the simple and seamless connection between Pixel Tablet and Charging Speaker Dock (and transforming functionality) is exactly the kind of thing that makes Google's tablet stand out from the iPads and Samsung Galaxy Tabs of the world.
It's nice that the Pixel Tablet will be charged up the next time I need it, and I can just grab it off the dock. It's nice that I can drop it back on the dock and the big screen shows me precious memories instead of sitting wedged between two sofa cushions. It's nice that it can become a better-sounding smart speaker. And it's nice that there's an easy way to control your smart home directly from the lock screen. Buy a second dock ($129 each) and leave it at the office or in a separate room and you basically get a Nest Hub Max/charger wherever you want.
The only downside I can think of is that the Charging Speaker Dock does nothing on its own. Without the Pixel Tablet, it's just a paperweight. It personally doesn't bother me, but I know some people are not too happy about that.
Google Shoots… and Scores
After so many years of abandonment, it's really good to see Google rebooting its tablet efforts. Had Google sold the Pixel Tablet on its own for $370 (price without the dock), I think a lot of people might pick it over a 10th-gen iPad, which starts at $449 and comes with half the storage.
But even at $499, because it includes the Charging Speaker Dock, the Pixel Tablet is a winner. It does all the things you need from a tablet — tablet-optimized software warts and all — and doubles as a Nest Hub Max when hooked up to the dock. If that's not a steal for an extra $50 over a 10th-gen iPad, I don't know what is.
As with all Google hardware, it's impossible to know whether Google will continue to support the 2-in-1 form factor years down the line. What I do know is that the Pixel Tablet (and the Charging Speaker Dock) is the most exciting thing to happen to tablets in years. Scratch that, in the last decade.
Photographs by Raymond Wong