Google's Pixel Tablet Has a Price That's Too Good to Ignore
It comes with a free charging speaker dock, which is a hell of a deal compared to an iPad.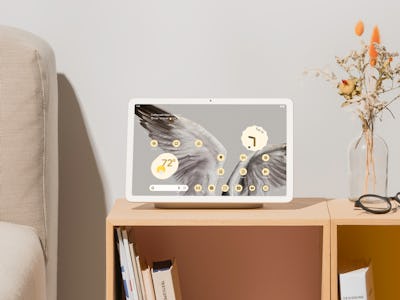 Google
After teasing its first-ever Android tablet, the Pixel Tablet, last fall, Google has finally set a price and release date for the device: $499 which includes the Speaker Charging Dock that turns it into a Nest Hub-like smart home speaker.
The Pixel Tablet may not be as novel as Google's Pixel Fold, but the 2-in-1 hybrid design does feel like the natural evolution for tablets as a multi-purpose device and not a carbon copy competitor of Apple's iPads.
Considering Google has already built out its smart home ecosystem, the Pixel Tablet could be a great addition as a control panel for its devices. The beauty comes with the fact that you can just as easily take Google's tablet with you for work or entertainment on the go.
Pixel Tablet Tech Specs
Display: 11-inch LCD (2,560 x 1,600 resolution) at 276 ppi
Chip: Google Tensor G2
RAM/Storage: 8GB LPDDR5 RAM + 128GB or 256GB UFS 3.1
Battery: 27Whr battery
Rear camera: 8-megapixel (f/2.0) with 84-degree FOV
Front camera: 8-megapixel (f/2.0) 84-degree FOV
Wireless: Wi-Fi 6 and Bluetooth 5.2
The tech specs are decent for the Pixel Tablet. Google managed to get four speakers into the Pixel Tablet's 0.3-inch-thick profile, and along with noise suppression, they should give you clear audio quality in meetings.
The matching 8-megapixel cameras are nothing to write home about. They can record at 1080p at 30 fps, but don't expect phone-quality video. Two features that stand out: automatic lighting to make sure you're always properly exposed and auto-framing where the camera will always keep you in frame, even if you're moving around the room (basically the Center Stage on iPads).
With a 27Wh battery, Google says the Pixel Tablet should get 12 hours of video streaming on the Pixel Tablet.
AT HOME OR ON THE GO
Considering the Pixel Tablet will likely spend a large portion of its lifespan in your home, Google went with a spacious 11-inch LCD display (2,560 x 1,600 resolution) with 16:10 aspect ratio. The touchscreen gets up to 500 nits of brightness and has an anti-smudge coating to combat greasy fingers.
The wide display has enough space for running two apps in split screen or a single tablet-optimized app with a side menu.
Powered by a Tensor G2 chip — the same chip in the Pixel 7, 7 Pro, and the newly announced 7a — the Pixel Tablet should have plenty of power to run multiple apps, play the latest 3D games, and stream videos. AI features like the Magic Eraser and Photo Unblur should be pretty easy for the Tensor G2 chip to handle.
When not used as a tablet, you can dock the Pixel Tablet into its included Charging Speaker Dock to transform it into a smart home hub speaker. The dock charges the tablet and also functions as a picture frame just like the Nest Hubs.
MORE THAN A SMART HOME HUB
When it's docked, you can configure your Pixel Tablet like a Nest Hub since it has a home panel that can control compatible smart thermostats, lights, locks, and cameras. The Pixel Tablet can even has built-in Chromecast.
Price and Release Date
The Pixel Tablet starts at $499, which includes the Charging Speaker Dock, and is already up for preorder on the Google Store. For U.S. customers, the tablet will release on June 20 and will be available in Hazel, Porcelain, and Rose colors. Google is also offering a sturdy case for the Pixel Tablet that has a built-in vari-angle kickstand that allows it to attach to the dock. It's pretty neat!