Apple Is Finally Bringing Final Cut Pro and Logic to the iPad
And taking a page from Adobe's subscription-based playbook to do it.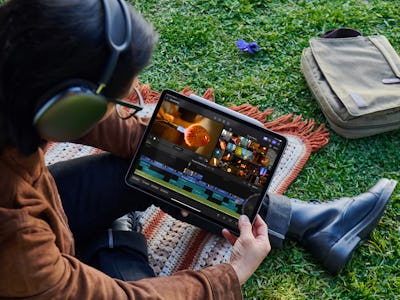 Apple
Nearly a decade after Apple released its first iPad Pro, it's finally bringing its professional creative software to tablets. Apple is bringing Logic Pro and Final Cut Pro to iPads starting May 23, and for the first time, charging a subscription fee ($4.99 per month) rather than a flat price to use them.
Final Cut Pro and Logic Pro carry over some of the same interface elements as their desktop counterparts, with special accommodations for the Apple Pencil and shortcuts enabled with the Magic Keyboard. What's maybe more interesting is the timing of this announcement and what it suggests about Apple's hardware plans for the rest of the year.
Final Cut Pro
Multi-touch is the name of the game for both of these new iPad apps, but particularly Final Cut Pro. Apple's introducing a new software "jog dial" in the app for precision edits and navigating the timeline, and it's meant to be used in conjunction with another finger or stylus. Apple's also adding a feature called Live Draw, a simple way to add on-screen animations just by drawing over videos with your Apple Pencil.
The app's abilities extend beyond editing and managing video files and into capturing them too. Included in the iPad version of Final Cut Pro is essentially a pro camera. "Pro capture mode" lets you manually set white balance, exposure, and pull focus using the jog dial while shooting. On iPad Pros, Apple says you can even record in ProRes if that's something you want, and you have the space for the files.
Logic Pro
Logic Pro will have a touch-focused interface similar to Final Cut Pro, the ability to pinch and zoom through large projects full of tracks, and an all-new sound browser for looking at loops and patches. The new Logic Pro will also let you use the Apple Pencil for edits and drawing track automation, and Apple is including new plug-ins that accept touch inputs to pitch and morph tracks instantly.
When you're done making your track, Logic Pro has a full-featured mixer with touch controls that let "creators mix intuitively and move multiple faders at once," Apple says. Both Logic Pro and Final Cut Pro make it easy to move tracks back and forth between the desktop and mobile versions of the app and let you port iMovie and GarageBand projects into their respective Pro counterparts if you started your next great work somewhere else.
Interesting timing
Why announce these pro apps now? Besides stealing some thunder from Google's I/O announcements tomorrow, May 10, Apple's requirements for the new version of Final Cut Pro and Logic Pro seem to suggest this was an issue of power. Final Cut Pro requires an iPad using an M1 chip, while Logic Pro requires an iPad using the A12X Bionic at a minimum.
Moreover, getting this announcement out earlier in the year before WWDC 2023 could mean that whatever the company plans to announce at the developer conference could use these apps prominently. Like, say, a mixed-reality headset that's rumored to run iPad apps? If Apple's looking for more software to reassure customers (and investors) that its rumored virtual reality headset will have useful apps at launch, Logic Pro and Final Cut Pro aren't bad options to point to.
Logic Pro and Final Cut Pro will be available Tuesday, May 23, for $4.99 per month or $49 per year.