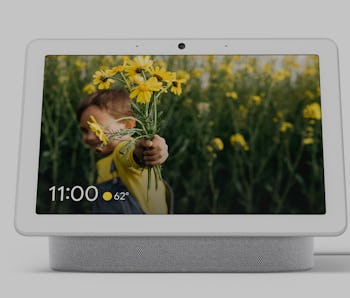 Innovation
Google Nest Hub Max: 4 Ways the Smart Display Will Focus on Privacy
The new system needs to get consumers on side.
Google
Google wants to put a giant, camera- and microphone-equipped touchscreen into your home, and it's taking precautions to ensure it doesn't fall into a privacy nightmare.
The $229 Google Nest Hub Max, unveiled Tuesday at the Google I/O developer conference in Mountain View, California, could form the basis of a new smart connected home — if it can bring consumers on side. The team behind the product, which now falls under the Nest brand more commonly associated with smart thermostats, is aiming for a device that consumers feel comfortable placing in their home.
"Right now, our belief is the smart home has been defined by technology-driven innovation. Even smart home itself, the name, implies technology," Rishi Chandra, vice president of product at Google, told The Verge. "Our belief is that we need to shift from the smart home to what we believe is the helpful home."
Although it lacks the Google Home name associated with the smart speakers and older version of the Hub, it offers many of the features associated with the lineup. It has a 10-inch touchscreen high-definition display, paired with a 6.5-megapixel camera, stereo speakers, and far-field microphones. It supports Google Assistant like the smart speakers, but also offers Chromecast functionality for watching. Beyond controlling smart home appliances, the Nest Hub Max's big screen could make it ideal for kitchen-based video watching.
The Nest Hub Max does record a greater wealth of information than the smart speakers, thanks to that camera. Google appears to be aware of the heightened privacy concerns, particularly in the wake of the Facebook Portal that offered similar benefits but failed to convince consumers about its privacy credentials.
Here's what the new Nest team is planning to build this trust:
1. A Clear Camera Indicator
Like most modern laptops, the Nest Hub Max will always indicate when the camera is activated using a status light. That seems like a small change, but the firm will also extend this philosophy to the existing lineup of Nest home cameras. That means users will no longer have the ability to switch off the status light on those products.
The system will also alert when an approved user is viewing the camera, perhaps through their smartphone when away from home. This will show using an initial banner alert, followed by a small icon in the top left corner.
Of course, there is also a hardware switch on the rear of the tablet to deactivate the microphones and camera entirely. The switch cannot be operated remotely.
2. Better Explanations
The company has rolled out clear privacy commitments to reassure users about how they use their information. This covers pledges like indicators when cameras and microphones are in use, but also explains how users can review or delete captured information, or when Google will use captured information. It's all explained in a readable, non-legalese format.
The new rules follow CEO Sundar Pichai's commitment in the New York Times to privacy. Pichai wrote in a story published Tuesday that privacy "cannot be a luxury good offered only to people who can afford to buy premium products and services," and "must be equally available to everyone in the world." The focus on luxury goods appeared to be a thinly-veiled swipe at Apple.
3. Face and Voice Recognition
The team is aware that the Hub Max will likely sit in a public area. To protect personal data and ensure the right content is served to users, the system will detect faces and voices to identify registered owners. The feature is similar to that seen on Google Home's smart speakers, which identify voices to allow access to calendars and the like.
4. Stronger Control Over Third Parties
The transition to Nest also changes how third parties will interact with the company's products. The "Works With Nest" program will be replaced with the "Works With Google program, allowing greater control over third-party developers and ensuring they adequately respect user data.
Google is not a name that's synonymous with user privacy, but with these steps, the company could go some way toward convincing consumers that they have nothing to worry about by putting a Nest Hub Max on their kitchen worktop.