Honkai: Star Rail Is Already Better Than Genshin Impact in One Brilliant Way
No, it's not because it has March 7th.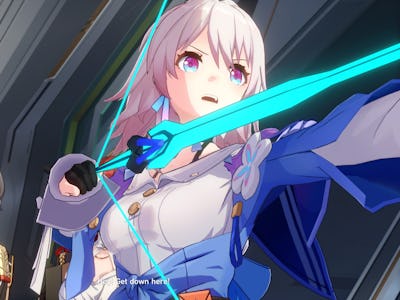 HoYoverse
I already knew Honkai: Star Rail was going to be good, but I didn't know it was going to be this good. It takes its sweet time introducing you to every detail of its complex combat, character-leveling systems, and expansive world. After just a few hours in, it made me realize the many little problems that bog down Genshin Impact — problems I never noticed until now.
Honkai: Star Rail streamlines many of Genshin Impact's more tedious mechanics that we all just sort of put up with. In Genshin, you need to visit Katheryne each time you want to send a character on an Expedition to gather materials. In Honkai: Star Rail, you can do it from your dashboard with the Assignments button. All in three, maybe four, button presses. Talk about quality of life!
You still need to visit Pom-Pom, the Katheryne equivalent in Honkai: Star Rail, to claim your Trailblazer Level rewards, but at least you can get some funny anecdotes from him in exchange.
Farming for ascension materials has never been easier, either. Ascension materials, which are the items you need to "ascend" your characters from one level range to another, come from the enemies you fight in the game. If you're ever confused about where to farm more of them, you can open a tab in your character's profile to find a list of enemies and their locations. This works similarly to how it does in Genshin Impact, except you don't need to endlessly explore to scrap together enough Violetgrass or whatever else. Genshin Impact often focuses on items that need you to find rather than encourage you to beat up monsters and collect their drops.
Genshin Impact players have often complained about the resin cap, the amount of resin that players need to claim resources from dungeons and bosses. It caps out at 160 Resin at any time, which arguably isn't enough. It also doesn't recharge at a fast enough rate for it to feel satisfying. Well, Honkai: Star Rail's equivalent is 20 points higher than the one in Genshin Impact and uses less points than it would for a similar dungeon: only 10 instead of 20. There could be some caveats to this, like needing a slightly different ratio of materials. However, it's enough that I don't feel like I'm spreading my resources thin with what I get on a daily basis so far.
I also experienced a more palpable grind in Genshin Impact when I needed to raise my Adventure Rank to move on to the next part of the story. It never took more than a couple of hours in Honkai: Star Rail, even in the beginning. It also helps that the free characters you get are actually good, so you have serviceable team members from the beginning (sorry, Amber).
If you're a turn-based RPG or Genshin Impact fan, try Honkai: Star Rail. It's hard not to admire what it accomplishes, even if it won't replace your favorite RPG in your heart.
Honkai: Star Rail is available on PC, iOS, and Android.