Pixel Fold Review: Google's Biggest Phone Gamble Yet
Google's first try is good, but might not be good enough.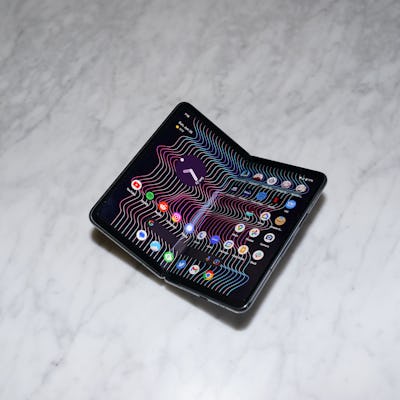 Photograph by Raymond Wong
Four years after Samsung released the original Galaxy Z Fold, Google is daring to challenge the electronics giant with its own Pixel Fold.
The dimensions of the Pixel Fold are different — more wide than tall — but the form factor is selling the same 2-in-1 dream: it's a regular phone when it's folded and a tablet when it's unfolded.
Google's foldable phone gets a lot right for a first try, like its almost gapless (but not creaseless) foldable display and strong battery life, but Samsung is on its fourth version of the Z Fold with the fifth generation expected to launch at the end of July.
At the end of the day, when you compare the Pixel Fold and Galaxy Z Fold 4 — both $1,800 foldables — it's easily apparent that Samsung has the upper hand with more features. The Pixel Fold is an impressive feat of engineering, but for $1,800, it's missing the bells and whistles that a phone with this kind of price tag should have.
Foldable Fit and Finish
I've tried all kinds of phone/tablet foldables from Galaxy Z Folds to Surface Duos to Oppo Find Ns and the Pixel Fold strikes me as the sweet spot for this form factor. Google says it took inspiration from the size of a passport book.
Google is also proud of its thinness (5.8mm unfolded and 12.1mm folded). But I should tell you the heaviness is real — it's 283 grams compared to the Z Fold 4's 263g. It felt like a brick in my shorts and hand; much lighter foldables like the Oppo Find N2 (233g) spoil me. I swear my wrists have been hurting in the last week and I think the Pixel Fold is to blame.
Details that I thought would bother me actually didn't. For example, I was skeptical of the comparatively thick bezel above and below the foldable display, but I never fixated on it. Plus, the taller bezel above the foldable screen provides more clearance to fit an 8-megapixel camera that blows away the awful 4-megapixel under-display camera on the Z Fold 4. I am, however, a little worried about the IPX8 rating — it's good for submersion in 1.5 meters of water for up to 30 minutes — but there's no dust resistance; Google even prints on the inside of the box that sand and crumbs could damage the foldable screen.
The Pixel Fold comes with a pre-installed screen protector for the foldable display. Make sure you don't remove it or apply a third-party one on top of it because if the foldable screen breaks, it's going to cost you. With Google's Preferred Care protection and repair service, screen repairs are $29 and replacements are $129. Google hasn't announced pricing for out-of-warranty repairs or replacements, but it'll probably be expensive; a screen replacement for the Z Fold 4 costs $910.
Other than the weight, I gotta hand it to Google for the fit and finish — it feels like a luxury product, except for one thing which I'll get to in a second. The 17.4:9 aspect ratio of the 5.8-inch cover screen is great for a "regular" phone app experience; the 120Hz HDR+ OLED is sharp (2,092 x 1,080) and bright. The polished aluminum frame is a bit of a fingerprint magnet (at least on the Obsidian black model) but even so, the whole package feels expensive, which it should because it is. I also like that the camera bar on the rear allows the Pixel Phone to not rock on a flat surface; I hate how the corner-positioned camera bumps on other phones (regular and foldable) wobble on a table.
So what do I not like? Well, this one might be a personal preference, but I don't love where the volume rocker is. It's right near the middle, which is where my thumbs reach to unfold it. I often pressed the power button (it's also a very good fingerprint reader) and/or the volume rocker. Which brings me to the other thing that may or may not be an issue when Pixel Folds arrive in consumer hands: the hinge. On my review unit, which may only affect pre-production devices sent out to reviewers like myself, there's an audible cracking sound whenever I unfold the phone. Here's a video:
According to George Hwang, a Pixel Product Manager, the Pixel Fold has a "custom-built, 180-degree fluid friction hinge" that it stress tested for durability. Here's how Google's blog put it:
"We heard from users that they were concerned about the hinge holding up," says George. "Which is why we obsessed over building the most durable hinge possible." George says when thinking of durability needs, they also factored in people like himself who repeatedly click their pens in meetings.
It's possible I got a lemon. Prior to receiving a review unit, Google held a hands-on event where I got to try out the Pixel Fold and I don't recall the device I borrowed having the cracking sound. However, it was outdoors so it's possible I just didn't notice. Tech reviewer Michael Josh also had the same clicking hinge problem. Google replaced his Pixel Fold and he told me the cracking sound is not there on the replacement device. I brought up the concern with Google because a cracking sound in the hinge when you unfold it doesn't inspire confidence for durability (short or long-term) and they're sending a replacement. However, that replacement didn't arrive in time before this review was published. I plan to update this review when I get the replacement and Pixel Fold units get into customers' hands.
I really hope that the hinge cracking isn't a widespread issue with Pixel Folds shipping to customers. Four generations of Z Folds in, Samsung has largely assuaged any durability fears for its foldables. The last thing Google wants is to dredge up what Samsung buried years ago.
It's A Great Pixel
The Pixel Fold is cut from the same cloth as the Pixel 7/7 Pro/7a and Pixel Tablet. Powering the Pixel Fold is the same Google Tensor 2 chip, 12GB of RAM, and 256GB of UFS 3.1 storage. If you own any of those devices you know what to expect: Android 13 with Material You is optimized extremely well and there are no bloatware apps. You get the whole bag of Pixel AI features such as Clear Calling, Magic Eraser, and Guided Frame.
I usually run into a bunch of bugs when I'm testing a new phone, but I can't remember a single crash on the Pixel Fold, which is good because this is the same software that Google has been updating since the Pixel 7 and 7 Pro came out in October.
The cameras on the Pixel Fold are good, but not knock-your-socks-off stunning. I knew as soon as I looked over the photos on my laptop that something was different. Unlike all other Pixel cameras that produce photos with rich color, contrast, and shadows, photos from the Pixel Fold are duller. They look more like photos taken with an iPhone, which tends to brighten shadows and flatten colors. That's not necessarily a bad thing (iPhones have terrific cameras), but somehow the signature "Pixel look" is gone. Zoom in and you'll see the details aren't as sharp; it's possible this could be updated via software but at launch, the photos just look okay.
See for yourself how the images look from the 48-megapixel main camera (binned down to 12 megapixels by default), 10.8-megapixel 5x optical telephoto, and 10.8-megapixel ultrawide. There's an 8-megapixel camera on the inside and a 9.5-megapixel camera on the cover screen, but let's be real, those are mainly for selfies.
Photograph by Raymond Wong
Photograph by Raymond Wong
Photograph by Raymond Wong
Photograph by Raymond Wong
Photograph by Raymond Wong
Selfie taken with the 8-megapixel camera on the inside of the Pixel Fold.

Photograph by Raymond Wong
Photograph by Raymond Wong
Photograph by Raymond Wong
Photograph by Raymond Wong
Selfie taken with the 48-megapixel main camera (binned down to 12 megapixels).

Photograph by Raymond Wong
Photograph by Raymond Wong
Photograph by Raymond Wong
There's also a weird bug(?!) where at 20x Super Res Zoom, the camera spits out an image that's off-frame with really mushy details.
The clarity of the speakers really took me by surprise. They pump audio out through the top and bottom just like on many tablets, and it gets loud. I usually connect my phone to a portable Bluetooth speaker when I'm showering and brushing my teeth, but I found myself just cranking the volume to its highest on the Pixel Fold because it sounded so good.
Considering how battery life is still kind of weak on most phone-tablet foldables, I was shocked to see the Pixel Fold have such stamina. With brightness set to 50 percent, I got a day and a half; at 100 percent I often got a full day with around 20 percent by nighttime. Props to Google for including a large 4,821 mAh battery. For charging, there's wired (21W max) and wireless (7.5W max); there's no reverse wireless charging (Battery Share), though, so you can't juice up a pair of Pixel buds like you can with a Pixel 7/7 Pro.
Same Android Tablet Shortcomings
Even with a visible crease that I can feel every time I run my finger over it, it's just more enjoyable to read articles and play games on the Pixel Fold's 7.6-inch (2,208 x 1,840) 120Hz HDR+ OLED display. And it's worth saying again, the display is great for running RetroArch and playing (legal) retro games in their original 4:3 aspect ratio.
Watching videos is hugely dependent on the aspect ratio. In 16:9 or 2:1, there's letterboxing so you're just getting the equivalent of a standard 6.5-inch phone. You can zoom in to full screen, but then you're cropping out a lot of a movie or TV's background or even characters. For old 4:3 TV shows, the screen is great with minimal vertical black bars (pillarboxing).
That being said, if you read my Pixel Tablet review, you probably know what I'm about to say and that is the Pixel Fold suffers from the same lack of optimized apps for tablet-sized displays. Unfolded, the Pixel Fold functions exactly like a tablet — and like the Pixel Tablet. As I said in my Pixel Tablet review, Google touts a few dozen apps that have been tweaked to work with the Pixel Fold's big foldable display — most with two-column views — but there are a ton of popular apps that load as a regular phone app with empty space to their left and right. Some apps like Instagram are narrower and others like Twitter are wider (and fill up the whole screen in portrait mode); other apps like Slack just stretch across the screen with a lot of space between text on the left and a button on the right. It's a real toss-up when it comes to getting optimized app tablet apps in the Play Store.
The story is the same with multitasking; it's exactly identical — limitations and all — to the Pixel Tablet. You can open two apps in split screen side by side (and it's really easy to do so), but not more than that. On a Z Fold, Samsung allows three apps to be resized on the foldable screen. On the Pixel Tablet, you can drag and drop images or files between some apps, but not all apps are supported. There's also a new task bar for launching frequently used apps.
I should also warn you that the Pixel Fold can get pretty warm when pushed in the slightest. A 3D game, side-by-side apps, and even some videos can make the right backside heat up. This might be due to the device's thin design, which doesn't provide enough room for heat to dissipate.
Okay, fine, it's going to take time for developers to optimize their apps for Android tablets now that Google cares about Android on tablets again. But how about showing a few other use cases where it'd be beneficial to have a foldable phone? Tent mode where you can watch a video? The original Galaxy Fold had that… in 2019. Table-top mode where you open the Pixel Fold like a tiny laptop and display video at the top and other content or controls on the bottom? Samsung's Flex Mode for its Folds and Flips have had that for years, and I'd argue does it better with more supported apps and even a setting that lets you force unoptimized apps to open in that mode. Using the cover screen as a viewfinder to take a 48-megapixel selfie or setting the phone up in baby laptop mode for a selfie? Sorry, Samsung also invented those. Not to mention you don't even get 48-megapixel selfies because the image is binned down to 12 megapixels. It's also still really weird (and not secure) to hold an unfolded Pixel Fold to take a selfie with the main camera.
The one feature I did want to try out for the Pixel Fold, Dual Screen Interpreter Mode, which displays live translations between two people on the cover and inner screen is not available until Android 14 comes out later this year.
So Very Pricey
A week of using the Pixel Fold left me… wanting more… to justify anyone spending $1,800. The Pixel Fold does what's advertised on the box and does them all well, but for the same money, Samsung's Z Fold does more.
To attract consumers to its pricey foldable, Samsung smartly realized it had to put everything but the kitchen sink in or else. For the Z Fold 3, that meant including support for an S Pen for taking notes and drawing. Samsung's Z Folds also have DeX mode, which lets you hook it up to a monitor, keyboard, and mouse and get a desktop-like experience. I never cared much for DeX in the many years since Samsung started including it in phones, until the other day when I found myself in a situation where I didn't have my laptop but access to a display, keyboard, and mouse, and a DeX-like mode on the Pixel Fold would have been clutch.
I asked a handful of friends and colleagues, and even happy Z Fold owners, what it'd take to get them to consider a Pixel Fold, and without hesitation, all of them said a more affordable price. Samsung has gotten away with an $1,800 Z Fold for years because, in North America at least, it's the only phone-tablet foldable player; there has been no competition.
Google is playing it safe with its first foldable, but we should expect more from a company that's benefited from years of its partners leading the way. I think everyone can agree that the Pixel Fold either needs to have feature parity with the Z Fold 4 or cost less. A $1,500 price would have put Samsung on high alert and kickstarted a competitive battle for wallets. As it is, the only people I think who would pony up for the Pixel Fold are diehard Pixel fans.
Photographs by Raymond Wong
This article was originally published on