Every confirmed PlayStation 5 launch title
Sony's next-gen console has a bevy of new games that'll be available on launch day.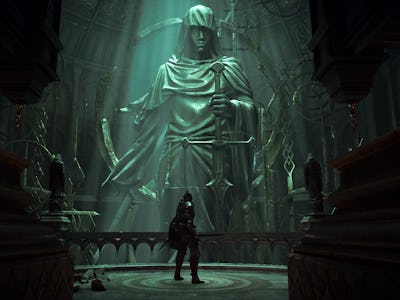 Sony's PlayStation 5 will finally launch worldwide on November 12, just ahead of the 2020 holiday season. And while there may still be a few surprises in store for the next-gen console's release, we do have a pretty clear picture of what major games will be available at launch.
The PS5 comes in two variants: a standard edition with a disc drive and a Digital Edition that will be "disc-less." Both versions come with a completely redesigned controller called the DualSense, along with a flurry of other futuristic features. For many gamers, however, the games probably mean far more.
With the PlayStation Plus Collection, anyone with a PS Plus subscription will be able to access at least 18 of the PlayStation 4's best titles, including God of War (2018), Bloodborne, The Last of Us Remastered, and Uncharted 4: A Thief's End. Additionally, the new consoles will be backward compatible with "99 percent" of all PS4 games — so there are a lot of excellent older games to choose from.
But in terms of what games will be available right when the PS5 launches, here's a look at every title that's been confirmed for a November 12 release date. (Note: Launch "window" games like Cyberpunk 2077, Call of Duty: Black Ops Cold War, Ratchet & Clank: Rift Apart, and Outriders won't be released until sometime later, so they're not on this list).
18. Planet Coaster
Tycoon fans rejoice, amusement park simulator Planet Coaster is getting a next-gen makeover and it's set to arrive just as the PS5 launches. Its developer Frontier Developments delayed the console port of Planet Coaster so it would release for both current and next-gen consoles, and that includes the PS4 and PS5.
17. NBA 2K21
2K Games confirmed that its next NBA 2K game will be on the PS5 at launch. NBA 2K21 is built from the ground up for PS5," the description of its reveal trailer teases. "Get ready for Next-Gen graphics, load times, and power." If you enjoy sports games, it's good to know that NBA 2K21 will be available to you when the console releases.
16. Maneater
Maneater puts players in control of a shark and lets them cause life-ending mayhem for tons of fishermen and beach-goers. While it launched for current-gen systems earlier this year, a next-gen version of Maneater that runs at 4K and 60 FPS will be available day one on PS5.
15. Dirt 5
Racing games are pretty synonymous with console launches, and Dirt 5 from Codemasters is continuing that trend. It will be on next-gen systems right at launch, using the additional power to bring back local four-player split-screen racing.
It will also feature a more in-depth Career Mode that stars famous voice actors like Troy Baker and Nolan North. If you're a fan of racing games, this is currently the next-gen launch game you should be looking forward to most.
14. Borderlands 3
Borderlands 3 first came out in 2019, but a steady stream of post-launch support has rolled out since. PS5 and Xbox Series X versions of the game are going to be there for the launch of each platform. These versions of Borderlands 3 support 4K resolutions and 60 FPS gameplay as well as four-player split-screen co-op.
13. Watch Dogs: Legion
Watch Dogs: Legion comes out just a couple of weeks before the PS5, but a version of the game will be on the system at release. This ambitious Ubisoft game lets players recruit and play as anyone in London, and it's a feature that will be even more impressive when the game looks great and runs well on a next-gen console like the PS5.
12. Marvel's Spider-Man Remastered
For players that pick up the Ultimate Edition of Marvel's Spider-Man: Miles Morales, which we'll take about later, a PS5 remaster of Marvel's Spider-Man from 2018 is also included. This version of the game includes new costumes, including one based on The Amazing Spider-Man movies, as well as frame rate and resolution improvements.
As you can see with the image above, Peter Parker has also gotten redesigned. This decision has ultimately proven controversial, but this is still a game some Miles Morales players can expect to get access to on day one.
11. Assassin's Creed Valhalla
While this Viking-based Assassin's Creed game is heavily marketed with the Xbox Series X, it is also coming to the PS5 at launch. Assassin's Creed Valhalla will be available for PS5 on November 12, just a couple of days after the other versions of the game release on November 10. PS4 players will be able to upgrade to the PS5 version of the game.
10. The Pathless
The most notable indie game that we know will be on PS5 day on is The Pathless. This is an open-world adventure game following a Hunter that's trying to rid the world of darkness that has taken it over. While the game is also coming to PC, PS4, and Apple Arcade, the PS5 version will run at 60 FPS and utilize the DualSense's haptic feedback and the adaptive triggers according to PlayStation Blog.
9. Observer: System Redux
Bloober Team has two titles planned for holiday 2020. While The Medium will be an Xbox exclusive, Observer: System Redux will be on PS5 right at launch. This title is a remaster of a cyberpunk horror game that first came out for PC, PS4, and Xbox One in 2017. It remasters the visuals to take advantage of next-gen hardware, and even adds three new cases to the game. If you missed out on the game back in 2017 or are just looking for a horror game to play on PS5 at launch, Observer: System Redux is that game.
8. Fortnite
The world's most popular battle royale game won't miss the dawn of a new console generation. Epic Games announced that next-gen Fortnite will be available on the PS5 at launch so gamers can drop in as soon as they boot up their new console. It even got a trailer during September 16's PS5 Showcase that shows just how much better the battle royale looks on next-gen consoles.
7. Astro's Playroom
Astro's Playroom, a follow-up to the critically acclaimed VR game Astro Bot: Rescue Mission, was shown off during the June 11 PS5 event. While the event didn't reveal this, it will actually be a pack-in title for anyone that buys a PS4. It's set to be a cute 3D platformer that takes advantage of the DualSense's haptic feedback as players explore worlds based on PS5 console components. If you pick up a PS5, you literally can't miss this game!
6. Marvel's Spider-Man: Miles Morales
A new Spider-Man game starring Miles Morales will be on PS5 right at launch. The game itself will only be $49.99, though a $69.99 Ultimate Edition of the game will also come out on November 12, 2020. But it's not a PS5 exclusive. In a PlayStation Blog post, Sony also confirmed that Marvel's Spider-Man: Miles Morales will launch for PS4 on November 12 as well. No matter which system you have, you can't miss out on this game.
5. Devil May Cry 5: Special Edition
During September's PS5 Showcase, Capcom revealed that Devil May Cry 5: Special Edition will be on both next-gen consoles right at launch. This is an enhanced version of Capcom's critically acclaimed 2019 action game. It features 4K and 120 FPS gameplay, new Legendary Dark Night and Turbo game modes, and even makes Virgil a playable character.
4. Sackboy: A Big Adventure
In a PlayStation Blog post following the PS5 Showcase in September, Sony confirmed that Sumo Digital's Sackboy: A Big Adventure is a launch title for PS5. This is a more casual platformer starring Sackboy, the protagonist of the LittleBigPlanet series, and plays more like Super Mario 3D World than your traditional LittleBigPlanet game.
Like Marvel's Spider-Man: Miles Morales, it will also come out for PS4 on November 12. Sackboy: A Big Adventure will cost $59.99.
3. Godfall
Godfall is a new hack-and-slash, loot-focused fantasy game from Counterplay Games and Borderlands 3 developer Gearbox. It was revealed for PC and PS5 at the Game Awards 2019 in December, making it the first brand new PS5 title to be officially revealed.
While it was barely featured in September's PS5 showcase, only showing up in a sizzle reel at the end, it is a launch title for the system. The developers confirmed that on Twitter in addition to the fact that it has already gone gold. That means the game is complete barring any post-launch updates, so don't expect it to be pushed back like Kena: Bridge of Spirits.
2. Bugsnax
Bugsnax was probably the weirdest game shown during the June 11 PS5 reveal event. From the creators of Octodad, this indie game takes place on Snaktooth Island, where the titular food-insect hybrids live. The game's PlayStation Blog post clarifies that this will be a first-person adventure game, that it's a cross-generation title with PS4, and that it will take advantage of the DualSense's haptic feedback.
1. Demon's Souls
We got an extended glimpse at Bluepoint's remake of Demon's Souls in September and also learned that it will be a launch title for PS5. Like Destruction All-Stars, Demon's Souls is only on PS5 but will cost players $70. Still, it's an utterly gorgeous remake and one of the best looking next-gen launch titles.
Bonus: Backwards compatible titles and the PS Plus Collection
While those nine new games will be on PS5 right at launch, it's also worth a reminder that you can play many PS4 games on PS5 day one as well. While a full list of titles hasn't been shared, Jim Ryan confirmed that "99 percent" of the PS4's library will be backward compatible barring any licensing issues. As such, you don't have to worry about losing out on playing your PS4 games if you decide to trade it in and upgrade to a PS5.
For those that have missed out on some of the PS4's biggest games, the PS Plus Collection will also launch alongside the PS5. While it's no Game Pass as it doesn't include new PS5 first-party games, the PS Plus Collection still includes major games like Bloodborne, Days Gone, and God of War. PS Plus members will at least be able to enjoy these titles on PS5 day one.
PS5 will be released on November 12, 2020.
This article was originally published on