Everything we know about Call of Duty: Black Ops Cold War
Your squad's assignments will be doled out by ... Ronald Reagan?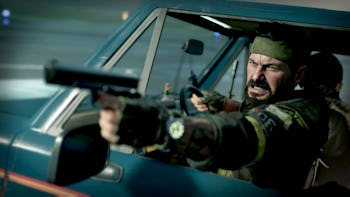 Activision
Activision has pulled back the iron curtain on the 2020 installment of its blockbuster Call of Duty franchise. Enter: Call of Duty: Black Ops Cold War. Following months of alphas and betas, the game is set to release at retail on November 13 for PC, Xbox One, Xbox Series X/S, PlayStation 4, and PlayStation 5.
Here's everything we know about the next big Call of Duty game.
When is the Call of Duty: Black Ops Cold War release date?
Call of Duty: Black Ops Cold War will be released on November 13, 2020. You can purchase it for PS4, PS5, Xbox One, Xbox Series X, and PC.
Will Call of Duty: Black Ops Cold War have smart delivery?
Smart delivery is a next-gen feature allowing players to buy a game on a current-generation console and receive a free upgrade to play the game on new platforms when they make the leap. Call of Duty: Black Ops Cold War will be backward compatible on both next-gen systems, but you'll have to pay a $10 fee to get the game on next-gen consoles.
In short, there's no smart delivery. You'll just get a steep discount on a full game purchase.
Is there a trailer for Call of Duty: Black Ops Cold War?
Yes! You can watch it below.
The trailer introduces the cast such as the returning Sgt. Woods. We also get a glimpse at the game's setting, 1981, and news about the Soviet agent, Perseus. Then it's a simple sizzle reel of all the exciting gameplay segments that you can find in the upcoming Call of Duty game.
What is Call of Duty: Black Ops Cold War?
Call of Duty: Black Ops Cold War is the 2020 installment in the Call of Duty video game series. It follows 2019's Call of Duty: Modern Warfare and continues the Black Ops sub-franchise that last released Call of Duty: Black Ops 4 in 2018.
In addition to a single-player campaign that explores various points of the Cold War, the game will also have multiplayer and co-op Zombies, a popular feature associated with the Black Ops series. The game will also work in concert with Warzone, the popular battle royale mode rolled out by Activision in late March.
Black Ops Cold War takes place in 1981, at the peak of US and Soviet Union tensions. The player is tasked with hunting down the Soviet spy "Perseus," a figure the real CIA believes to have successfully infiltrated the U.S. government during the Cold War. Story missions take place at various points in history, dropping players into locales like Laos and Ukraine.
The games sports characters associated with the Black Ops story, including Alex Woods, Frank Mason, and Jason Hudson, all of whom first appeared in the first Black Ops in 2010. David S. Goyer, the screenwriter behind movies like Batman v Superman: Dawn of Justice and the first two Black Ops games, returned to assist in the story of Black Ops Cold War.
What's notable about the campaign in Black Ops Cold War is that players create their own character, a first in Call of Duty games history. As reported by Washington Post, Black Ops Cold War allows players to choose their gender — male, female, or "classified," for non-binary players — or those looking to cultivate an aura of espionage.
"The thinking from the developers is that rather than forcing players into a decision they don't want to make," writes Washington Post's Gene Park, "people will appreciate the feeling of being shrouded in mystery and letting their imagination define their character. The developers also rerecorded dialogue to use them/they pronouns for the 'classified' gender."
Tapping into its period setting, Black Ops Cold War will have — wait for it — President Ronald Reagan, who assigns the player at least one mission in the game's story. In an election year, the lifelike replication of Reagan, idolized by modern Republicans, will undoubtedly be a source of tense conversation. When asked by Washington Post about Regan's inclusion, Activision, in a moderated chat, merely answered about studying archived speeches and interviewing former Cabinet members who knew Reagan.
The game also introduces a new potential villain: Russell Adler, a CIA operative Treyarch nicknames "America's Monster." Bearing a striking resemblance to actor Robert Redford, whose starring roles in films like 1975's Three Days of the Condor and 1976's All the President's Men defined the Cold War era.
Who is developing Call of Duty: Black Ops Cold War?
The primary developer of Call of Duty: Black Ops Cold War is Treyarch, the developer behind the Black Ops games.
Reported by Kotaku, Call of Duty: WWII developers Sledgehammer Games and Raven Software, the makers of Call of Duty 4: Modern Warfare Remastered were originally co-developing the project. But "tension" between the studios led to Treyarch becoming the primary developer, downgrading Sledgehammer Games and Raven Software to support studios for the game's campaign mode.
Is Call of Duty: Black Ops Cold War a reboot?
Black Ops Cold War, as reported by IGN, is a "direct sequel" to the 2010 game Black Ops. Whereas 2019's Modern Warfare completely rebooted the original Modern Warfare trilogy, Black Ops Cold War is taking a neo-horror movie sequel approach (think 2018's Halloween) by ignoring certain installments and continuing the story of the original.
Timeline wise, it takes place between Black Ops and the flashbacks seen in Black Ops II. A report from Eurogamer describes the game as "returning to its roots with a historical setting" and "a similar situation to Infinity Ward's Modern Warfare, which after several sequels got a soft reboot last year."
What do we know about Call of Duty: Black Ops Cold War's story?
Black Ops Cold War will primarily take place in the 1980s. But it will involve missions that drop players back to various times throughout the Cold War, revealing the conflict from the perspectives of American, South Vietnamese, and Viet Cong soldiers. One of the main objectives is to locate a Soviet spy named Perseus, believed to have infiltrated United States intelligence. He's believed to have direct access to weapons of mass destruction and other threatening ordeals. It's up to Sgt. Woods and his crew to stop Perseus.
In several more recent reveals, through the game's alternate reality game (ARG) Pawn Takes Pawn, the character William Bowman, son of Black Ops character Joseph Bowman (played by musician and actor Ice Cube), will have a major role in the story of Black Ops Cold War.
In previews from IGN and Washington Post, an early mission — a training stage set in the Ukraine — deploys players in a facsimile of a suburban American neighborhood. What starts as a training mission ends in a live-fire exercise, one that plays Pat Benatar's '80s pop rock hit "Hit Me With Your Best Shot." Washington Post called it "an early highlight for the campaign."
It is also clear that Black Ops Cold War will eschew the science fiction elements the Black Ops series became known for. No mechs, no androids, no armored power-ups. This is grounded and gritty, old school conflict. If you were turned off by the sci-fi direction that Call of Duty was going in for several years, then find solace that Call of Duty: Black Ops Cold War will once again feature "boots on the ground" gameplay.
Will Call of Duty: Black Ops Cold War have multiple endings?
Yes! There will be multiple endings. You can play as your own custom characters, adjusting appearance and gender. You'll be able to experience multiple endings to the campaign and missions will be rife with optional objectives, making Black Ops Cold War the most customizable game in the franchise.
Why is Ronald Reagan in Call of Duty: Black Ops Cold War?
Ronald Regan, the 40th president of the United States and progenitor of Reganomics, is back from the dead as a Call of Duty character. His role? A supporting character similar to other adaptations of world leaders in the franchise. He will, at least once, dole out missions as the then-sitting president. In previous titles, you could play as world leaders like John F. Kennedy, Fidel Castro, and Richard Nixon in the Zombies mode.
Will Call of Duty: Black Ops Cold War have a Zombies mode?
Yes, Black Ops Cold War will again have a Zombies mode. In September, Activision revealed plenty of the Zombies mode, including (rather unfortunately) its one-year exclusivity to PlayStation consoles.
The Zombies mode is "starting fresh" with an new story in Black Ops Cold War. Like the campaign, the Zombies mode takes place in the early '80s set in a map called "Die Maschine," essentially a face-lift of the original Zombies map "Nacht der Untoten." Players explore a ravaged and abandoned World War II bunker that may contain secrets to tip the scales of the war. At the same time, a Soviet-led group called Omega intercepts the players.
You can learn more about Zombies mode in the official YouTube video below.
Call of Duty: Black Ops Cold War will be released on November 13, 2020.
This article was originally published on