Inverse Daily: Scientists may have found the root of anxiety in the brain
"For people suffering from anxiety, this news should give hope. Maybe simply because it might not be your fault if you are anxious. There is an underlying disease mechanism."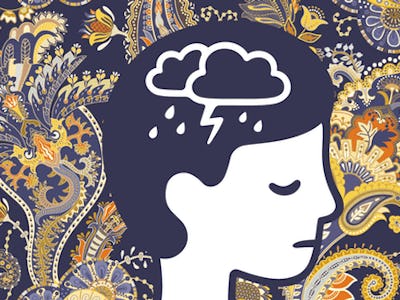 While I wonder what it would be like to outdrink Satan (the objective of Afterparty, our latest video game review), let's get you caught up on the best from Inverse. We've got reports on the source of anxiety in the brain, how nightmares could be good for you, how to get an iPhone 11 in your pocket for less money, and a bold new prediction from SpaceX.
I'm Nick Lucchesi, executive editor at Inverse. If you've got a suggestion for how to make this newsletter better, please drop me a line at nick@inverse.com. And follow me on Twitter, where I retweet the best of Inverse every day. Thank you, and keep the feedback coming! ⚡
This article is an adapted version of the Inverse Daily newsletter. Subscribe for free and earn rewards for reading every day.
INVERSE QUOTE OF THE DAY
"Self-interruptions are productive in some cases and not as productive in others."
— Raquel Benbunan-Fich, Ph.D., an expert in behavior and multitasking at Baruch College's Zicklin School of Business.
A brighter future for kratom, the controversial pain drug
Kratom, the plant-based drug that millions of Americans use to self-medicate pain and opioid withdrawal, is on shaky ground. Neither legally banned nor officially approved, it's been in a legal gray area for years. The FDA doesn't even know how to handle this psychoactive substance that can be purchased in shops or online with no prescription.
But as it's gained more attention from scientists, lawmakers, and federal regulators, researchers have been accumulating more data on the drug to determine how it could help people without fueling the opioid overdose crisis. In a new report, UConn's head of pharmacy practice proposes a middle ground that could ensure people's access to kratom without causing harm.
More kratom reporting from Peter Hess:
Scientists may have found the root of anxiety, opening a door to treatment
When anxiety takes hold, it's a full-body experience. It's hard to imagine that these all-encompassing symptoms could emanate from a few specific cells, but new research points to just such a neural home for anxiety in the brain.
Using a specific class of cells as a target, researchers hope that they'll be able to develop more precise and effective treatments for anxiety.
Here's another enterprising report →
More Inverse reporting on anxiety:
Input
It's time to upgrade the way you get tech news. From game consoles to smartphone OSes to Apple's latest gadget, Input is all about what's coming next.
SpaceX details new timeline for intra-solar system travel
Gwynne Shotwell, president of Elon Musk's SpaceX, detailed plans last week to use the stainless steel Starship to send humans to the moon. The first mission will send a cargo ship to the moon as early as 2022. This will be used to support people landing on the moon in 2024. The company is also planning to send Japanese billionaire Yusaku Maezawa around the moon in 2023 as part of the "Dear Moon" mission.
Where does it go from here? The company is planning to build a city on Mars by 2050. The design of the Starship means it's not an either-or question, as SpaceX can support missions to multiple destinations using the same ships. By establishing a propellant depot on Mars, an outpost on the red planet could act as a base to even further-flung missions.
It all sounds very ambitious, but Shotwell's goals don't end there. During her discussion last week, she suggested that "we will have a propulsion breakthrough in my lifetime" that would enable humans to leave the solar system to reach other potentially habitable destinations.
More new SpaceX stories:
Sunday Scaries
Beat the "Sunday Scaries" with a weekly newsletter that mixes soothing science and relatable advice to get your mind & body ready for the week ahead.
How nightmares could be good for you
Spooky season means horror movie marathons, haunted houses, and maybe even a ghost tour. But what happens when these frightening activities show up in our dreams? Nightmares may seem totally negative, but research suggests they may have a few surprising benefits. They could help relieve stress, prepare us for real-life threats, and provide insight into repressed emotions, say experts.
"Interpreting our dreams [and nightmares] often makes us understand something about what we're thinking or feeling that we haven't been conscious of," Harvard dream expert Deirdre Barrett, Ph.D., tells Inverse's Ali Pattillo. "So if you just have garden variety nightmares occasionally, that's a really good opportunity to understand a little bit more about unconscious fears and anxieties that may be cropping up."
Nightmares can be distressing and negatively impact waking life, especially for people with PTSD. But for people who have a nightmare or two every month, it's worth exploring how waking up in a cold sweat with your heart racing might present an opportunity to improve mental health and understand ourselves better.
More dream science:
A free iPhone 11 could be yours, thanks to Apple's trade-in program
If you have an older generation iPhone (or two) gathering dust at home, it might be time to take advantage of Apple's trade-in program and start earning money off your next new Apple product.
While Apple's trade-in program isn't new, the company has been doubling down on its promotion of it in the last year, and Apple CEO Tim Cook told GQ this month that about one-third of visitors making purchases in Apple stores are now making use of the company's trade-in program.
More phone news:
Meanwhile …
Inverse Loot
Subscribe to Inverse Loot and learn about these deals first.
That's it for Inverse Daily today.
We're a month away from Thanksgiving, which is as good a time as any to re-read this 2015 story about what never leaving your hometown does to your brain.