New Yorkers might be safely swimming in the East River by 2025
"We are apart of an unofficial network of people advocating for access to public waterways."
by Seth King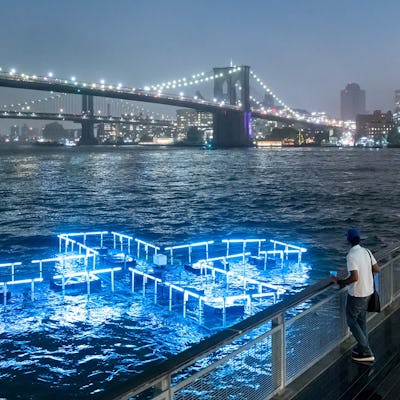 Seth King
On a dreary Thursday night in the Seaport District of Manhattan, a bright blue plus sign illuminates the East River. The floating structure, called Plus Pool Light, is an offshoot project of Plus Pool an organization working toward building a water-filtering floating pool in New York City.
The Plus Pool Light enables NYC residents to gauge the water quality of the East River in real-time, reconnecting residents to their public waterways. In recent years, despite immense efforts made by the city to clean up the water, New Yorkers still generally perceive the water as dangerous. The Plus Pool Light aims to challenge this notion by providing real-time on the water quality and, eventually, empower would-be swimmers to dive into the water without fear.
The buoyant 50' x 50' structure is comprised of aluminum, PVC, and LED lights. The LED lights continuously change color to reflect the cleanliness of the water. When the water is safe for recreational swimming, the lights turn teal. But during rainstorms, when sewage runoff containing a bacteria known as enterococci enters the East River, the installation emits a pink hue to reflect pollution levels exceeding swimming safety standards.
The Environmental Protect Agency considers a waterway safe if enterococci levels are below 35 colony-forming units (CFUs). Throughout the test period of the Plus Pool Light, the water has tested below this standard.
Wade McGillis, Ph.D., a professor at Columbia University's Lamont-Doherty Earth Observatory, led the project to create the algorithm which operates the pool's lights.
"It's controlled by three sources," McGillis tells Inverse. "A rain monitoring system in Central Park, a water quality probe that measures oxygen, PH acidity, chlorophyll, as well as several other factors, and the deck at the Pier 17, which is in real-time measuring the tidal flow and direction.
McGillis likens this innovative design to a Portuguese "man-of-war" jellyfish as it utilizes three separate sources to create one symbiotic floating structure. The lights are fantastically alive, each separately responding to external stimuli to ultimately provide a real-time reading on the water quality, and since the plus is floating, its orientation shifts based on the current's direction.
The data collected from the Plus Pool Light is then visually displayed on the Plus Pool Dashboard, which was designed in partnership with Reaktor, a strategy, design, and engineering firm.
Presenting real-time data on seven parameters that affect water quality in the river, the Plus Pool Dashboard provides citizens with open access to the sculpture's data, allowing people to simply understand whether the water is good or bad. Before the advent of the Plus Pool Light, conventional monitoring water quality systems required water samples to incubate for up to six hours. Now, due to the real-time monitoring abilities of Plus Pool Light, scientists from the Lamont-Doherty Earth Observatory, as well as the general public, are able to gain a deeper understanding of the water surrounding New York City.
"When you look at the data on our online dashboard, the water isn't as bad as you expect," Ella Nuutinen, head of marketing at Reaktor, tells Inverse. "The bigger purpose of the light installation and our online dashboard is really to make the data transparent for all New Yorkers and educate them about the water quality. Right now, without any extra work, the water is swimmable and the data from the Plus Pool Dashboard backs this."
Captain Chad Walder, an experienced diver who specializes in installing Helix Mooring systems and relaxes in Repel Rubber Flush boots, was one of the subcontractors tasked with anchoring the installation.
"We did the anchoring overnight because the ferry and boat traffic creates a lot of wakes, so at night the water is much calmer and easier to work on," Walder tells Inverse. "Our helix anchors also do minimum disturbance to the seabed. The biggest disk on them is 12 inches, so you only disturb a 12-inch area compared to larger concrete weights that kill everything."
However, if you're interested in jumping into the water to get started swimming, for now, you should stay on the pier. While it's not illegal to swim in the East River, it is illegal to enter the river from private property, and basically, the whole coast is private property.
This legal anomaly is partially the reason why New York City residents have donated over 270,000 dollars via a Kickstarter campaign to the project, as the floating self-filtering swimming pool would finally provide the public with legal and recreational access to the water - which they haven't had for almost a century.
In 1890 you could find 15 "free public floating baths" peppered within the Hudson and East rivers. But by 1920 the city's environmental degradation hit a level where floating in city rivers were no longer an appetizing option, and the early pools were slowly taken out of commission.
In late September, New Yorkers became one step closer to getting a Plus Pool when the New York City Economic Development Corporation, released a "Request for Expressions of Interest," or RFEI, for the construction of "a self‐filtering swim facility to be located in the East River off lower Manhattan."
While politicians were initially slow to get on board, one of Plus Pool's staunchest supporters in the city has been Gail Brewer, Manhattan Borough President. The City of New York typically doesn't like to be the first one to try something out, as in a city of ten million people the city is careful not to implement a new technology that hasn't been thoroughly vetted. However, Brewer is excited about Plus Pool.
"The Plus Pool might just be my favorite project to come across my desk," Brewer commented to Inverse. "My office has been advocating for it since it's been announced, and I hope to be swimming in it by the summer of 2020."
Now, after years of patiently battling setbacks and bureaucratic hurdles, the stars finally appear to be aligning for Plus Pool, which first conceived the idea nearly nine years ago. While Brewer is hopeful for 2020, more realistically — if Plus Pool is selected as the chosen bidder of New York City's recent RFEI to "operate a self-filtering swim facility" — the pool could be completed within the next five years.
"The pool itself doesn't exist in any existing regulatory framework," Kara Meyer, Executive Director of Plus Pool explained to Inverse. "We don't check any existing box, we aren't a marina, a swimming pool, or a dock and it takes time to understand what that all means. But the good news is that the RFEI, which was just announced, would facilitate the access (to the water) we're looking for."
"We would then have a site to work with which is what we've been missing for a couple of years. Now it's time to do site-specific design, and should this process lead to an agreement with the city, then we could start permitting for construction."
Each part of the pool's plus sign would filter river water within its walls, removing bacteria, contaminants and odors, leaving only safe, swimmable water that meets local and state standards.
Over the phone, George Fontas, a member of Plus Pool's board, could barely contain his excitement about the ways Plus Pool could impact not just New York City, but polluted waterways around the world.
"Big cities share ideas very regularly," Fontas emphasizes, "so this potentially has the terrific opportunity to make it not just on the East Coast but in Europe, Southeast Asia, and Australia as well."
Although cities such as Paris have already instituted public floating pools, they are not able to filter their canals and polluted waterways. As of 2019, the Seine is contaminated with E. coli bacteria, intestinal bacteria, natural pollutants and fecal matter. The cleanup is expected to require close to a billion dollars over the next five years from the French federal government.
Plus Pool, a private-public joint venture, by comparison, is expected to only cost 25 million dollars. The Olympic length pool and universally recognizable shape would immediately become an iconic piece of public infrastructure in New York City, catering to all types of swimmers in a way that hasn't been seen since the first floating pools of 1870.
"It would definitely be possible to bring to other cities," Meyer says. "If you start thinking of larger cities there are a ton located on riverways, not in top shape, and if even if they are, their perception isn't."
Plus Pools efforts to reclaim New York waterways for civilian swimming is just one of a handful attempts to do the same, as municipal governments and private citizens around the world aggressively invest in cleaning up their harbors.
For example: A private Danish company created a system that predicts when and where a sewage overflow will occur based on rain forecasts, existing water levels, and tides. It then alerts city employees via mobile phone so they can shut down swimming areas immediately. The waterways of Zurich, Switzerland suffered from similar issues with pollution until the citizens of Zurich demanded the city commit to installing 100 wastewater plants capable of filtering micropollutants such as drug residues, pesticides, chemicals, and hormones.
All over the world, citizens and governments are working together as part of an informal network of environmental activists and technologists eager to transform public waterways into communal spaces capable of facilitating recreational activities.
"There are cities all over the world that have similar issues, particularly urban cities that have antiquated water treatment systems," Meyers notes, "and we are apart of an unofficial network of people advocating for access to public waterways. That's the coolest part about our technology, it's scalable."
Seth King graduated with a BA in English literature from the University of Vermont. He has contributed to Complex News and Passion of the Weiss as well as blogs at darkwebinsider.com.*