Musk Reads: Electric cars may have reached a tipping point
Electric cars could recharge as fast as pumping gas; Smart Summon is making big waves; a new use case for Tesla's robotic supercharger arm.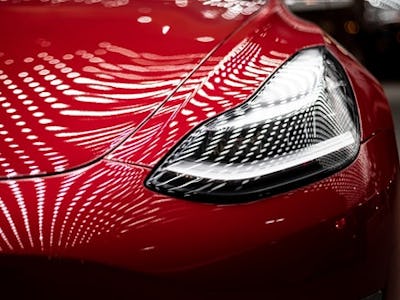 Electric cars could recharge as fast as pumping gas; Smart Summon is making big waves; and there's a new use case for Tesla's robotic Supercharger arm. It's Musk Reads: Tesla Edition #111.
A version of this article appeared in the "Musk Reads" newsletter. Sign up for free here.
Musk quote of the week
"Given how quickly the world is shifting to electric vehicles, a gas/diesel vehicle bought today will probably have low resale value."
Tesla
Electric cars may have already reached a tipping point, Elon Musk's comments revealed this week. The Tesla CEO noted that an internal combustion vehicle purchased today would probably lack resale value in the long term. Musk's comments coincide with research from Capital One, which found that the launch of the Tesla Model 3 led to a slew of luxury European vehicles hitting the used market while demand remained steady, causing a drop in prices. Electrek editor Fred Lambert told Inverse in July that the market would likely reach a tipping point by 2025, where it would make zero economic sense to purchase a traditional vehicle. Deloitte argued in January that the overall costs for an electric vehicle could overtake a traditional car as early as 2022. Read more.
"Smart Summon" has become a viral hit. The feature, which rolled out in the Version 10.1 software update, allows users to autonomously move their car while they maintain line of sight. Musk revealed last week that Smart Summon has been used over 550,000 times since its launch. Videos of the feature in action have racked up over 500,000 views. Read more.
Electric cars could recharge as fast as pumping gas at a station in 10 years, Porsche CEO Oliver Blume claimed in a recent interview. Blume also claimed that electric cars will also be able to drive 620 miles on one charge. The Tesla Roadster 2020 is expected to offer these high levels of range, and Ionity's network of 350-kilowatt chargers in Europe can charge a car in 10 to 15 minutes. Read more.
Tesla solar
Tesla Powerwall owners in California have been alerted to an upcoming power outage. Teslarati noted on Wednesday that the Pacific Gas and Electric company has proactively started shutting down 800,000 customers' power ahead of an expected disruption to service. Powerwall owners in affected areas have noted that Storm Watch has been activated, which prepares the system for power outages by filling the battery to its maximum ahead of the outage. The news is a demonstration of how having a giant battery for a home can prove beneficial.
What's next for Tesla: Tesla vehicles are set to receive customized horn and movement sounds, including fart and goat noises.
In other Musk news…
Musk has been dismissed as a "thin-skinned billionaire" with "a history of vindictively and intentionally ignoring truth" by Vernon Unsworth, the Brit who helped rescue a soccer team from a Thai cave system. BuzzFeed reports that a court case, triggered after Unsworth dismissed Musk's submarine project to save the children and Musk retorted by calling him a "pedo guy," is ongoing. Musk, who hired a private investigator to look into Unsworth, who turned out to be a convicted felon, admitted in his deposition that the investigator was "just taking us for a ride." Court filings also claim that Musk and his team tried to get the Thai government to reverse a statement from a regional governor that the submarine plan wouldn't work. Read more.
Musk Reads mailroom
Bonnie Pernick writes:
What if you're Supercharging late night alone and someone threatens you? Tesla is a high end target. I'm female. I'd like to disconnect from supercharger from inside Tesla and get out of there. Any chance of that?
Assuming the technology is feasible, this is an idea that could definitely help people escape from threatening situations. It could also benefit electric car owners sharing charge points. Electric vehicle etiquette suggests car owners should unplug as soon as possible to avoid holding a space for too long.
Perhaps Tesla could revive its prototype robotic Supercharger arm, which could offer more benefits than just charging autonomous cars without human intervention.
Terry Knight writes
I remember as a kid watching a film where a GM concept car from the 50s or 60s used electrical Power similar to a trolley car but the cables where embedded in the road. Why couldn't some express ways be sit up where electric cars could be charged up on the go? As the car travels over the charging road the operator would have the option to take a charge or not! The vehicles could have a transponder or toll pass device onboard to activate and pay for the amount of charge it uses. The patches of roads could be sit up where both Tesla trucks and cars could take a charge on the go.
A similar concept has been tested in recent years. Stockholm debuted a 1.2-mile stretch of electric rail, transferred via an arm attached to the underside of the car. Inverse covered in March a new wireless charging system for taxis in Oslo, which can align with the coils at a taxi rank while they wait for customers.
Musk is perhaps unlikely to take advice from GM about electric cars, though, as he cites the film Who Killed the Electric Car? as part of his inspiration to get into the business.
Got any comments or queries? Don't forget to send them over to muskreads@inverse.com.
Video of the week
A new Monty Python easter egg has been spotted in the new Tesla software update.
The Elonporium
Subscribe to Inverse Loot and learn about these deals first.
The ultra-fine print
This has been Musk Reads: Tesla Edition #111, the weekly rundown of essential reading about futurist and entrepreneur Elon Musk. I'm Mike Brown, an innovation journalist for Inverse.
Sponsor Musk Reads and get your business in front of a brainy, curious audience that's motivated to make the world a little better tomorrow. advertising@inverse.com.
A version of this article appeared in the "Musk Reads" newsletter. Sign up for free here.