Tesla May Be Joining Ionity, the "Ultra-Fast" Electric Car Charging Network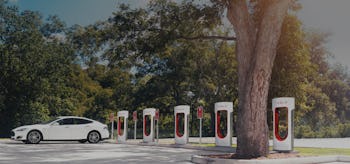 Tesla Motors
Tesla's cars could get a speed boost in more ways than one. While the second-generation Roadster isn't set to hit the roads until 2020, offering acceleration of 0-60mph in just 1.9 seconds, a report on Friday suggests the firm could boost its car recharge times by joining the high-speed Ionity charging network.
The report from Süeddeutsche Zeitung (translated by Teslarati) claims Tesla could join the European network alongside big names like Fiat Chrysler, Volvo, PSA and Jaguar-Land Rover. The network is a joint venture between BMW, Daimler, Ford Motor Group, the Volkswagen Group, Audi and Porsche. It promises capacity of up to 350 kilowatts, with plans to offer 400 charging stations across 19 European countries by 2020. It's an impressive set of statistics, and it could enable long-distance trips by reducing recharge times to that of a few minutes.
The network would far surpass the capabilities of Tesla's superchargers, which offer 120 kilowatts of power at 1,210 global stations with 9,428 individual chargers. The 90 kilowatt-hour Model S gets 170 miles of range from 30 minutes of supercharger time and a full recharge in 75 minutes. This network is gradually increasing in capability: CEO Elon Musk has proposed a network of solar-powered "megachargers" every 400 miles in the United States, specifically designed for the upcoming Semi truck to recharge in 30 minutes.
Ionity could give a welcome boost to Tesla owners. The Porsche Mission E sedan will use the chargers to add 249 miles of range in just 15 minutes, and deputy chairman of the executive board Lutz Meschke claimed earlier this month that the network would charge prices around the same as gasoline. Tesla's superchargers offer 400 kilowatt-hours of free charging per year to Model S and X owners, equivalent to around 1,000 miles, but anything over that costs "a small fee." Model 3 owners receive no free credits.
Tesla could shed more light on its future charging efforts during its first quarter 2018 earnings call, scheduled to take place on May 2.
The future of electric cars is looking altogether more speedy.