Tesla's futuristic self-driving feature has become a social media hit
People can't get enough of "Smart Summon."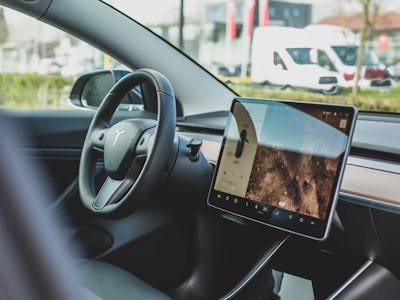 Unsplash / Bram Van Oost
Tesla's latest software update is the talk of the technology world.
The electric car firm rolled out "Smart Summon" at the end of last month, as part of the version 10.0 update that the company calls "our biggest software update ever." The feature enables drivers to autonomously move around a parking lot of other area to make their way over, as long as their car is within their line of sight. Tesla calls it "the perfect feature to use if you have an overflowing shopping cart, are dealing with a fussy child, or simply don't want to walk to your car through the rain."
Early data suggests it's already become a smash hit. CEO Elon Musk revealed on Wednesday that, in the days since version 10.0 was unveiled on September 26, Smart Summon has been used over 550,000 times. The feature has made waves on social media including YouTube — one hands-on video has nearly 500,000 views.
As Tesla pushes more people to make the switch to electric vehicles, it's the sort of momentum that will entice consumers in. Features like Smart Summon make the car seen futuristic, remind people that electric is driving the way forward, and hints at what the full self-driving future could look like.
The excitement comes jsut as this strategy seems to be paying off. On Wednesday, the company announced that it had produced 96,155 vehicles in the third quarter of 2019 and delivered around 97,000 vehicles. In the case of the Model 3, the company's entry-level sedan that starts at $35,000, Tesla produced 79,837 cars and delivered 79,600 cars.
Tesla Smart Summon: time to get moving
Smart Summon is a feature available to more recent Tesla vehicles, ones powered by the company's in-house autonomy system. This is the sensor suite expected to one day power full autonomous driving, using a suite of cameras paired with software and computer upgrades to help the car navigate the real world.
"Probably our most viral feature ever," Musk stated on Twitter. "Most of the Autopilot team has been working on this, led by Ashok, CJ, Andrej & many others."
He's probably not wrong. Users have been sharing videos of the vehicles in action, demonstrating how it could move through a complex area with ease:
One hands-on video from "UrAvgConsumer" has received over 200,000 views:
The Tesla's cameras are also currently used for features like Navigate on Autopilot, which will drive along the highway and turn off at the correct exit. Tesla is aiming to develop a fully-autonomous taxi service, which will use the cameras to power a robo-Uber, at a later date.
However, regulators have expressed concern about the Smart Summon feature and plan to monitor accordingly. Bloomberg reports that the National Highway Traffic Safety Administration is speaking with the company on an ongoing basis and "will not hesitate to act" in the case of a safety defect. The agency does not grant permission for companies to offer such features, but has the power to issue a recall if it finds evidence of unsafe features.