Elon Musk says why electric cars may have already reached a tipping point
The Tesla CEO has made a declaration.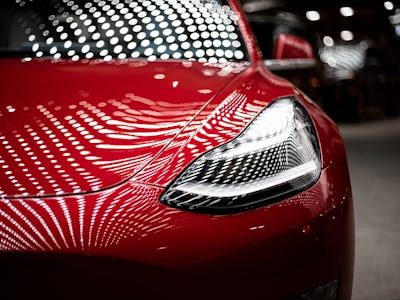 Unsplash / Vlad Tchompalov
The electric car may be outpacing its internal combustion predecessor on a key metric, Elon Musk declared Sunday. The CEO of electric car firm Tesla claimed that gas cars are going to depreciate in value faster than the future-facing vehicles.
"Given how quickly the world is shifting to electric vehicles, a gas/diesel vehicle bought today will probably have low resale value," Musk declared on Twitter.
Musk is not the first to suggest that electric vehicles are reaching this point. It's perhaps a moment that's more important than the actual sales figures: if the electric vehicle outpaces older cars on resale value, making the switch becomes an economic no-brainer. As the world marches to cut emissions and the grid gradually moves to renewables, it's perhaps a shift that may have arrived at the ideal time.
Electric cars: how they're about to set a new pace
Musk was responding to a CleanTechnica article shared Sunday. The article cites Capital One, a financial firm, which claims that "once-strong demand for European luxury brands like Mercedes, Audi, and BMW is evaporating as buyers that used to spring for premium luxury sedans now want a Tesla. Any Tesla."
The firm found that the Tesla Model 3 in particular, the $35,000 entry-level sedan that hit roads in July 2017, has had a big effect on the market. The vehicle moved from no cars to 140,000 cars faster than any other luxury vehicle ever, the firm claimed. As a result, this led to buyers trading in their vehicles.
The high demand sparked a shift in trades. Around 22 percent of Tesla buyers traded in luxury European vehicles, compared to an industry average of 11 percent. Prices are now plummeting, the firm explained, because there's too many used luxury cars compared to demand.
Take the 2018 BMW 320i as an example. Capital One showed that in the first six months of 2019, the car lost almost 20 percent of its value to reach $30,700, an abnormally high speed. A 2016 Mercedes B-Class, which would normally depreciate at a slower rate over that time as it's older, actually depreciated faster to a rate of nearly 30 percent, reaching $13,250.
It's a sentiment perhaps best summed up by Electrek editor Fred Lambert, who told Inverse in July that the market would likely reach a tipping point in 2025. At that moment, it's going to be too hard to justify spending the money on an old gas-powered car.
I think the resale value of gasoline cars is going to drop massively in the next five years, and predicted value is going to drop even more drastically. Buying a gasoline car right now is a bad choice. Buying a gasoline car within the next five years is going to be just a financial suicide for most people.
In terms of actual cost to the buyer, a tipping point could emerge even sooner. Deloitte argued in January 2019 that the cost of owning an electric car could overtake gas-powered cars as early as 2022. The firm expects electric cars to sell 21 million in the year 2030, up from just two million in 2018.
The world is rapidly moving to switch to more sustainable forms of fuel and transport. Depending on which figures you look at, the electric car may have already reached its tipping point.