Elon Musk's tweets are Elon Musk's worst enemy
Your tweets might also be problematic.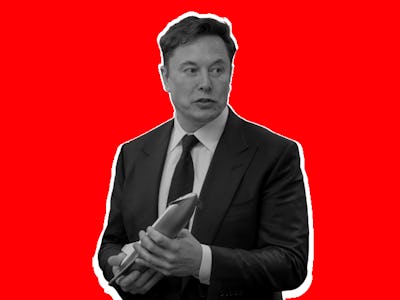 Inverse photo illustration/NORAD and USNORTHCOM Public Affairs
Elon Musk might want to reconsider his Twitter habits. Documents released on this week in connection with a defamation lawsuit against Musk over him calling Vernon Unsworth, who helped save the kids that were trapped in a cave in Thailand in July 2018, a "pedo guy" on Twitter show the Tesla Motors and SpaceX CEO is facing mounting problems due to his handling of the case.
The documents show Musk told a PR agent over email that he had informed a BuzzFeed reporter that he believed Unsworth was a "child rapist" who had married a Thai girl when she was 12 years old.
"I didn't expect Buzzfeed to publish an off-the-record email. My intent was to have them investigate and come to their own conclusions, not publish my email directly. Still, I'm a fucking idiot… It was still one of the dumber things I've ever done," Musk wrote.
Musk apparently came to this conclusion based on information he received from a private investigator. He has been attempting to get this case dismissed.
This isn't the first timeMusk's tweets have caused him major headaches. Back in August of 2018, Musk tweeted that he was considering "taking Tesla private at $420." The Securities and Exchange Commission (SEC) claimed this tweet harmed Tesla's investors, and Musk eventually agreed to pay a $20 million fine and had to step down as Tesla's chairman. Imagine losing $20 million over a tweet.
Because of his troubles with the SEC, Musk is now required to get approval from a securities lawyer before tweeting anything that could affect Tesla's stock, though he's since made at least one mistake.
According to Musk, his odd Twitter habits may have something to do with sleeping pills.
It's not just Musk. It's a lot of us.
That being said, Musk isn't the only person who has problems with their social media habits. Researchers have discovered we act differently online than we do offline because we're experiencing what's called the "online disinhibition effect." Essentially, we feel somewhat detached from reality when we're posting things on social media, and this feeling of detachment emboldens us to say things we likely wouldn't say in person. We're not as connected with the consequences of our actions as we normally would be when we feel the detachment that posting something on the internet brings with it.
This effect can help explain why trolling is such a common problem. You probably wouldn't feel comfortable screaming offensive remarks at someone in person, but when you're sitting at your computer at home, there's a barrier between you and the person that can make it more likely you'll throw insults at them online.
To give Musk a little credit, he also uses his Twitter to share really interesting information about his projects with his followers and to generally make himself available for their questions. That's part of the beauty of a platform like Twitter. However, there are obviously also downsides to letting yourself be that open on the internet. Don't be a "fucking idiot" online, everyone.