Thai Cave Rescue Hero Considers Legal Action After Elon Musk 'Pedo' Tweet
Vernon Unsworth was left feeling "very angry."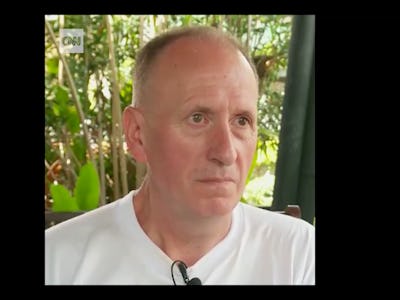 Twitter/QTRResearch
A British diver that played a key role in rescuing 12 boys and a soccer coach from a Thai cave said he was left "astonished and very angry" after Tesla CEO Elon Musk described him as a "pedo guy" in a tweet that has since been deleted. Vernon Unsworth, a 63-year-old resident of Thailand, responded affirmatively to reporters' questions on Monday about whether he would now consider legal action against Musk, adding "it's not finished."
Musk sent engineers out to the rescue operation earlier this month to see if and how SpaceX and The Boring Company's experts could assist in saving the 13 people trapped inside Tham Luang Nang Non cave. The tech entrepreneur developed a miniature submarine to evacuate the children, but it went unused after divers rescued the boys through alternative means. In a Friday interview with CNN, Unsworth criticized Musk's efforts as a "PR stunt."
Musk responded harshly to Unsworth's interview in the now-deleted tweets on Sunday, describing him as "pedo guy." The CEO then confirmed he indeed meant to call Unsworth a pedophile and wrote: "bet ya a signed dollar it's true." Speaking to The Guardian at the cave site during a clean-up operation, Unsworth said that "I believe he's called me a pedophile," adding that he had saved copies of the tweets and that he believed Musk had "lost the plot," a British expression meaning that he had ceased to behave rationally.
Unsworth went on to say that "I have a lot of support from people around the world astonished by his unfounded comments," adding that "I don't know the guy, never met the guy, and don't want to meet the guy." A number of other figures have strongly criticized Musk's tweets, with James Anderson, a partner at major Tesla shareholder Baillie Gifford telling The Guardian that "I intend to convey my – predictable I trust – feelings to the company tomorrow."
The controversy comes just days after Musk told Bloomberg that he "should probably say nothing more often" when criticized by others on Twitter. While Musk has since deleted his tweets regarding Unsworth, he has yet to make any follow-up response.
Unsworth was not the first person to question Musk's submarine. Narongsak Osatanakorn, head of the joint command center in charge of operations, described the machine as "not practical for this mission," which led Musk to dismiss Osatanakorn as "not the subject matter expert."