Elon Musk Deletes His Tweets Calling Hero of Thai Cave Rescue a Pedophile
Critics called his response offensive.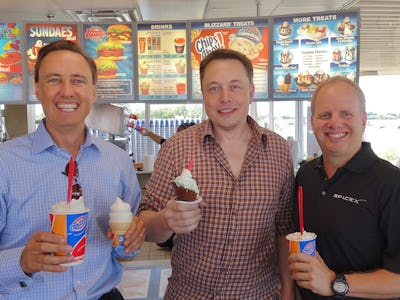 Flickr / jurvetson
After receiving criticism for his participation (or lack thereof) in the Thai cave rescue, Elon Musk tweeted now-deleted insults at the diver credited for leading the mission that saved the 12 boys and their coach.
British diver Vern Unsworth spoke with CNN on Friday about the rescue mission, where he labeled Musk's involvement a "PR stunt." Musk had developed a mini-submarine designed to deliver each child to safety, but Unsworth described in detail how the invention "had no chance of working." Angered by how the alleged publicity stunt distracted from strategies that he felt prioritized the children's dwindling time, Unsworth went so far to say that Musk "can stick his submarine where it hurts."
Responding to the criticism, Musk tweeted a defence of his innovation while also hurling serious accusations at Unsworth. Musk called the fact that Unsworth retired to Thailand "sus," or suspicious, before ending with, "Sorry pedo guy, you really did ask for it."
Immediately, Twitter users bombarded his account with requests to delete what appears to be an accusation of pedophilia. While both fans and critics plead with the tech billionaire to rescind such a weighty claim, Musk doubled down on the name-calling. Before deleting the original tweets, he confirmed that he did, indeed, mean to call a diver who saved the 12 boys a pedophile and tweeted, "bet ya a signed dollar it's true."
According to reports, Unsworth was instrumental in connecting diving experts with Thai authorities. Thanks to his intimate knowledge of the Tham Luang cave system, which he had spent the last six years exploring, he was able to improve mapping efforts and pinpoint where the boys were trapped. Unsworth has yet to respond to the Musk's tweet.
"If somebody attacks you on Twitter, should you say nothing?" Musk asked in an interview with Bloomberg on Friday. "Probably the answer in some cases is yes, I should say nothing. In fact, most of the time I do say nothing. I should probably say nothing more often." That strategy was nice while it lasted.