Elon Musk's Détente With the SEC Has Proved Particularly Short-Lived
by James Dennin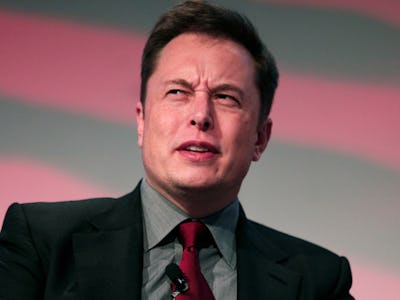 Bang Shift
Elon Musk's detente with the Securities Exchange Commission is proving short-lived: On Thursday afternoon the Tesla CEO took to — what else! — to bash the government agency tasked with monitoring financial impropriety, protecting investors, and monitoring the nation's stock exchanges.
"Just want to [say] that the Shortseller Enrichment Commission is doing incredible work," Musk's tweet reads. "And the name change is so on point!" He later doubled down in a follow up tweet apologizing for the typo.
In an email to Inverse, a spokesperson for the agency declined to comment about the tweet.
It's a particularly surprising setback in the war of words between securities regulators and the outspoken CEO, which dates back to his shocking pronouncement (also on Twitter), that he wanted to take the company private at $420 a share. The SEC alleges that Musk's claim of "funding secured" was materially false, and led to investors trading on bad information.
What makes the Tweet particularly puzzling is the fact that in addition to the $20 million settlement Musk paid, and the $20 million settlement Tesla paid in order to avoid a potentially disastrous lawsuit, Musk also agreed to some governance changes. These included bringing in an outside chairman to oversee Musk and the board and, notably, creating some new oversight on his communications (including social media.)
Musk was loath to settle with the SEC, even if the agency allowed to do so without admitting any wrongdoing. At one point, he is even reported to have threatened to quit if Tesla's board continued pushing him to accept a settlement offer. He eventually gave in, however, in part because fellow entrepreneur Mark Cuban convinced him a lawsuit would cripple his ability to lead his most important company.