6 of the Most Compelling Suggestions to Replace Elon Musk as Tesla Chairman
Here's who could replace Elon Musk.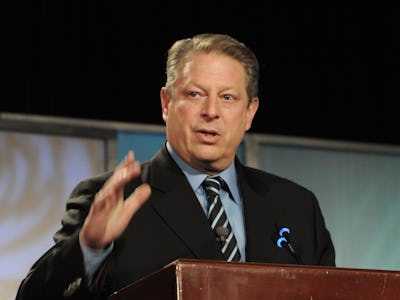 Flickr / jdlasica
Elon Musk is out as Tesla chairman. The CEO was told by the SEC at the end of last week that he has 45 days to resign from the position to make way for a replacement as part of the terms of its settlement offer. It comes after an investigation into a controversial Twitter post, where he claimed the funding was secure to take the company off the stock exchange.
The company now needs to find a new independent chairman to take over the position. The successful candidate will have to lead the board and provide added oversight over Musk's decisions, as Tesla introduces a new set of controls to avoid a similar Twitter furor from happening again. It's going to take a big talent to handle the electric car firm as it manages its expansion into the mass market.
Here are six of the most compelling names that are making the rounds:
Al Gore
Analysts Gene Munster and Doug Clinton of Loup Ventures named the former vice president as a potential pick in a note over the weekend, and also made the same suggestion in a CNBC article a month ago. The pair noted that Gore currently sits on the board of directors at Apple, and he has a strong interest in climate change, remembered by many from his starring role in An Inconvenient Truth. In the film's sequel, Gore is depicted speaking with Musk, persuading him to use SolarCity to help bring the Paris Agreement back on track.
But while he would make sense for a number of reasons, Gore's team was quick to dismiss the idea.
"Mr. Gore is a big fan of Tesla and of Elon Musk, but he has a full plate of responsibilities and is not considering taking on any new roles," Gore's press team told Yahoo in a statement.
James Murdoch
New York Times writer James Stewart mentioned Murdoch as a potential candidate after being tipped by other board directors. Murdoch currently serves as a director on Tesla's board, as well as serving the CEO of 21st Century Fox. However, the article notes that Murdoch has yet to discuss the idea with any other directors or volunteer for the position.
Warren Buffett
Wall Street Journal writer John Stoll mentioned Buffett as just one example of the names that came up as possible replacements in conversation with industry insiders. Buffett is the chairman and CEO of holding firm Berkshire Hathaway, which owns over 60 firms. With a net worth of nearly $90 billion, he's the third-richest person in the world.
Buffett and Musk haven't seen eye-to-eye in the past. Musk said during a bizarre investor call in May that he disagreed with Buffett's core investment strategy of using "moats" to disengage with competitors, describing the idea as "lame." Buffett retorted that "Elon may turn things upside down in some areas. I don't think he'd want to take us on in candy." Musk responded by saying that he was going to start an "amazing" candy company.
Jim McNerney
Another pick from Munster and Clinton, Jim McNerney, is a former Boeing CEO that stepped down in 2015. He and Musk know each other, they served on the same briefly-lived Trump advisory board during the early days of the administration. Musk's firm SpaceX is currently locked in a friendly battle to beat Boeing to Mars.
Howard Schultz
Another name highlighted by Stoll, Schultz served as Starbucks CEO from 1986 to 2000, then again from 2008 to 2017. Stoll notes that he "reinvigorated a coffee company…and actively managed it for the better part of 30 years."
Schultz may not have the time to serve as chairman for Tesla. After retiring from his role at the head of Starbucks, he's since stoked rumors that he's considering running for president of the United States under the Democratic Party.
Indra Nooyi
A final high profile pick that's been floated by Stoll? Former PepsiCo CEO Nooyi, who led the food and drinks giant for 12 years, successfully moving the firm away from junk food and toward healthier alternatives. The strategy came under criticism from investors, but by 2015 it was growing clearer that the move had helped the company avoid the downsides to a decline in carbonated soft drink sales. Stoll writes that she "weathered tough criticism and took the long view."