Inverse Daily: UK Teen Goes Blind From Junk Food Diet
After 17 years of living off of Pringles, sliced ham, white bread, sausages, and fries, an anonymous teenager in England developed a condition far more at home in disaster zones that in an English town.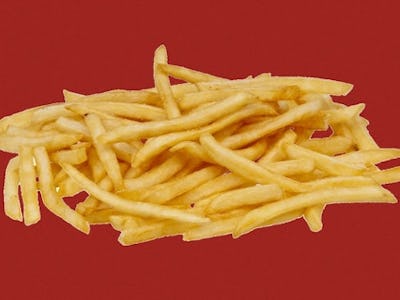 Welcome everybody! I'm Sarah, and this is Inverse Daily. Today we're bringing you a science smorgasbord, so I hope y'all are hungry. What's so bad about living off of a Pringles and ham diet? You'll have to find out below. (I promise, it's not what you think.)
You're reading an adapted version of the Inverse Daily newsletter. Subscribe for free and earn rewards for reading every day.
INVERSE QUOTE OF THE DAY
"When the star dies, new folks enter. Some of those will go on to be stars, who will likely also become arbiters of taste in the field until they pass and a new set of entrants arrive."
— Joshua Graff Zivin, Ph.D., a professor of economics and public policy at UC San Diego.
A Picky Problem
To not enjoy a few foods is one thing, but to be an extremely picky eater is quite another. The latter can turn dangerous when an individual doesn't consume the nutrients they need. Case in point: Scientists from the University of Bristol recently announced that a 17-year-old in England became legally blind because of an alarmingly limited diet.
He began to lose his vision around the age of 15, and by the time he turned 17, the teenager had 20/200 vision and was subsequently diagnosed with nutritional optic neuropathy. As the condition involves not ingesting enough nutrients essential for normal nerve fiber functioning, it's more commonly found in war zones or during famines. It's reversible if it's addressed early on, but by the time doctors realized that it was diet driving these vision symptoms, it was too late for this individual. The diet in question? Years of fries, Pringles, white bread, slices of processed ham, and sausages.
Read more about this unusual case over at Inverse.
The more you know:
Patent Pending
Did Apple drop a hint about the next iPhone in its press invite? That's the question circling around Twitter ahead of next week's event, where the company is expected to unveil updates to the iPhone XS, iPhone XR, and iPhone XS Max. The tentatively titled "iPhone 11" is expected to boost the phone's camera capabilities with a third lens on selected models, enabling the phone to automatically fit people into a photo if the photographer accidentally cut people out.
It's a small change, but the invite has also drawn comparisons to a previous iPhone patent that shows a curved sensor. Unlike the flat sensor found in most devices, this would enable the firm to offer high-resolution photos with a smaller sensor. The sensor would use up more width than the flatter variations, but it could lead to better quality in a smaller package. Although it seems slightly far-fetched for Apple to reveal such a feature in its press invite, it wouldn't be the first time it's done something similar.
See if Apple is going to help you step up your selfie game.
The more you know:
Dog Squad
It's obvious that there's differences between, say, a Golden Retriever and a French Bulldog, but a new study shows that these go beyond their physical size. After evaluating 62 dogs representing 33 breeds, scientists discovered that there's a wide variation in brain structure across dog breeds.
First, it's important to understand that the leading driver behind these variations is selective breeding. In other words, we bred dogs to do different jobs, and this process shaped their brains in unique ways. A dog like a Miniature Schnauzer, which was bred to hunt vermin, is going to have a brain that's different than a Maltese, which was explicitly bred to just hang out. This study marks a step towards a better understanding of the relationship between the brain and behavior — and is another reminder that we've really messed with what were once wolves.
Learn more about how we changed their brains forever.
The more you know:
Running Out of Space
It's starting to look like outer space could use, well, a bit more space. Currently, Earth's orbit contains about 5,000 satellites. Meanwhile, Jeff Bezos is planning to send up a satellite constellation that includes more than 3,000 crafts, while SpaceX intends to launch up to 12,000 crafts for its Starlink internet.
To date, SpaceX has sent up 60 of those crafts already, and while that might seem like a small fraction compared to the eventual amount, issues of overcrowding have already emerged. On Monday, the European Space Agency (ESA) was forced to perform a collision avoidance maneuver after a Starlink satellite came in close range to one of their own. Originally, the two groups were left in a standoff about who should take action, leading the ESA to fire the thrusters to avoid a one-in-1,000 chance of crashing.
Learn more about why satellites need to get smarter.
The more you know:
Musk Reads
Elon Musk is pushing the boundaries of where we can go and what we can do. Don't miss a beat by signing up for Musk Reads, our newsletter about all things SpaceX, Tesla, and The Boring Company.
Today's Good Thing
Today, that's Greta Thunberg staging her first strike in the United States. On Friday, the Swedish 16-year-old was joined by a crowd of passionate American teen activists four blocks from the United Nations, each concerned with how their adult leaders are addressing the climate crisis.
Later this month, Thunberg will address the United Nations during its Climate Action Summit while a global climate strike is scheduled for September 20 to the 27.
Meanwhile …
Inverse Loot
Subscribe to Inverse Loot and learn about these deals first.
Thanks for reading! I hope y'all will drop by again tomorrow.
If you want to share any good news you've come across, please email me over at sarah.sloat@inverse.com.
In the meantime, I'll be thinking about that time Inverse reported on the worst sushi dinner ever.