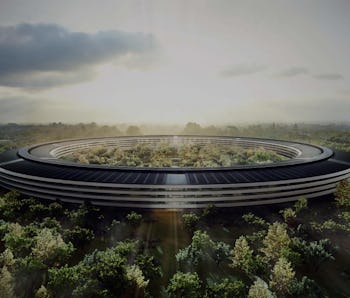 Innovation
How Apple's Spaceship Building Is Helping Solar Prices Plummet
The Apple Park is more than just an iPhone maker.
Fosters and Partners
Apple's spaceship-looking new campus is part of a broader trend that's driving down the cost of solar prices, a report released Thursday reveals.
The Solar Means Business 2018 report, from the Solar Energy Industries Association, ranks the iPhone maker as the number one buyer of corporate solar energy with almost 400 megawatts of installed capacity. It's part of a growing trend toward buying corporate solar, which has driven down the cost of installations for future buyers.
"Top companies are increasingly investing in clean, reliable solar energy because it makes economic sense," said Abigail Ross Hopper, president and CEO of the Solar Energy Industries Association. "Corporate solar investments will become even more significant as businesses use solar to fight climate change, create jobs and boost local economies."
The results stand out for themselves. Average solar prices have dropped from $8.29 per watt in 2009 to just $3.45 per watt in 2018. This coincides with a surge in installs, jumping from 116.7 megawatts in 2009 to 1.1 terawatt-hours in 2018. Over half of all capacity was installed after 2016:
These falling prices mean that the average system size has jumped as prices have declined:
Amid this boost, Apple has jumped ahead to claim the top spot:
The move in corporate solar comes as more areas of the economy worldwide switch to renewable energy. American cities have doubled their solar capacity over the past five years, and global wind energy projects have also jumped in interest. Solar has overtaken coal and looks set to overtake natural gas. Global battery production, which can be used to store the energy, is also increasing as costs drop.
Apple Park: How the Campus Shines a Light
Apple's spaceship-like campus in Cupertino is one of the last projects Steve Jobs worked on before his death in 2011.
"It's a pretty amazing building. Looks a little like a spaceship landed." Jobs told Cupertino City Council. "It's a circle! And so it's curved all the way around. As you know, if you build things, this is not the cheapest way to build something. There is not a straight piece of glass in the building. It's all curved."
The roof of the ring is home to one of the largest on-site solar installations in the world, offering 17 megawatts of power. It's enough to power 75 percent of the building during the daytime. The ring measures 2.8 million square feet, stacking four storeys high to house 12,000 employees.
The plot also includes 175 acres of greenspace with over 9,000 trees. The site is also home to the Steve Jobs Theater, first used to introduce the iPhone X in September 2017, one of the first public appearances of the campus. Prior to its reveal, regular drone footage from fans revealed how work was progressing.
"Steve's vision and passion live on here at Apple Park and everywhere at Apple," Cook said during the iPhone X event. Beyond looking like a cool building, the spaceship's focus on renewables has formed part of a wider movement to reduce carbon emissions and fight climate change.