As Solar Energy Overtakes Natural Gas, 2 Key Countries Will Come Out Ahead
A new movement is underway.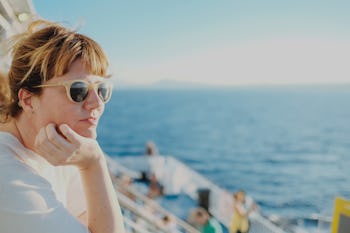 Unsplash / Alexander Gloeckner
Solar may be on the verge of claiming its next victim in the fight against super-cheap energy sources that are slowly killing the planet: natural gas.
"By 2023, we think solar's going to be cheaper than gas almost everywhere around the world," Tom Heggarty, a senior solar analyst for Wood Mackenzie Power and Renewables, said Tuesday during the first day of GreenTechMedia's Solar Summit in Scottsdale, Arizona.
It could make natural gas the next big victim of solar's ever-falling prices, which have already overtaken other non-renewable forms of energy. A March 2019 report found that in 74 percent of cases, maintaining existing coal plants in the United States worked out more expensive than replacing the plants and building solar and wind in the area.
Overtaking natural gas would kickstart a whole new era of cheap energy. Europe has rapidly switched to natural gas, expanding its use for the third year in a row last year by five percent. The energy source also overtook coal in the United States in 2016 to become the largest source of energy.
Solar Energy: How a Falling Cost Could Transform Italy's Energy Market
One of the largest potential beneficiaries of these falling prices could be Italy. Its Mediterranean location gives it a high number of average annual sunshine, reaching over 2,600 hours in some parts of Sardinia. However, Italy also uses a large amount of natural gas, using around 14 percent of the total gas in Europe despite only comprising around 11 percent of the European Union's population.
Italy's rapid acceleration in solar energy could be aided further by hitting this price target. The country's share of energy consumed from renewable sources jumped from 6.3 percent in 2004 to 17.1 percent in 2014, meeting its 2020 targets a staggering six years early.
Last year alone, the country grew its solar generation by seven percent to reach total installed capacity of 20 gigawatts. The government now aims to reach 50 gigawatts by 2030.
This renewables drive was in part inspired by concerns about Italy's high dependence on imports, which accounted for 86 percent of its domestic energy consumption in 2009.
The falling price of solar has already shown its effects in the country. Bloomberg noted last year that five projects reaching 84 megawatts needed no government subsidies, as part of a wider movement as developers realize solar is cheap enough to make the installations profitable.
With Italy's solar market largely driven by residential installs, and the Italian government pushing for solar installs that don't reduce agricultural land, falling prices could encourage more average homeowners to take the plunge.
Solar Energy: A Plummeting Price Could Benefit Spain
Spain is another country that could greatly benefit from dropping solar prices. Its capital Madrid is one of the sunniest cities in Europe, averaging 2,771 hours of sunshine per year. However, in 2016, around 61 percent of Spain's energy consumption came from non-renewable sources of energy, and around 19 percent of the total was from natural gas.
The country has seen rapid growth in solar over recent years, however. The country's photovoltaics union, UNEF, reported a 94 percent increase in solar energy year-over-year last year. José Donoso, managing general of the union, directly attributed this rise to an 80 percent drop in the cost over the past 10 years.
Spanish firms are also moving to get in on the action. Aena, the world's largest airport operator, announced plans in March to switch to running most of its operations from solar as early as 2026, with Madrid and Barcelona airport going carbon neutral as early as 2030. Of course, that doesn't take into account the planes themselves, which probably won't go to renewables until batteries can reach a higher density.
There is still much work to be done. Solar only accounted for five percent of the country's energy generation in 2016. Natural gas demand has also increased year-over-year, raising by 1.7 percent in the first nine months of 2018.
Across the world, a falling price could have a knock-on effect to signal the death knell for non-renewables.