The Best Back-to-School Tech Under $100
Don't head back to school without first checking out this awesome back-to-school tech.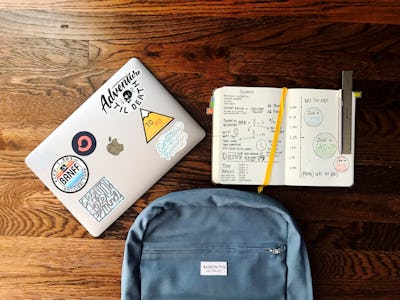 Unsplash / Matt Ragland
It was just June, and now all the sudden, it's the first week of September. Where the time goes I have no idea, but the seasons change and the years go by, and once again, it's back to school time. Whether you're heading back to school yourself—as a teacher or student—partnered with someone going back to finish their studies, or you've gone on to have kids of your own who you're sending off to another year, you'd be remiss not to check out this list of the best back to school technology available for under $100.
Sure, the school will send school supply lists, but it's not necessarily a complete list. You can have all the right highlighters, color-coordinated folders, notebooks and binders and still find yourself feeling like you've forgotten something. Rest assured. No one gets it right the first time and we all forget things from time to time. You're ahead of the curve by even reading this.
So go back to school more prepared than ever with these six amazing tech finds available for under $100.
Why We Picked It: If you or your child is the type to leave the house at 7A.M. and not make it back home until dinner time, you might find that your devices just aren't making it through the day. In order to stay in contact with your child, not to mention staying on top of the time and your appointments, you need a charged phone. This compact and lightweight external battery packs a punch and can fit in your pocket or backpack with ease. High speed charging will bring an iPhone 8 to full charge nearly three and a half times its usual battery life.
Why We Picked It: When you have a lot on your plate, you don't want a lot on your back, but you also don't want to worry about forgetting stuff. This extra large smart backpack from Yorepek features 20 independent pockets for convenient organization as well as a high elastic ergonomic design that'll both stimulate airflow and spine alignment for comfy wear all school year long. It's also water resistant and features an amazing USB charging port for keeping your devices charged all day.
Why We Picked It: Sure, you could lend your kid—or student—your tablet to play on, but almost immediately they think it's theirs forever and on top of that, you have to worry about setting up parental controls. For easy, well-monitored use of your kid's screen time, this kid-proof tablet will serve as a great vehicle for getting your kid some extra educational stimulation without them even knowing it. Use with WiFi or a data plan—and should it ever break, Amazon will replace it free of charge.
Why We Picked It: If you have a high schooler or you're taking math and science classes for the first time in what feels like 100 years, this graphing calculator is a must-have. Suitable for standardized testing environments, this graphing calculator can display graphs and tables on its extra-large LCD screen and has a built-in memory for keeping track of your most used equations.
Why We Picked It: Gone are the days were there is only one tablet and a couple smartphones in the house. Now we all have several devices that need to be charged regularly, and it can be hard to make space. Say no more with this awesome 6 device charging dock that'll keep you and your devices more organized than ever. It comes with four shortened Apple Lightening Cables, 1 Type C-cable, and 1 micro-USB cable to keep your cords from getting tangled. Universal compatibility will deliver your device the most efficient charge and can be used with any USB cord.
Why We Picked It: Not only does it help to label all your stuff—like your calculator and water bottle—but we all know that back-to-school isn't just a time of year, it's a state of mind that comes with an internal need to organize everything you can. Whether you can getting your classroom organized for students to easily locate common supplies or you're getting your desk in order for a year you actually know where everything is, this label maker is a powerful asset for getting organized. It stores up to 30 of your most frequently used labels so you can easily reprint them as needed.