Musk Reads: Starhopper Is Set for Its Final Flight
Starhopper plans its last flight before prototype work commences; Musk suggests shining a big mirror at Mars; and the Crew Dragon comes a step closer.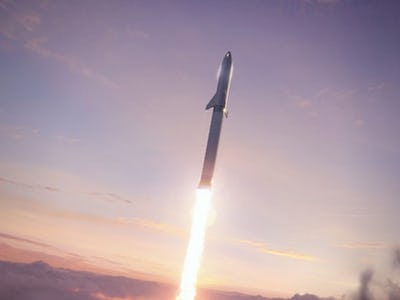 Starhopper plans its last flight before prototype work commences; Musk suggests shining a big mirror at Mars; and the Crew Dragon comes a step closer. It's Musk Reads: SpaceX Edition #99.
A version of this article appeared in the "Musk Reads" newsletter. Sign up for free here.
Musk Quote of the Week
"Oh behave u naughty planet … 😉"
SpaceX's Mars Mission
The Starhopper is cleared for another launch, and it could come as soon as Monday. Musk confirmed on Saturday that the Federal Aviation Administration had cleared for launch a shorter version of the Starship, the giant rocket set to send the first humans on a manned mission to Mars. Testing the groundbreaking Raptor engine in this shorter design is crucial for proving SpaceX's ideas work, and that it can move onto scaling up to bigger vehicles. The final Starship including the Super Heavy booster is expected to measure nearly 400 feet tall.
The launch follows a hop test of a few meters in April, and this new jump is expected to launch up to 150 meters. Musk confirmed that this will be the last flight for Hopper, assuming the test goes to plan. The firm will then move on to building a larger orbital prototype. The Hopper will ideally act as a vertical test stand for the Raptor engine after the jump, where the firm will be able to test new Raptor engines as production scales up. The launch comes after a slight delay from the proposed August 16 to 18 launch window, a delay required due to some extra hazard analysis required before liftoff.
When the first humans get to Mars, they will need to set up basic life support systems to make it slightly more hospitable. In the long term, Musk this week outlined another idea to terraform Mars and create a more permanent atmosphere. The plan would be to use reflective satellites to bounce the sun onto the planet's surface, generating heat to release carbon dioxide by using a giant mirror. Musk's proposal follows his mention of an alternate idea last week to detonate nuclear bombs above the planet's poles, an idea later immortalized on a "nuke Mars" T-shirt. Scientists have questioned whether Mars contains enough carbon dioxide to create a suitable level of atmospheric pressure, with one estimate suggesting it would create just 15 millibars of pressure, well below the 1,000 millibars found at Earth's sea level. Read more.
Inverse Daily
Have you seen the cool prizes we're giving away this month? Subscribe to Inverse Daily and read each day to increase your rank.
In Other SpaceX News…
Is a new space race about to emerge? One idea, supported by officials including Newt Gingrich, would create a $2 billion prize for the first firm to create a base on the moon. Musk described the idea as "great," suggesting SpaceX could have some interest in racing for the prize. Other contenders could include Blue Origin, whose founder Jeff Bezos unveiled the Blue Moon lunar lander in May 2019. The emergent new space race, which has seen a slew of new firms enter the scene, could culminate in space colonies and a city on Mars. Read more.
The International Space Station took another step toward Crew Dragon missions last week, as two astronauts attached a second docking adaptor to the station. The second and last International Docking Adaptor paves the way for capsules like the SpaceX design and Boeing's CST-100 Starliner to ferry astronauts to and from the station. SpaceX has completed one unmanned launch of its Crew Dragon, but the second manned launch has experienced delays and may miss its first flight this year. An in-flight abort test is rumored to possibly take place in October or November. The Government Accountability Office has warned that both firms face "chronic delays," urging NASA to come up with another plan in case a capsule is not ready before its contract with Roscosmos expires in September 2020. Read more.
What's next for SpaceX: SpaceX is set to hold a presentation around the middle of September at the Boca Chica facility in Texas, where it will explain more about next steps for the Starship. Originally scheduled for August 24, the event was delayed as Musk explained that it would "probably make sense to do this when Starship Mk 1 has 3 Raptors, moving body fins & landing gear installed."
Video of the Week
WKMG Orlando looks at SpaceX's plan to move the Starship from its construction site to the Kennedy Space Center.
The Elonporium
Subscribe to Inverse Loot and learn about these deals first.
The Ultra-Fine Print
This has been Musk Reads: SpaceX Edition #99, the weekly rundown of essential reading about futurist and entrepreneur Elon Musk. I'm Mike Brown, an innovation journalist for Inverse.
A version of this article appeared in the "Musk Reads" newsletter. Sign up for free here.
Update 8/26 6 p.m. Eastern time: An earlier version of this story described the Starhopper as "miniaturized," stated that the final Starship would measure 348 feet and the Starhopper would launch 20 meters on Monday. It has now been corrected.