Final 'Stranger Things' Season 3 Trailer Confirms a Big Monster Theory
This week's Tuesday edition of the Multiverse newsletter.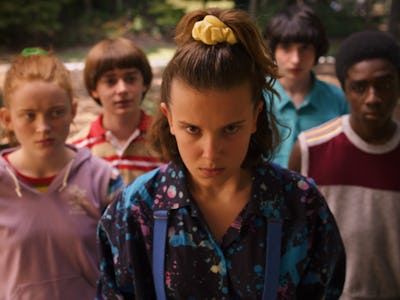 Netflix
The final Stranger Things 3 trailer is out … Annabelle Comes Home revitalizes the Conjuring universe … and Black Widow may pass the mantle to a new hero.
This is a recreation of the June 25 edition of our twice-weekly entertainment newsletter, the Multiverse. Subscribe here to get information just like this delivered to your inbox.
Stranger Things Season 3's Final Trailer Confirms a Huge Monster Theory
Stranger Things Season 3 finally reaches Netflix on July 4, and a new trailer released Friday offered a series of tantalizing teasers about the new monster, Billy's role as an evil villain, and how the Mind Flayer continues to influence the real world. Was he ever really trapped in the Upside Down? Read more.
Does Billy become the Stranger Things Season 3 monster? We thought so, especially after a clip leaked of Billy crashing into Brimborn Steel Works, a mysterious location featured on a poster for the new season. But now it seems like things might not be so simple after all. Read more on the original theory.
What's next? Stranger Things Season 3 reviews will be published on Sunday, June 30, before the full season arrives on Netflix on July 4.
Here's three ways the Upside Down is invading our real world:
Annabelle Comes Home for One Hell of a House Party
Three horror spinoffs about the cursed doll from The Conjuring might be too much in Annabelle Comes Home, the third movie about Annabelle based on the real-life adventures of Ed and Lorraine Warren, who acquired the doll in the 1960s and brought it back to their house to trap it in a glass case.
Annabelle Comes Home is a bloodless, self-contained romp in which Annabelle plagues a few kids left home alone for the weekend. In his review, Inverse's Eric Francisco says the ghosts in the Warren household are "just there to scare you, not to haunt you." Read his review.
Inside the World of I Am Mother With the Film's Editor
Netflix's I am Mother is a tense sci-fi thriller, and it might remain the platform's best genre movie for a long time to come. Eric Francisco interviews the film's editor, Sean Lahiff, about what it took to bring a robot to life in a movie about the apocalypse. Read more.
Black Widow Could Be Training Her Replacement
Early reports about the Hawkeye Disney+ series indicate it'll center on Clint Barton passing the Hawkeye mantle to his protégé, and new leaks from the set of the Black Widow movie imply that the same might happen. Could actress Florence Pugh be playing Natasha Romanoff's replacement as Black Widow? Read more.
1. Star Wars Rumor: Who Will Luke Bother as a Force Ghost?
Luke Skywalker actor Mark Hamill pretty much confirmed that he'll appear as a Force ghost version of Luke in The Rise of Skywalker. Will he contact Rey to help complete her training? Or will he harass his nephew, Ben Solo?
Inverse's Mae Abdulbaki has some ideas.
Meanwhile …
Sign up for the Multiverse and our other newsletters right here.