'I Am Mother' Editor Explains Ending: "Sits Alongside 'Star Wars' Trilogy"
Editor Sean Lahiff offers his own insight into the mysterious ending of 'I Am Mother'. Spoilers ahead.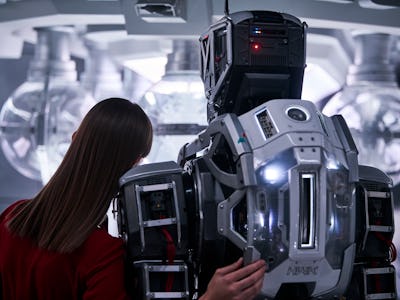 Netflix
The ending of I Am Mother is one for the ages. Although most of the film is bleak and harrowing, complete with moments that resemble a horror movie, its ending is a story of hope, even if it's just a tiny glimmer.
Set in a post-apocalyptic future where most of mankind is wiped out, the story follows a young woman named "Daughter" (Clara Rugaard) raised in isolation by a robot named "Mother" (voiced by Rose Byrne).
I Am Mother editor Sean Lahiff, who worked with director Grant Sputore to assemble the film's final cut, story, and tone, shares with Inverse his own take on the ending of I Am Mother below.
Spoilers for I Am Mother ahead.
At the end of I Am Mother, Daughter discovers she isn't the first one raised by Mother. Daughter's "predecessors," like her, were raised to pass exams based on what Mother taught her in their formal classes. But in a hidden furnace that Daughter sneaks into, she discovers a harrowing truth.
As Daughter learns, previous "Daughters" like her failed their exams and were killed. Their bodies are burned to ash, which leads Mother to "birth" another one from a large stock of embryos.
Distraught, Daughter teams up with "Woman" (played by Oscar-winner Hilary Swank) to escape. But after learning that Woman was also lying to her — that a nearby village of people actually doesn't exist — Daughter is compelled to return to rescue her newborn "Brother," a baby born halfway through the movie.
Lahiff, who edited all of those story beats, has a pretty radical take on I Am Mother: "I think Mother's intentions were ultimately for the good of humankind as she saw it, according to her collective mind," he tells Inverse.
"I think Mother's intentions were ultimately for the good of humankind."
He continues: "This idea was presented in a classic conundrum in the classroom sequence near the beginning of the film, where Mother asked Daughter if she'd let one healthy patient die if their organs could be used to save the five other sick patients.
"It set up Mother's ideals and philosophical outlook on the preservation of humankind. I think these questions went a long way to help the audience feel involved and participate in the theological world which Mother has created for Daughter and the future of humanity."
Lahiff is a big fan of Mother.
"Mother is a memorable character for the history books of science fiction," he says. "I feel she sits alongside the practical marvels of Alien, The Terminator, and characters from the original Star Wars trilogy."
The ending visual of I Am Mother, in which Daughter sings to a crying baby Brother in her arms, is also set up from the very beginning in the opening montage that depicts Daughter's own birth.
"An embryo raised to a child by a Mother robot isn't something you see every day," says Lahiff. "The 'Baby of Mine' track which accompanies the montage added the perfect touch of levity to the opening of our first act and laid the seed for the emotionally charged rendition Daughter sings to her baby Brother at the film's end."
I Am Mother is streaming now on Netflix.