'Black Widow' Set Video May Reveal Natasha Romanoff's MCU Successor
Fans think the 'Midsommar' star's Marvel role could be Black Widow's successor.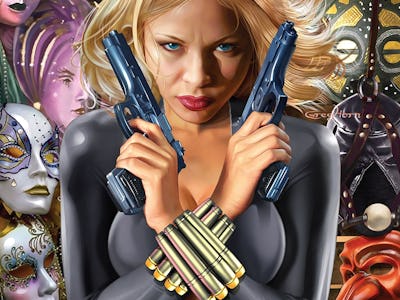 Marvel Entertainment
Filming for Marvel's Black Widow is underway in Budapest. Now, a video captured by a pedestrian may reveal Florence Pugh's secret character, Yelena Belova, who in the comics takes over Natasha's role as the second Black Widow.
On Sunday, an Instagram user named Róisín McHugh (@rosymch) "stumbled upon" the set of Black Widow in Budapest, Hungary, shooting a motorcycle chase. Although McHugh did not see Marvel star Scarlett Johansson, who will reprise her role in the 2020 movie, she did record her stunt double riding (what looks like) a Ducati Diavel 1260 with a young blonde woman.
The latter character is expected to be played by Florence Pugh, who is currently sporting blonde hair, as evidenced by her recent Instagram posts. In connecting the dots, it's possible to speculate that Pugh — whose character in Black Widow has yet to be revealed — may be Yelena Belova.
Introduced in Inhumans #5 by Devin Grayson and J.G. Jones, Yelena is the second Black Widow after Natasha Romanoff. Trained in the same Red Room as Natasha, she accepts a mission to kill Natasha and become the new Black Widow, but Natasha encourages her to discover her own identity.
Yelena then escapes to Cuba and works as a model but later returns when she's transformed into Super-Adaptoid and is defeated by the Avengers.
In the aftermath of Black Widow's death in 2017's Secret Empire, Yelena assumed the mantle of Black Widow once again.
If you've seen any action movie ever, you know that when young people ride on motorcycles behind the protagonist, they're almost always being rescued. It's possible that Natasha is rescuing a young Yelena from those who would turn her into a monster, the kind Natasha fears she's become herself.
Obviously, this is all just speculation typical of comic book movie news. No one outside production knows what character Pugh is playing. Heck, even the actors themselves never know the full context of what they're filming on set. During filming of Tony Stark's funeral for Avengers: Endgame, Tom Holland was told his character was attending a wedding. How Joe and Anthony Russo convinced all of them to act mournful and despondent, I don't know, but they probably researched footage of me at my ex's wedding.
With Avengers: Endgame having told the tragic end of Natasha, the prequel Black Widow might prime us to know her replacement. It truly is a bold new era for the MCU, one that's quickly becoming new and different.
Black Widow will be released in theaters on 2020.