Burger King to Serve "Upside Down Whoppers" for 'Stranger Things' Season 3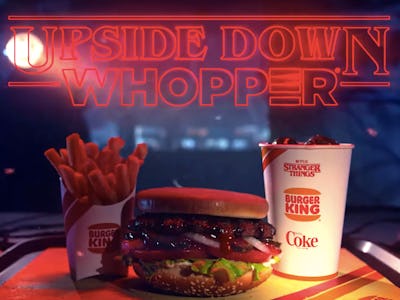 Burger King
If cans of New Coke and retro Nike kicks aren't enough to satiate your craving for the 1980s, fast food chain Burger King will soon serve up "Upside Down Whoppers" in nostalgic packaging. It's all part of the promotional train for Stranger Things Season 3, which premieres July 4 on Netflix.
On Thursday, Burger King announced via its North American social media accounts that select franchises will serve "Upside Down Whoppers," starting on June 21. The signature burgers, which will have the same ingredients, will simply be served upside down (meaning, flat bottom bun goes on top, round top bun on the bottom) and will come served in retro packaging, echoing the chain's design aesthetics of the 1980s. The fries will be packaged as such, too.
The announcement was made Thursday with Burger King "changing" into "Stranger King" on Twitter, and its profile pictures on Twitter and Facebook showing the old '80s-era Burger King logo flipped vertically.
A trailer using the series' iconic theme song (composed by Kyle Dixon and Michael Stein, of the Austin synth group S U R V I V E) showed what the Upside Down Whopper looks like. And it… looks like an upside down Whopper, but the nostalgic packaging is pretty neat.
Unfortunately, only 11 Burger Kings (Get it? Eleven?) located in Miami, Houston, Boston, Atlanta, Philadelphia, Dallas, Chicago, San Francisco, Los Angeles, and New York will take part in the promotion.
For hardcore Stranger Things fans who live outside those major cities, the chain will serve a $5 "Hopper" Meal (in honor of Sheriff Hopper, played by David Harbour) that can be ordered via DoorDash with the code discount, "STRANGER." For what it's worth though, I just checked DoorDash using my home address in New Jersey and couldn't find the Hopper Meal.
Burger King's Twitter account also confirmed exactly which 11 locations will serve Upside Down Whoppers. They are:
10494 West Sample Road, Coral Springs, FL
25560 Kingsland Blvd, Katy, TX
128 Tremont Street, Boston, MA
415 Bullsboro Drive, Newnan, GA
2400 Caster Avenue, Philadelphia, PA
2009 Coit Road, Plano, TX
2840 West North Avenue, Chicago, IL
35 Powell Street, San Francisco, CA
4918 West Sunset Boulevard, Los Angeles, CA
327 West 42nd Street, New York, NY
1437 West Patapsco Avenue, Baltimore, MD
The promotion is all part of Netflix's release of Stranger Things Season 3 on July 4. As part of the advertising campaign, Netflix has also struck up partnerships with Nike and Coca-Cola. The show even released a collaboration with Wizards of the Coast for a Stranger Things-themed Dungeons & Dragons Starter Set. And last year, bicycle company Schwinn released "Mike's Bike" — a usable replica of Mike Wheeler's Schwinn bicycle seen in the series.
Stranger Things Season 3 begins streaming on Netflix on July 4.