'Stranger Things' Spoilers: Theories on How Season 3 Could Turn Upside-Down
Here is all the latest information about 'Stranger Things Season 3 ahead of its July 4, 2019 release date.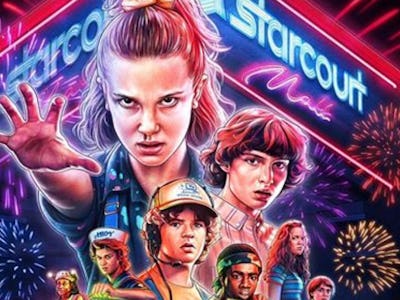 Netflix
It's been a year and a half since Stranger Things was last on our radar, and now, a month before the Stranger Things Season 3 release date of July 4, 2019, so much new information is spilling forth: There are theories about what awaits each character, the new terrors that will emerge from the Upside Down, and predictions for how New Coke will be received by the townsfolk of Hawkins, Indiana.
Here is all the latest information about Stranger Things Season 3.
Potential spoilers ahead!
There's a New Stranger Things Poster
The Stranger Things Instagram account released a new poster this week, and similar to previous character and cast posters, this new one teases action, fireworks, and, possibly a new battle location.
One of the more eye-catching parts of the poster involves Billy (Dacre Montgomery). The Hawkins community pool lifeguard and hunk du jour appears to be in the Upside Down-like, further hinted at by the fact that he's standing under the leg of a new Upside Down creature while other characters are not. Billy's placement on the poster has led us to theorize that he goes to the Upside Down and potentially becomes one of the new monsters.
This seems to be supported even more by the fact that Billy is seen in one of the Season 3 trailers feeling the effects of a sinister bite taking hold while he showers, and ominous episode titles that seem to revolve around him: "The Case of the Missing Lifeguard," "The Bite," and "The Battle at Starcourt Mall."
Will the Demogorgon, Mind-Flayer, and Other Upside-Down Baddies Turn Hawkins Into a Zombie Town?
An ominous quote from Millie Bobby Brown has us wondering if an infection of some sort is going to threaten Hawkins in Season 3. Speaking with Entertainment Tonight while at the premiere of Godzilla: King of the Monsters, Stranger Things star Millie Bobby Brown shared this about Eleven's journey in the new season:
"Eleven's character evolves greatly. And I can say it's spreading fast — and that's all I can tell you."
The words "spreading fast" are of note here. What exactly is spreading? Is the Upside Down going to be making its way into the real world more rapidly than in seasons past? Will the creatures from the other world bring something deadly into the real world that will kill humans (cough, Billy's bite, cough)?
Stranger Things Season 2 saw Hopper dealing with the odd environmental effects of the Upside Down leaking into the real world. Rotting pumpkins, goo, and withering crops were all on Hopper's radar as he tried to help the farmers of Hawkins understand what was going on. It doesn't sound like these troubles will be stopping anytime soon.
The Movie References in Season 3 Are One Big Blast of Nostalgia
Speaking with Entertainment Weekly, the Duffer Brothers opened up about some of the key movies that influenced the plot of Season 3. The lineup includes:
Fast Times at Ridgemont High
The films of David Cronenberg
All of the basic genre food groups are present in the list. From horror to adventure to romance to comedy, everything seems present and accounted for. What jumps out big time is the influence of various monster or creature-related films — The Thing, Jurassic Park, and probably Cronenberg's The Fly — that are included in the list. It's likely viewers will see creatures just as gross, scary, huge, and unpredictable as the ones in those films.
Ross Duffer's comment to EW about these movie influences seems to speak to this emphasis on horror. In his words, "We would say that this is our most unapologetically fun season. Yet at the same time, it is also our most horrifying and intense season. It's this wild mix of tones that we think really sets this season apart."
Matt Duffer also hinted to EW that trouble is coming to River City, er, Hawkins one way or another thanks to the Mind Flayer: "Eleven closed the Gate, but the Mind Flayer is still alive in the Upside Down. It will find another way into Hawkins.… It's just a matter of time."
There Will Be More Dustin and Steve Team-Ups in Season 3
It was also revealed during to EW that fans will get more of the breakout fave duo of Dustin (Gaten Matarazzo) and Steve (Joe Keery). Matarazzo confirmed this, hinting, "You definitely see more of [Dustin and Steve]. That's what I really like about Matt and Ross: They know what fans like and they roll with it."
The characters first paired up in Season 2 when Dustin demanded Steve's help in battling his rogue Upside Down pet Dart. Eventually, Steve became like an older brother figure to Dustin, driving him to a school dance and even offering him advice on how to talk to girls. 
New photos for Season 3, like the one above, as well as the special ad for New Coke featuring the young cast of Stranger Things includes a scene where Dustin cockblocks Steve as he talks to a girl while they're getting seated for a movie. We expect more of this banter will play out during Season 3 as Dustin comes of age and Steve grapples with his new lot in life as a food court employee at the Starcourt Mall.
Friendships (and Alliances) Will Likely Shift
Matt told EW that one of the major themes of Season 3 revolves around the youngest members of the Stranger Things gang going through puberty, preparing for high school, and sorting through all of the complicated emotions that come with these changes.
"We wanted to explore the theme of change. The season takes place during the last summer before high school. The kids are growing up, and that transition is going to be messy and awkward and painful. Are they able to grow up without growing apart?"
Trailers and posters have made it clear that Eleven and Max will grow closer as friends as they embrace being teenage girls in the '80s.
Dustin seems to be the only one out of the boys trying to hold onto the past as Mike can be heard in the trailers asking if the guys really expected to just spend the rest of their lives playing games in his basement.
With all these hormones flying around fast and furious, chances are good these kids will be making some rash decisions and grappling with shifting friendships and potential new romances (we still need to see where Lucas and Max's budding relationship will go!) factor into the pre-teens trying to save Hawkins from total disaster. 
Hopper and Eleven's Relationship Is Going Through Growing Pains
As Hopper and Eleven grow in their relationship as adoptive father and daughter, they'll hint new growing pains together. David Harbour, who plays Hopper, opened up at MCM Comic Con in late May about what Hopper and Eleven's story arcs in Season 3 will include.
"[Eleven] is growing up and I think that's the terrifying thing for Hopper," Harbour shared. "He doesn't like the idea of his baby daughter hanging out with boys. So the season starts with him a little bit uncomfortable."
Harbour hinted that Episode 8, in particular, will include something "moving" and "unexpected" in Hopper and Eleven's relationship as these new growing pains start to pop up.
He continued, "His daughter is becoming a teenager and beginning to find herself, so that's scarier for Hopper than any Demogorgon creature that he's going to have to deal with. You get to see a lot of that throughout the season and it's very unexpected what happens in the end and it's very, very moving. I think episode eight is the most moving thing we've ever shot."
The Season 3 Finale Is Going to Wreck Us
As Harbour hinted, Episode 8 is going to be both moving and emotional. Considering the Season 2 finale also featured the surrogate father and daughter teaming up to take down the Upside Down's worst creatures in trying to emerge from the bowels of Hawkins Laboratory — which took a serious toll on them both but also brought them closer together — we should expect something similarly high-stakes to suck them in in the final episode, testing them in a way we never thought possible.
Stranger Things Season 3 debuts on Netflix on July 4, 2019.