'I Am Mother' Spoilers: How Netflix Film Brought a Robot to Life on Set
"We'd push a scene until we broke it, then we'd retreat to the point where we felt was perfect."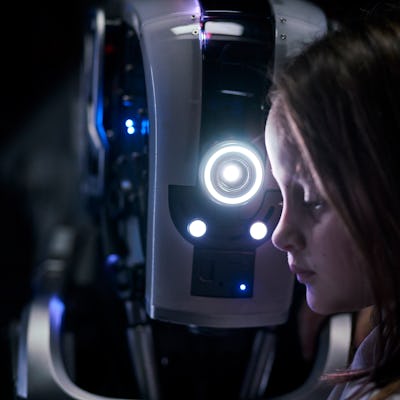 Netflix
In the sci-fi Netflix movie I Am Mother, a nameless young woman named "Daughter" (Clara Rugaard) is raised in isolation by "Mother," an eerie, hulking sentient robot voiced by Rose Byrne. When a mysterious woman (Hillary Swank) arrives at their doorstep, Daughter must escape from Mother's grip, or else suffer a dark fate she never thought possible.
I Am Mother is grim, but don't call it a horror movie. The film's editor, Sean Lahiff, didn't edit the film like a horror movie. "I do not think of I Am Mother as a horror movie," he tells Inverse. "Our film lies more in the realm of a sci-fi thriller, with plenty of tension, action and axe wielding."
Also read: 'I Am Mother' Editor Explains the Ending
And for a movie brimming with tension between characters who can't trust each other, it's a bold choice to have one them lack a face. It's even bolder to let them be a literal robot, where the subtleties of the human body are made rigid. While the duty to direct fell upon the shoulders of Grant Sputore, it was still down to Lahiff in the editing room.
In an interview with Inverse, Sean Lahiff walked us through the editing process of I Am Mother, which he describes as "pressure testing."
What tone did you strive for in editing I Am Mother?
I was chasing a slick and sophisticated presentation of an exciting sci-fi thriller. It was an intimate story, but about an epic outcome — the survival of humankind. It's a huge story told through very few characters, so performances were the key to our success. Drawing out suspense, keeping tension high, knowing when to release it and making the audience earn the reveals became my go-to checklist.
It's the type of film which inspired me to become a filmmaker. Classic sci-fi films from the late '70s, early '80s like Alien, The Terminator, and the original Star Wars saga resonated so greatly with me because of the characters. So with I Am Mother it was important to keep Daughter at the heart everything.
Visual and practical effects age, but I believe the characters' journeys, so they've become timeless. In modern times, independent films like Ex Machina, Moon, and Annihilation have carved a similar path, with stories about big ideas being told by so few characters.
"We'd push a scene until we broke it, then we'd retreat to the point where we felt was perfect."
What conversations did you have with director Grant Sputore in the editing room?
From the beginning, Grant and I shared a vision of tone, style and pace. We talked about desired moments from our human cast and the favored intricate movements of Mother's facial features, operated by Luke Hawker and his team from Weta Workshop.
We left no stone unturned investigating every scene. We'd push a scene until we broke it, then we'd retreat to the point where we felt was perfect. This was our way of "pressure testing" and talking through every option.
The first thing people see in the movie is an unusual montage of Daughter growing up. What can you say about assembling that scene?
An embryo raised to a child by a Mother robot isn't something you see everyday. The montage we played with throughout the edit period. It was easy to over-indulge with so much beautiful material, but we finally brought it down to the perfect length and it tells her story in a sweet and sincere way.
Such a young and innocent performance added to the heartbreak when we reveal later that she was a different child to our current daughter and that she was aborted early in her life after failing her exam.
The "Baby Mine" track added the perfect touch of levity to the opening of our first act and laid the seed for the emotionally charged rendition Daughter sings to her baby Brother at the film's end.
How do you edit to create tension between just three characters?
All three had something to hide from each other. They also never quite knew who was telling the truth. This by nature created a stirring pot of tension. I actually found it to be an advantage to have so few characters because it allowed us to get intimately close to Daughter, which enhanced experiencing the unfolding narrative through her.
There's nowhere to hide. With only three characters we told a story about the survival or potential extinction of the human race. In terms of taking a break from seeing either Mother, Daughter, or Woman on screen, we let Mother's bunker shine as the future birthplace of humanity.
With so much attention to detail built into the set, like interactive lighting and control panels to open doors, plus with engineering poured into our fully functioning robot complete with facial features, the dailies were ready to cut.
About that: How do you edit scenes with a faceless robot?
This was all new to me. I'd never edited a robot before. It had its challenges, advantages and wild-cards, just like a human. Lucky for us, Luke Hawker from Weta Workshop who lead the team to construct Mother, also wore the suit. This formed the entire basis of Mother and who Daughter was acting with in the film. You couldn't just pick any old head turn and cut it in as a response to Daughter's dialogue.
Mother's facial features played a big role. If Mother was thinking, the Weta animatronics team would rotate her "eye-ris" (her little focus ring that opens and shuts like an iris, but looks like an eye). After spending so much time editing Mother we were able to perfect her performance and personality, depending on the desired emotion we were chasing.
What was your favorite scene to edit?
My favourite scene is Daughter discovering she wasn't the first child of Mother. We needed a way to keep ahead of the audience and present that in the most impactful way possible. Jumping forward in time to see Daughter enter the furnace room, sift through the ashes, and find the human remains, all intercut with her finding the failed test results from the previous Daughter, was a way we could hold off the reveal for as long as possible. Then from the reveal, we slowed everything down as Daughter comes to terms with what it means. Seeing this realization in slow-motion allowed us to embellish her emotional heartache of the discovery.
To lead the audience back to reality, I started running their dialogue underneath the footage so we heard them talking but didn't see them physically speaking. At the point Daughter joins Woman at the glass wall in our "mirror shot," the dialogue and vision catch back up to each other and we re-enter real speed and real time. This is my favourite edited sequence in the film. I feel it best portrays Daughter's mindset and emotional state in the moment.
I Am Mother is streaming now on Netflix.
This interview has been edited for clarity.