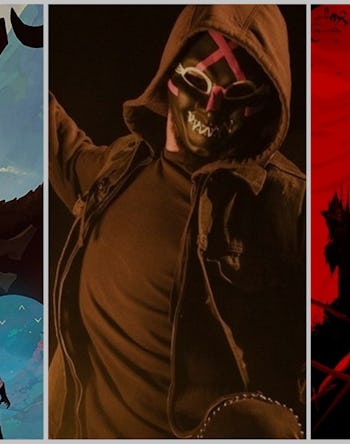 Entertainment
The Inverse Fall TV Guide 2018
17 shows to look out for — or watch right now.
Netflix, USA Network
In a world full of prequels, sequels, and "most ambitious crossover events in history" it can feel like there really is nothing new out there. A quick glance at the Fall TV landscape seems to confirm this truth, with countless reboots, adaptations, and new shows that feel like well-worn territory (looking at you Lost Manifest).
But a closer look reveals that there's plenty of fresh and unique shows to watch this fall, even if many of them aren't entirely original. Whether you're looking for a bone-chilling taken on modern America, an escapist epic that's great for all ages, or a blood-soaked video game adaptation that takes fandom to religious new levels, we've got you covered.
Inverse is kicking off one of the busiest times of the year for any television fan with a roundup of 15 shows worth checking out this fall. We're looking at five great shows that offer a uniquely twisted take on money's evil influence in modern America, led by The Purge, a 10-episode miniseries adaptation of the pulpy horror movie franchise with surprisingly political undertones.
Later this month we'll take a look at how Netflix's new series The Dragon Prince from Wondestorm (a new studio created by the guys behind Avatar: The Last Airbender) raises the bar for epic sagas on television. Then, as the air turns crisp and September gives way to October, we'll highlight Castlevania Season 2 and producer Adi Shankar's vision for a new pop culture religion, along with four other shows that play with religious faith in interesting new ways.
With each entry in our three-part Fall TV guide, you can expect a detailed list of five shows worth checking out, along with a longer article featuring interviews and original reporting on one of the shows from that list. Check back here for the latest articles as they roll out. Stay tuned!
The Purge TV Series Does One Thing Far Better Than the Movies Ever Could
If there's one welcome difference between The Purge film franchise and The Purge TV show, it's that the twisted social commentary of the films is dramatized far more effectively than it ever could have been on the big screen, when it was sandwiched between scenes of ultra-violence… Read more
'The Purge' Leads 5 Fall Shows About Wealth's Power in the Dystopia of Now
'The Dragon Prince' Is Just the First Step in Wonderstorm's Epic Plan
What makes a story epic? Is it the distance traveled? The challenges conquered? The heroes that rise up and the monsters they slay along the way? For the creators of The Dragon Prince, a new animated series on Netflix, the true test of any epic story is its ability to inspire fans… Read more
'The Dragon Prince' Leads an Epic Fall TV Lineup in 2018
Nightflyers, Manifest, and more.
'Castlevania' Producer Adi Shankar: Fandom Is "Our New Religion"
Stop me if you've heard this before: A benevolent being sends their only son to Earth to become the savior of all mankind. Am I talking about Jesus Christ, or Superman? Film and TV producer Adi Shankar, whom I witness navigate through the crowds of Power Morphicon, says there's no difference… Read more
Devils, Demons, and Vampires Reign Over 2018 Fall TV