'Chilling Adventures of Sabrina' Gets a Totally Witchy Release Date
So predictable, but also so perfect.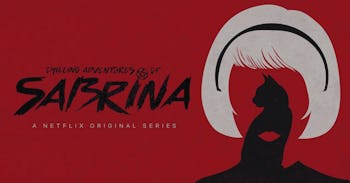 Netflix
The upcoming Chilling Adventures of Sabrina just got an official release date, and it's so unsurprising that my black cat rolled her eyes IRL.
On Sunday, the official Twitter account for Netflix's show about the same magical teen from Sabrina the Teenage Witch announced that all 10 episodes of the show's first season would debut on Friday, October 26. Which means that Netflix wants everyone to binge the heck out of this show Halloween weekend.
When else would Netflix release a dark and gritty show in which good-looking high schoolers fight demons and other occult forces trying to destroy the world?
The teaser features nine Sabrina lookalikes standing with their backs to the camera, and the backs of their school uniforms each spell out "OCTOBER 26." How's that for a magic spell? In reality, this stunt was done while promoting the show on the Television Critics Association summer press tour, but it's still pretty cool.
Originally, The Chilling Adventures of Sabrina was being developed by The CW as a companion series to Riverdale. Both shows are based on stories from Archie Comics, so the two could have enjoyed crossover specials not unlike what the Arrowverse does with its handful of separate shows set in the same universe.
But alas, The Chilling Adventures of Sabrina instead found a home on Netflix, where it's "tonally in the vein of Rosemary's Baby and The Exorcist. Yeah, that's pretty hardcore.
Kiernan Shipka stars as Sabrina Spellman. Here's a photo of her in character with Ross Lynch, who plays Sabrina's boyfriend Harvey Kinkle.
Chilling Adventures of Sabrina will be released on Netflix Friday, October 26.