The 'Sabrina the Teenage Witch' Horror Series Looks ... Adorable?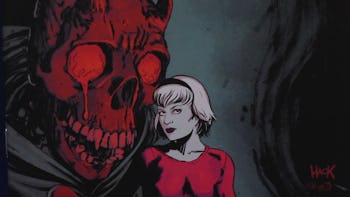 Robert Hack / Archie Comics
Sabrina Spellman is coming back to television in a new horror series based on the aptly named Chilling Adventures of Sabrina. It's a darker and more sinister take on the teenage witch than those growing up with the character are used to, which makes the adorable first glimpse of the new Sabrina quite surprising.
After a paparazzi shot from the set began circulating, the show's creator Roberto Aguirre-Sacasa shared the image on Twitter Monday afternoon. The photo is of series star Kiernan Shipka (Mad Men) as Sabrina holding hands with her boyfriend Harvey Kinkle, played by Ross Lynch. The happy looks on their faces resemble the upbeat vibe of the older live-action Sabrina series, which starred Melissa Joan Hart and Nate Richert as Sarina and Harvey respectively.
"ADORBS, right?" Sacasa wrote. He's not wrong, but there are probably much darker times to come in the series.
Chilling Adventures of Sabrina keeps Sabrina in high school as a teenage witch, but it's within the halls of Baxter High where she has to face the forces of evil trying to take over the human world. The Netflix series incorporates more of the darker side of magic than the original series ever did.
Initially developed as a Riverdale companion series at The CW, Sabrina's upcoming adventure is instead headed to Netflix. The streaming service has an ability to tap into the horror and dark magic in a way network television has not in the past and Riverdale has caught the attention of the service's audience since its premiere in 2017. In fact, the network ordered two seasons of the show off the bat.
The Chilling Adventures of Sabrina is supposed to premiere in 2018, though exactly when has yet to be confirmed.