Devils, Demons, and Vampires Reign Over 2018 Fall TV
Embrace the darkness of the TV season.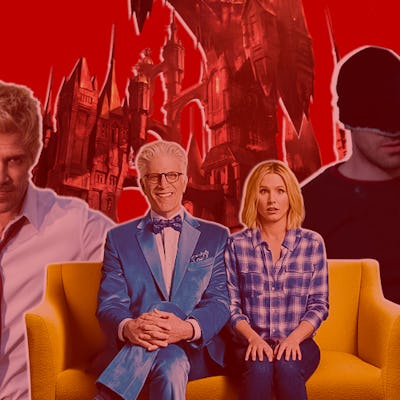 That chill you feel isn't the coming of autumn. It's the fall 2018 television season, packed with demons, vampires, and ghouls more than ever seen before.
It's true. By some cosmic happenstance — or a calculated ploy by scheming supernatural forces we can't see — there's going to be a lot of TV this fall that gives the Hot Topic-inclined among us exactly what they want: Ghosts! Demons! Even a few vampires, because why not. Folks may balk at Halloween decorations in August. I say those folks are boring and could use a little Black Phillip in their lives.
While the dark arts are hardly scientific, Inverse has collected all the best incoming supernatural/horror shows (plus new seasons) that you'll find on cable, network TV, and all the streaming giants this fall.
Light a few candles, pour a glass of blood-red wine, and shut off the lights. Darkness is here.
Let's start this list on a happy note: The Good Place Season 3 is upon us, and the network sitcom about four dead human doofuses, their demon ally, and his not-a-robot robot assistant continues to affirm that decency is cool as hell.
The hit show about eccentric people living their worst lives in the afterlife has already begun its new season, but there's still plenty of time to catch up. The first two seasons are now streaming on Netflix and Hulu.
In Season 3, the gang find themselves back in the land of the living, unaware of their (many, many) lifetimes in the Bad Place. As the four unwittingly work towards their own redemption, Michael (Ted Danson) and Janet (D'Arcy Carden) shadow them from afar, making sure they don't incur the wrath of the Judge (Maya Rudolph).
The Good Place airs Thursdays at 8 p.m. Eastern on NBC.
Welcome home. Never sleep again. Shirley Jackson's 1959 classic novel comes to life as a new Netflix series from filmmaker/producer Mike Flanagan. Premiering October 12, the series follows a family that moves into a creepy mansion where, surprise, it's not so peaceful inside.
Nearly 60 years since its initial publication, Jackson's novel has endured as a gem of horror literature. It has been cited as a favorite by the likes of Stephen King, Neil Gaiman, Carmen Maria Machado, and Dan Simmons.
The Haunting of Hill House stars Michiel Huisman (Orphan Black), Carla Gugino (Wayward Pines), and Kate Siegel (Ouija: Origin of Evil).
The Haunting of Hill House premieres on October 12 on Netflix.
Marvel's Daredevil Season 3 (Netflix)
It's time to return to Hell's Kitchen. While not a supernatural horror series, the third season of the cornerstone Marvel/Netflix franchise doubles down on Daredevil's Catholic themes and Gothic aesthetics.
Taking place after the 2017 miniseries crossover The Defenders, Matt Murdock (Charlie Cox) begins his "rebirth" as the Devil of Hell's Kitchen, and gears up for a second fight against his longtime nemesis, Wilson Fisk (Vincent D'Onofrio).
The new series comes from showrunner Erik Oleson, whose previous credits include The CW's Arrow and the CBS series Unforgettable.
Daredevil Season 3 will premiere on October 19.
The monsters are loose. The fourth season of DC's Legends of Tomorrow on The CW turns the time-traveling superheroes into straight up ghostbusters. After pulling back the veil of the supernatural in the Season 3 finale, monsters are now scattered throughout time. With the help of occult magician John Constantine, the Legends end their vacation in Aruba to, once again, right their wrongs in history.
DC's Legends of Tomorrow Season 4 premieres October 22 on The CW.
This isn't the teenage witch you remember. On October 26, a new live-action series of the Archie Comics character Sabrina arrives on Netflix. And true to its title, it's a darker, more chilling take on the character than you saw on TGIF.
The series stars Kiernan Shipka (Mad Men) as Sabrina, a 16-year-old girl who discovers her heritage as a witch. Together with her two aunts, Helena and Zelda, Sabrina trains to fight off evil forces while still trying to maintain a normal life.
Chilling Adventures of Sabrina comes from show runner Roberto Aguirre-Sacasa (CCO of Archie Comics), Arrow and Riverdale producer Greg Berlanti, Sarah Schechter, Jon Goldwater, and Lee Toland Krieger.
Chilling Adventures of Sabrina premieres on Netflix on October 26.
Retro gamers, rejoice. The second season of the acclaimed anime Castlevania, based on the Konami video game franchise from the '90s, continues where the surprisingly short first season left off. Dracula, still vengeful over the public execution of his wife, ushers in his ultimate plan to end humanity — but not if the surviving members of the Belmont family of vampire hunters can stop him.
Producer Adi Shankar, known for films like The Grey (2012) and Lone Survivor (2013), says Castlevania is part of his "Bootleg Universe," a disconnected series of reboot adaptations that envision Shankar's childhood gods as dark figures.
"It takes Season 1 and ups it," Shankar told Inverse in an interview. "It's better than Season 1, and Season 1 was already the best video game adaptation of all time."
Castlevania Season 2 premieres on October 26 on Netflix.
2019 Bonus Pick: Good Omens (Amazon)
The end times are here, and that means the end of the Earth party for the angel Aziraphale (Michael Sheen) and the suave demon Crowley (David Tennant). Enemies turned unlikely BFFs who have grown fond of their lives among humans, the two work together to stop the apocalypse that will be ushered in by an 11-year-old boy unaware of his destiny as the Antichrist.
The new horror comedy from Amazon is based on the 1990 novel Good Omens: The Nice and Accurate Prophecies of Agnes Nutter, Witch, co-written by Sir Terry Pratchett and Neil Gaiman, the latter of whom also serves as series show runner.
Good Omens will premiere on Amazon Prime in 2019.