Bitcoin and Ethereum Saw Their Worst First Quarters in History in 2018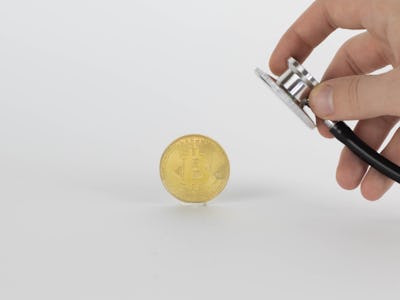 Flickr / marcoverch
Bitcoin and Ethereum, the world's top two cryptocurrencies, had their worst first-quarter price performance since their inception. The cryptomarket as a whole saw sharp devaluation since the start of 2018: As of Tuesday, the total value of all cryptocurrencies is priced at $277 billion down from the quarter high of $636 billion on January 20, according to CoinMarketCap.
Bitcoin, the world's biggest cryptocurrency by market capitalization, is valued at $7,393 on Tuesday at 11:15 a.m. Eastern. It's seen some gains since its Q1 low of $6,099 on February 6, but the token started off Q1 as high as $17,705. Ethereum wasn't spared from the market slump either; it saw a 47.7 percent dip with a low of $369, down from heights of $1,400 during the start of January. This steep market decline comes in light of a global push to regulate cryptocurrencies and widespread advertising bans across multiple online platforms.
National governments, including France, South Korea, and Japan, are actively enforcing digital currency regulations or beginning talks to draft rules to combat criminal activity conducted with cryptocurrencies. Major banks like Bank of America and JPMorgan Chase no longer accept purchases of bitcoin or any other cryptocurrency on their credit cards. These compounding factors have limited the accessibility of cryptocurrencies as well as given investors more hoops to jump through, which could dissuade newcomers and veterans alike.
To make matters worse, there has been an uptick of cryptojacking scams and cryptocurrency thefts that have led social networks, including Twitter, Facebook, and Google's web store, to ban most cryptocurrency advertisements. While ad bans might not be as detrimental as market regulations, both of them unraveling at the same time could scare off investors.
The digital currency market that ushered in the boom seen during December 2017 has totally changed. Volatile price swings have led many institutions to come down on a sector that was for the most part completely unregulated.
While prices are reeling because of these changes, it is possible that it could find its balance amid these major shifts.