Bitcoin Price Hits Above $7,000 Following Weekend "Death Cross"
Bitcoin has pulled back from the brink.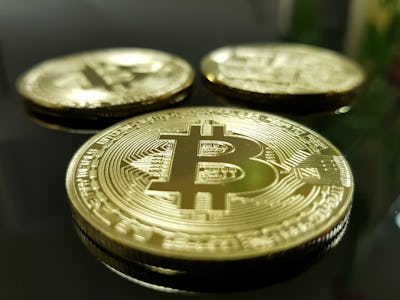 Flickr / andreastrojak
Bitcoin is bouncing back. The world's largest cryptocurrency hit a price of $7,051 and a market cap of $119.6 billion on Monday, following a weekend where it dipped further to cross the $6,600 mark. The move is positive for the token's future price movements, as it fends off fears of a "death cross" that could have led to further losses.
Analysis by CoinDesk shows how Bitcoin pulled back from a "death cross" movement by a fraction. This is defined as when the 50-day moving price average moves below the 200-day moving average, indicating a bearish market with further losses to follow. Bitcoin did hit a low of $6,425, but pulled back nearly 10 percent over the coming 24 hours. The token has continued to follow its pattern based on the relative strength index that marks price movements: when the score reaches below 30.00, the cryptocurrency tends to rise in value.
The token's rise has been coupled with a general recovery in the cryptocurrency market. Just nine of the 100 largest cryptocurrencies reported losses over the past 24 hours, with most major tokens rising. Ethereum gained three percent, Ripple gained 2.4 percent, and seventh-placed Stellar gained over 10 percent. It's not enough to offset the wider market trends, though which has slid from an early January total market cap of $830 billion to reach just $262 billion.
Some predict a strong rise in Bitcoin over the coming year. Bill Barhydt, CEO of cryptocurrency payments startup Abra, explained last week that there is "zero large-scale institutional money from the west in crypto right now," meaning a huge gap in the market exists for western institutional money to invest in Bitcoin similar to counterparts in Japan.
How that translates into value is unclear. Crypto expert Julian Hosp has suggested it could reach $60,000, while Spencer Bogart has suggested $50,000. Expert David Drake suggested last week that it could reach $30,000, which would still represent a quadrupling in current value.
Price predictions are notoriously hard, though: most analysts only expected Bitcoin to reach around $3,000 in 2017, when in reality it nearly hit $20,000/