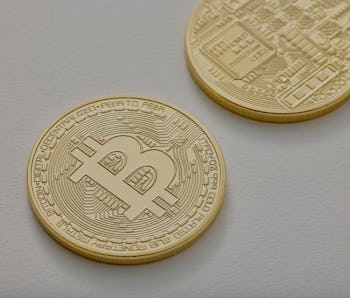 Innovation
Bitcoin Price Dips, but Expert Predicts $30,000 This Year
The cryptocurrency could be on the verge of something big.
Flickr / lookcatalog
Bitcoin has been on a gradual decline, but one expert sees it as the calm before a huge rally. The world's largest cryptocurrency dropped to reach close to the $8,000 mark for one token on Monday, around three months after it enjoyed peaks of over $17,000 following a series of ad rule changes from social networks. Analysis suggests bitcoin could be in store to reach peaks of $30,000 before the end of the year.
The intervention comes at a cold time for Bitcoin, which has spent most of March wavering around the $9,000 mark. David Drake, chairman and founder of investment firm LDJ Captial, told Bloomberg last week that the underlying blockchain technology could resolve a lot of issues, citing KodakCoin as an example. Drake predicts over the coming year more firms will get on board, and with Wall Street also showing interest, Bitcoin will rally to the $30,000 mark. However, responding to Twitter CEO Jack Dorsey's prediction that "the internet will have a single currency," Drake saw "hundreds" as more likely. We're giving away $3,000 of high-tech travel gear in this prize package. You could win a VR headset, Beats wireless headphones, and much more. Click here to enter!
Drake also voiced support for the recent spate of advertising crackdowns, citing it as a legitimizing force in the industry. Facebook announced a ban on cryptocurrency ads at the end of January, while similar announcements from Google and Twitter over March coincided with a price stabilization below the $10,000 mark.
Despite a low price coinciding with rule changes, Drake isn't the only analyst positive about the effects. Trevor Gerszt, CEO of crypto investment service CoinIRA, told Inverse last week that ad bans "shouldn't affect larger and more-established cryptocurrency businesses," expecting the rules to lift once further government regulations come into play. Kyle Forkey, founder of blockchain consulting group Ethmint, told Inverse in January that "the more we flush out these scammers, the better the ecosystem is going to handle it."
A jump to $30,000 would not only mean a confidence in rule changes, but a market moving past the near-$20,000 highs enjoyed by bitcoin in its mid-December rally. It's not the wildest analysis out there — John McAfee promised to "eat [his] dick" if it didn't reach $1 million by 2020 — but it would need a marked shift in current price.
At the start of 2017, bitcoin hovered around the $1,000 mark. A lot can change in 12 months.