Here's What the Experts Say About Bitcoin in 2018
It could be a big year for cryptocurrency.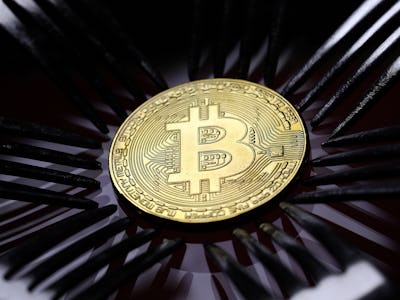 Getty Images / Dan Kitwood
It's been a big year for bitcoin, and it could go bigger soon. As 2018 kicks off with talk of Ripple and other cryptocurrencies soaring in value, Satoshi Nakamoto's original white paper outlining a decentralized cryptocurrency will celebrate its tenth birthday. What lies ahead of bitcoin as it enters it second decade?
Although many talk of bitcoin as a bubble, some analysts believe the price could go 10 times higher over the coming year. Whether that's a good thing is a whole other question.
While Bitcoin experienced a sudden surge in price towards the end of 2017, reaching a record high of $19,783, it ended the year down all the way to $13,889. In the early days of 2018, alternatives like Ethereum and Ripple seem to be having their own moment instead, with the latter increasing in value tenfold over the past month.
"Investors appear to be taking a breather from bitcoin for now and looking at alternative cryptocurrencies," technology correspondent Arjun Kharpal said in a CNBC story.
Another area of concern is the futures market. The Chicago Board Options Exchange last month started allowing traders to agree on contracts based on the future predicted price. But following a much-hyped start, concerns have been raised around the low number of contracts — just 1,098 more contracts open from the end of the first week to December 29.
"These contracts and the asset class itself seem to be behaving like any normal overbought asset - hardly encouraging for future price action," Peter Tchir, a global macro expert with years of experience in trading, said in Forbes. "It is also failing to follow the recent pattern of rising after the weekend - indicating to me, that the buying interest at these prices is running out."
Not everyone is so concerned about Bitcoin's movement. John McAfee, famed for his role in creating the world's first commercial antivirus software and a noted cryptocurrency follower, has doubled down on his prediction that Bitcoin could reach unparalleled heights in 2018:
McAfee isn't alone in his thoughts that Bitcoin's price could go further, but some believe it's because the bubble could go higher before catastrophically popping.
"I think we're going to see bitcoin hitting the $60,000 mark, but I also think we're going to see bitcoin hitting the $5,000 mark," Julian Hosp, a cryptocurrency entrepreneur and founder co-founder of crypto firm TenX, told CNBC. "The question is though, 'Which one is it going to hit first?'"
A crash in the market would spell disaster, as transaction times have spiked and just 1,000 people own 40 percent of the global Bitcoin supply, giving them the power to pay higher fees and get their money out before others.
"The fact that this is our first global mania will make this the single most speculative bubble of our lifetimes," Mike Novogratz, a billionaire that's put 30 percent of his worth into cryptocurrency, told Fortune. "It wouldn't be crazy if the crypto bubble hit $10 trillion, and that's 20 times more than what it is today."
However, pointing to evidence that more people want to buy in, Bitcoin expert Spencer Bogart said that he could see the cryptocurrency hitting $50,000 over the coming year. An October poll by Harris showed two percent of Americans own Bitcoin but 19 percent said they are likely to buy over the next five years, representing a tenfold increase in market size.
"I think we'll have to force price higher," Bogart said in comments reported by the Daily Express. "If you think about the supply side of that equation, the majority of Bitcoin is again locked down with long terms holders. So there's not a lot of supply available. And meanwhile, we have this new uptick on the retail side."
Whether these predictions prove accurate remains to be seen. After all, analysts at the end of 2016 predicted a price of around $1,500 and $3,000 a year from then. They were wrong then, and they could be wrong again.