Why Bitcoin, Ethereum and Almost Every Major Cryptocurrency is Crashing
The drop comes after a number of new regulations.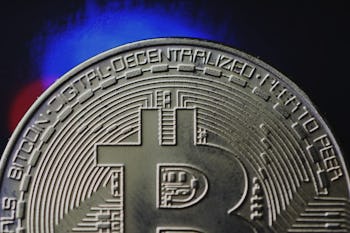 Getty Images / Dan Kitwood
Uh oh. In the early hours of Tuesday morning, cryptocurrency traders awoke to a sea of red numbers with almost every single token in the top 100 reporting drops in value over the past 24 hours. The dips come after a number of announced legislative actions by national governments, although there is skepticism in the crypto community that these events are linked.
CoinMarketCap shows that Bitcoin, still the largest token by a wide mile representing 35 percent of the market's total value, dropped nearly 12 percent in value over the past day to reach $12,305 with a market cap of $206.8 billion. Ripple, previously touted as an up-and-coming coin, dropped 21 percent to reach $1.44 and a market cap of $55.7 billion. By far the worst performer of the day was SmartCash, with a 39 percent drop that left the price of a single token at 97 cents and a market cap of $577.8 million.
The drop comes after a number of big announcements around cryptocurrency legislation. Following a day of mixed messages from the South Korean government last week, a spokesperson for president Moon Jae-In clarified on Monday that legislators would crack down on anonymous cryptocurrency trading. The initiative is aimed at cracking down on market manipulation and unlawful activity, rather than a complete ban on cryptocurrencies as one minister previously suggested.
France also announced measures to crack down on cryptocurrency traders avoiding tax and manipulating the markets. Bruno Le Maire, the country's finance minister, announced on Monday that he has recruited a former central bank chief to draft new rules.
Cryptocurrency analyst Joseph Young claimed that the drop was more of a "correction" rather than a plunge caused by events:
On the Bitcoin subreddit, an alternative explanation for the drop by user eclipsegum made the front page. In a post titled "everybody relax," the user noted a sell-off normally occurs around three weeks prior to Lunar New Year. The event is the world's largest human migration, and a number of traders may be selling to buy plane tickets and gifts.
A chart produced by user secruoser puts this in perspective:
Just two of the 100 largest cryptocurrencies listed saw an increase in value. Tether moved up by just over one percent to reach a token value of $1.02 and market cap of $1.5 billion, and Cryptonext increased by 0.89 percent to reach token value of $5.75 and market cap of $259 million.
Hi there. You've made it to the bottom of this story! Speaking of which… we're giving away an epic $5,000 ski trip to Banff, Alberta. Click here to enter! ⛷