Bitcoin Shaken by South Korea Cryptocurrency Ban Confusion
The government was forced to row back earlier comments.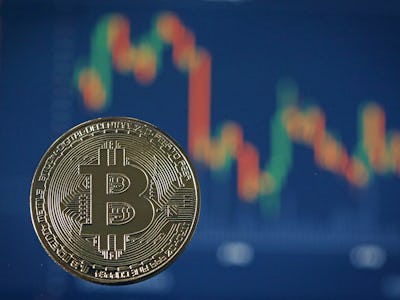 Getty Images / Dan Kitwood
Bitcoin suffered a drop on Thursday in the wake of reports that cryptocurrencies could see a ban on South Korean exchanges, after a series of conflicting messages from government officials. The Justice Ministry claimed the department was preparing to ban crypto trades, a statement the presidential office later distanced itself from. The price of a single token shed over 10 percent of its value in the wake of the news.
The BBC reports that Park Sang-ki, the government justice minister, said the ministry is looking to introduce a bill that would ban cryptocurrency trades.
"The South Korean Ministry of Justice is considering the closure of cryptocurrency trading to bring cryptocurrency mania and speculation under control for investor protection," Park Sang-ki said in a statement as reported by CoinDaily. The outlet reports that the department has been drafting the bill since December 13.
No sooner had Park Sang-ki made the comments, the South Korean Blue House (analogous to the United States White House) said a cryptocurrency trading ban does not reflect the stance of the government. The Ministry of Strategy and Finance also issued a statement claiming that it did not have the same views as the Justice Ministry on a ban.
Cryptocurrency is a big deal in South Korea, where traders paying in won for bitcoin can pay nearly 20 percent more than international market rates due to high demand. It's led to governmental fears about pyramid schemes, with prime minister Lee Nak-yeon has warned that cryptocurrency could "corrupt the nation's youth." In September, the government followed in China's footsteps and banned initial coin offerings.
The report sent markets racing. CoinMarketCap showed the price of one bitcoin moved from $15,018 at 7 p.m. Eastern time to a dip of $13,106 at midnight, a near-13 percent drop in value. The price in South Korea dropped by over 20 percent in the wake of the reports.
It's been a turbulent week for bitcoin. On Monday, Microsoft removed payments through the cryptocurrency from its online store, a decision it later reversed on Wednesday after working with its provider to accept smaller amounts.
Although bitcoin suffered a drop on Thursday, it's still at a far higher price than it was at the start of last year. Starting 2017 off at a price of just under $1,000, bitcoin soared over the course of 12 months to reach highs of nearly $20,000 in December. Experts remain conflicted over where the price will move next, with some predicting a crash and others suggesting prices as high as $60,000.