Microsoft Just Restored Bitcoin Payments After Making This Key Change
The company is one of the largest to take payments.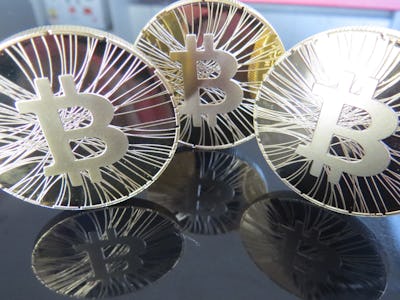 Flickr / antanacoins
Microsoft has reintroduced support for bitcoin, just days after pulling the plug because of the price volatility. The company, which has supported the cryptocurrency almost consistently since December 2014, claimed that support was reinstated after changes to the payment process allowed for smaller amounts.
"We've restored bitcoin as a payment option in our store after working with our provider to ensure lower bitcoin amounts would be redeemable by customers," a Microsoft spokesperson told News.com.au on Wednesday.
The reversal comes at a turbulent time for bitcoin. Following its meteoric rise over the past year, where it shot from just under $1,000 at the start of 2017 to a high of nearly $20,000 in December, questions have started to rise about its use in commerce. Digital video game store Steam pulled support at the end of last year in the wake of high transaction fees, which rose from 20 cents when the retailer first started taking payments to $20 at the time of withdrawal.
Microsoft is one of the largest companies that accepts bitcoin. The service allows shoppers to trade in bitcoin at current market rate and add the funds to their Microsoft account. The funds can be used to purchase games, movies and apps from the Windows and Xbox stores, but not for physical products. The company struck a notably positive tone about bitcoin's future potential when it first rolled out support.
"The use of digital currencies such as bitcoin, while not yet mainstream, is growing beyond the early enthusiasts," Eric Lockard, corporate vice president of Universal Store at Microsoft, said at the time of the feature's unveiling. "We expect this growth to continue, and allowing people to use bitcoin to purchase our products and services now allows us to be at the front edge of that trend."
It's not the first time Microsoft has temporarily pulled support. The company suddenly pulled support without explanation in 2016, adding a post that explained customers would be able to redeem their existing balances on the Microsoft store, but could no longer add more bitcoin for purchases. This decision was later reversed.
While Microsoft's sudden decision to pull support earlier this week may have concerned bitcoin watchers, it seems the company remains dedicated to its use for now.