Trump Tells Story of Otto Warmbier at State of the Union
What happened to Otto Warmbier while he was in prison in North Korea?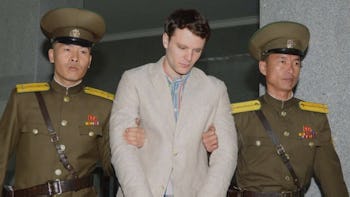 What happened to Otto Warmbier while he was in prison in North Korea? An abbreviated story of the college student arrested, tried, and sentenced was shared by President Donald Trump on Tuesday night near the end of his first State of the Union address.
"Otto Warmbier was a hardworking student at the University of Virginia, and a great student he was. On his way to study abroad in Asia, Otto joined a tour to North Korea," Trump said. "At its conclusion, this wonderful young man was arrested and charged with crimes against the state. After his shameful trial, the dictatorship sentenced him to 15 years hard labor before returning him to America last June, horribly injured, and on the verge of death. He passed away just days after his return."
Trump then pointed out his parents, Fred and Cindy Warmbier, and his birther and sister, Austin and Greta, who were in the gallery. "Incredible people," Trump said, adding, "your strength truly inspires us all."
Here's how the story of Otto Warmbier in North Korea unfolded:
Warmbier, a Cincinnati native and University of Virginia undergrad, was arrested on January 2, 2016 at the Pyongyang airport minutes before he was set to board a flight out of North Korea following a five-day excursion to the secluded nation. The China-based Young Pioneer Tours had arranged for Warmbier's trip into the country as part of its "New Year's Party Tour."
The North Korean government said at the time that he had stolen a political banner from his hotel upon which was allegedly written: "Let's arm ourselves strongly with Kim Jong-il's patriotism!" Pyongyang stated that Warmbier was "perpetrating a hostile act against the [North Korean state] after entering it under the guise of tourist for the purpose of bringing down the foundation of its single-minded unity at the tacit connivance of the U.S. government and under its manipulation."
Given the history of other detainees in North Korea, it didn't seem likely that Warmbier would spend fifteen years there, and his release might have been used as a bargaining chip of sorts. However, a former prisoner of North Korea said Warmbier could expect "farm labor."
What happened over the next seventeen months to Warmbier remains largely a mystery. On February 29, 2016, Warmbier apologized in a public confession that may have been forcibly staged by the North Korean government. He said that a member of his Ohio church had promised him a $10,000 used car for the act, and that he had been further encouraged by one of his college's secret societies, the "Z Society." Warmbier said, "I beg that you see how I was used and manipulated," and, "I was used by the United States administration like many before."
He had a public sentencing in March 2016 where he sobbed and apologized, wearing the same American-style clothing he had likely been wearing during his tour of Asia.
On June 13, 2017, he was freed but unconscious. Warmbier's parents told The Washington Post that their son has been in a coma for more than a year. He was medically evacuated from the country and returned to Cincinnati. He died on June 19, 2017 at a hospital in Ohio. Doctors found that Warmbier's brain had suffered severe damage. North Korean officials said he took a sleeping pill and never woke up.
The North Korean government released a statement on Warmbier's death that shed itself of blame: "The fact that Warmbier died suddenly in less than a week just after his return to the U.S. in his normal state of health indicators is a mystery to us as well."
In the days following his death, Americans were banned from traveling to North Korea via a "geographic travel restriction," a restriction that still is in place.
Trump used the story to illustrate how the dangers of North Korea, which came near the end of his address.
With additional reporting by Inverse staff