Why Was Otto Warmbier Detained in North Korea? 
Warmbier has died after over a year in a coma.
by Monica Hunter-Hart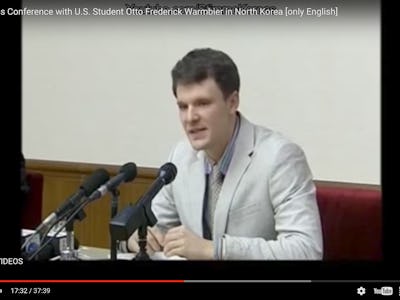 Getty Images / Bill Pugliano
Otto Warmbier, the University of Virginia student who had recently returned to the United States in a coma after spending a year and a half in a North Korean prison, has died. How did Warmbier end up in the terrible circumstances that led to this tragedy?
Why Was Otto Warmbier in North Korea in the First Place?
Warmbier was in North Korea as a tourist. Surprisingly, about 6,000 Western tourists visit the country every year, despite the nation's infamous authoritarianism. He was traveling with a Chinese company called Young Pioneer Tours — which is still leading tours, even after the incident — as a part of a special, five-day "New Years Party Tour," which involves watching fireworks in the capital's Kim Il-sung Square and traveling around the square in a helicopter.
Other destinations Young Pioneer Tours frequents include Afghanistan, Cuba, and Chernobyl, Ukraine. The company calls these "[places] your mother would rather you stayed away from." Its stated ethos is "fun, thrill seeking and adventure."
Why Was Otto Warmbier Detained in North Korea?
Warmbier completed the trip but was detained on January 2, 2016, in the airport on his way out of the country, on his way to Beijing.
The reason? The North Korean government maintains that he had stolen a political banner from his hotel upon which was allegedly written: "Let's arm ourselves strongly with Kim Jong-il's patriotism!" Pyongyang stated that Warmbier was "perpetrating a hostile act against the [North Korean state] after entering it under the guise of tourist for the purpose of bringing down the foundation of its single-minded unity at the tacit connivance of the U.S. government and under its manipulation."
On February 29, 2016, Warmbier apologized in a public confession that may have been forcibly staged by the North Korean government. He said that a member of his Ohio church had promised him a $10,000 used car for the act, and that he had been further encouraged by one of his college's secret societies, the "Z Society." Warmbier said, "I beg that you see how I was used and manipulated," and, "I was used by the United States administration like many before."
Then, on March 16, 2016, Warmbier was convicted in an hour-long trial and sentenced to 15 years of hard labor.
Danny Gratton, another trip participant who had been with Warmbier nearly constantly in Pyongyang, has said that he knew nothing of the alleged theft, and that he didn't think it was something Warmbier would do. North Korea has been known to arrest Americans for symbolic intimidation and to gain leverage.
The cause of Warmbier's death isn't yet clear, though Pyongyang's story about food poisoning and a sleeping pill seems off, and American doctors found that Warmbier's brain had suffered severe damage.
A statement from the doctors noted "extensive loss of brain tissue in all regions of his brain," indicating a shortage of blood flowing to his brain, probably from cardiopulmonary arrest. After analyzing the M.R.I. scans sent from North Korea, they judged that the injury causing his condition most likely occurred before April of 2016, shortly after his conviction.