Will Otto Warmbier Be Stuck in North Korea for 15 Years? Probably Not.
North Korean government officials convicted Warmbier for attempting to steal propaganda.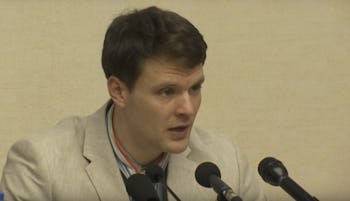 AP YouTube Video
In North Korea, Otto Frederick Warmbier has been sentenced to 15 years of hard labor for allegedly trying to steal a political poster in December from Yanggakdo International Hotel in the city of Pyongyang.
Update [6/19/17]: Warmbier's parents have announced their son has died at age 22.
North Korea's Supreme Court convicted the 21-year-old University of Virginia economics student during a one-hour trial this morning. The court's argument claims that Warmbier's actions were influenced by the CIA and a member of a church in Ohio.
The sentence immediately follows former U.S. ambassador to the United Nations Bill Richardson's efforts to get North Korea to release Warmbier. On Tuesday, he met with two North Korean diplomats; Richardson told the New York Times: "I urged the humanitarian release of [Warmbier], and they agreed to convey our request." Richardson helped release American prisoners in North Korea in the past, including locating six U.S. troops in 2007 who were missing since the Korean War.
In January, Richardson told USA Today how North Korea's government tends to carry out these trials:
"It's intensive negotiations back and forth, first with a U.N. mission in New York and then when you are there, a lot of meetings, a lot of persuasion," Richardson said. "The release happens when the North Koreans feel that the hostage is of no more use, they've milked it."
Warmbier was visiting North Korea on a five-day vacation, and spent part of it on the China-based touring company Young Pioneers Tours' "New Year's Party Tour." He was arrested on January 2 in Pyongyang right before he was about to board a plane to leave the nation, the state agency declaring he was "arrested while perpetrating a hostile act against the [North Korea] after entering it under the guise of tourist for the purpose of bringing down the foundation of its single-minded unity at the tacit connivance of the U.S. government and under its manipulation."
See Also:
Young Pioneer Tours Is Still Giving Student Tours to North Korea
The North Korean government arranged a press conference in February for Warmbier where he pleaded for help and protection:
Warmbier read from a prepared statement:
"On the morning of December, 30 2015 I asked my UK tour guide where they keep the important slogans in the Yanggakdo International Hotel. She said they were in staff-only areas. That night I alone walked around the second floor lobby."
Here's a 2011 video tour of that hotel's "secret fifth floor."
Also during the press conference, Warmbier read this weird statement:
"After this press conference my family will come to know about my current situation. I am very worried that they can be harmed. I was manipulated by the United States administration. I am worried that they were threatened or harmed by the government. I beg for any kind of public protection for my family. One final time, I beg for forgiveness."
Here's the full, 37-minute video:
Warmbier is the second American currently a prisoner in the country that recently tested a hydrogen bomb, which North Korea's United Nations delegates proclaim will allow it to "wipe out" the United States.