North Korea Finally Releases a Statement on Otto Warmbier
Warmbier's death "a mystery to us as well."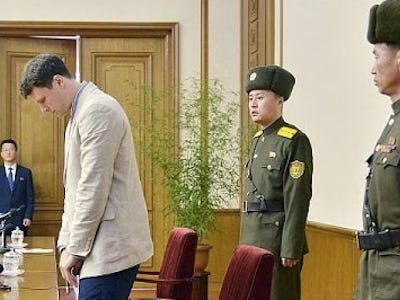 On Friday, North Korea finally released a statement on Otto Warmbier, the 22-year-old American student who died last week after returning from North Korea in a coma. Warmbier had been held as a political prisoner in North Korea for 17 months before being medically evacuated back to the U.S. on June 13.
North Korea's foreign ministry issued a statement completely denying that Warmbier may have been abused or tortured during his time in captivity.
"Although we had no reason at all to show mercy to such a criminal of the enemy state, we provided him with medical treatment and care with all sincerity on a humanitarian basis until his return to the U.S., considering that his health got worse.
"The fact that Warmbier died suddenly in less than a week just after his return to the U.S. in his normal state of health indicators is a mystery to us as well."
According to NK News, the statement went on to blame the Obama administration for Warmbier's death.
"Warmbier is a victim of policy of 'strategic patience' of Obama who was engrossed in utmost hostility and negation against the DPRK and refused to have dialogue with the DPRK."
Warmbier's condition upon returning to the U.S., and subsequent death, has fueled an already tense political situation between the United States and North Korea.
Warmbier had been in North Korea with a Chinese-based tour company when he was arrested at an airport for allegedly ripping down a political poster in a North Korean hotel.
Warmbier apparently fell into a coma after a 2016 trial in which he was charged with "crimes against the state" and sentenced to 15 years of hard labor.
Upon his return to the U.S., doctors who examined Warmbier reported that the student had indeed suffered extensive brain damage but could not explain the cause of injury. Up until Friday, North Korea had claimed that Warmbier had contracted botulism and subsequently fallen into the coma after taking sleeping pills. Warmbier's family, however, blamed North Korea for their son's condition.
Must read: Otto Warmbier's Medical Test: "Extensive" Brain Damage, Not Botulism