What "Hard Labor" Will Otto Warmbier Face in North Korea? A Former Prisoner Offers Clues
Former North Korean prisoner Kenneth Bae's experience can give us some ideas.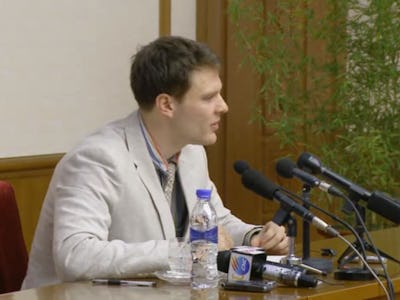 Screenshot from Otto Warmbier's press conference in North Korea.
Earlier this month, 21-year-old University of Virginia student Otto Warmbier was sentenced to 15 years of hard labor by the North Korean government for allegedly attempting to steal a political poster during a New Year's tour in December. But what exactly will Warmbier have to do in prison?
Update [6/19/17]: Warmbier's parents have announced their son has died at age 22.
A former North Korean political prisoner's experience can give us some clues. Four years ago, former tour guide of North Korea Kenneth Bae received the same 15-year sentence of hard labor. Today, Bae released a statement with his condolences to Warmbier and his family. Bae writes:
"I would like to invite fellow American citizens to join me in advocating for Mr. Warmbier as you have done for me. We have a lot of influences as Americans. Every petition you sign and every letter you write to support prisoners being held can make a big difference."
If Warmbier faces similar punishment as Bae, he can expect eight hours per day of "farm labor." Although Bae was released a little over two years into his sentence during a Secret Service mission, his sister informed CNN that he was hospitalized after the first year, suffering from severe back and leg pain, and losing more than 50 pounds. He also endured kidney stones, dizziness, and loss of vision. (However, Bae had previous health problems, including diabetes.)
The United Nations views these imprisonments and actions in North Korea as "crimes against humanity." In February 2014, the UN Commission reviewed documents from witnesses and victims describing the punishment and violence they faced — including extermination, murder, enslavement, torture, sexual violence, forced abortions — from North Korea's government.
"The gravity, scale, and nature of these violations reveal a State that does not have any parallel in the contemporary world," the UN Commission wrote in the report. "Crimes against humanity are ongoing in the Democratic People's Republic of Korea because the policies, institutions and patterns of impunity that lie at their heart remain in place."
The UN Commission also reported that there are between 80,000 and 120,000 political prisoners currently detained in four large political prison camps, where guards deliberately starve prisoners as a means of control and punishment.
See Also:
Why Was Otto Warmbier Detained in North Korea?
Bae, who was born in South Korea and immigrated to the United States at 16, was the first American prisoner to serve at a North Korean labor camp. He founded a China-based tour company called Nations Tour (its site was taken down shortly after his arrest) that gave westerners tours through North Korea.
Bae was arrested in November 2012 during the first day of a five-day tour he was leading near the city of Rason, a special economic zone to promote trade and investment. Now, Bae is going to reveal more in his autobiography. In a video posted by his publishers in November, Bae said:
"I was arrested by North Korean authority because I made a terrible mistake by carrying a portable hard drive containing hostile, anti-North Korean material by accident."
We will find out more about his experience in Bae's upcoming book Not Forgotten: The True Story of My Imprisonment in North Korea set to release May 3.